Turtle Soup and Beluga Caviar
Old Asheville celebrated the holidays in style
BY Nan K. Chase
Today, it is safe to say, no hospital would offer cigars and cigarettes as the final course of a holiday meal. But the 1944 Christmas dinner at the Moore General Hospital, a 1,520- bed military facility near Swannanoa, did just that. The hospital's holiday menu was otherwise austere, reflecting wartime realities, with an appetizer of tomato juice cocktail and Ritz Crackers. Even so, the patients and staff didn't go hungry. About 375 live turkeys— procured from the Farmers Federation, a local cooperative—were slaughtered and dressed on-site for the dinner's main course.
A look at historic holiday menus reveals many surprises about Asheville's history. Even as we see how health guidelines and social mores have changed, we also catch a glimpse of a culinary world that is not as unfamiliar as we might expect.
Asheville's food scene today owes a debt to Asheville of yesteryear. A century ago—give or take a few decades—the city was already a hub of sophisticated dining, with top hotels, local servicemen's organizations, clubs, and even private homes hosting elaborate holiday feasts and balls.
Diamondback terrapins, other turtles, baby pigeons and doves—these might not pass muster today as ethically or environmentally correct, but once upon a time they were standard fare at sophisticated meals.
For Thanksgiving, Christmas, New Year's, through good times and bad, war and economic depression and the Roaring Twenties, Asheville celebrated in style. Thanks to the city's location in the heart of bountiful farmland—and trains that brought delicacies from far and wide—even relatively simple gatherings featured multiple courses and a mind-boggling variety of fresh food.
George Vanderbilt first opened the Biltmore House on Christmas Eve 1895 with a magnificent dinner for friends. After that, life settled into a routine of plain country fare augmented with seafood express-shipped from the Carolina coast and elsewhere. Christmas Day luncheon in 1904 featured broiled oysters and venison steak, and dinner that evening included Virginia ham, roast turkey, cranberries, potatoes, peas, and celery, with plum pudding for dessert. The menu for New Year's Eve that year showed just two people—presumably George and his wife Edith—seated for a dinner of chicken soup, fish mousse, beef filets with mushrooms, potatoes, spinach, baked macaroni, and salad with roast partridge.
It was the Grove Park Inn, opened in 1913, where chefs of the day presented the most astounding banquets. Guests were required to dress for the occasion: a 1922 menu advised, "Inasmuch as we are asked so frequently if it is customary at the Inn to wear evening dress at dinner, we desire to state that it is." Men not wearing tuxedos were exiled from the main dining room to a separate area.
Christmas dinner at the Grove Park Inn in 1928 started with fresh lobster cocktail and continued with a clear soup of green turtle Printaniere Royale (i.e., with tiny spring vegetables and custard), relish and pickles, fish, ramekins of diamondback terrapin à la Maryland, and country-style baked apple. Then came roast beef and roast stuffed turkey with all the trimmings, broiled squab with currant jelly, vegetables, potatoes, rice, a salad of lettuce and hearts of palm, and avocados—aka "alligator pears"— served Grove Park Style (i.e., with salt and pepper).
Finally, dessert: pumpkin pie, apple pie, angel cake, hot and cold mince pies, fruit cake, macaroons, strawberry shortcake, walnut ice cream, lady fingers, plum pudding with both vanilla and hard (i.e., containing liquor) sauces, and chocolate layer cake. then came apples, oranges, grapes, crystalized ginger, and mints. Of course, a cheese course followed (with "saltine crackers"), and finally coffee, tea, milk, and cocoa. Exhausting!
The Grove Park Inn Thanksgiving dinner of 1938—in a Depression-era Asheville where some residents were reduced to catching songbirds to eat—seems even more outrageous.
Among the appetizers were Beluga caviar, "Supreme of Grapefruit Cocktail, Everglades" (the segments of the fruit with all pith and membrane cut away), and Blue Point oysters on the half shell. Then three different soups, a fish course of lobster and pompano, a fig pancake with Kirsch, calf sweetbreads and beef sirloin, roast native turkey stuffed with chestnuts, Virginia ham with red gravy, various vegetables, salads, and fruits, a cheese course—with saltines now styled "saltine wafers"—and, at last, a demitasse of coffee.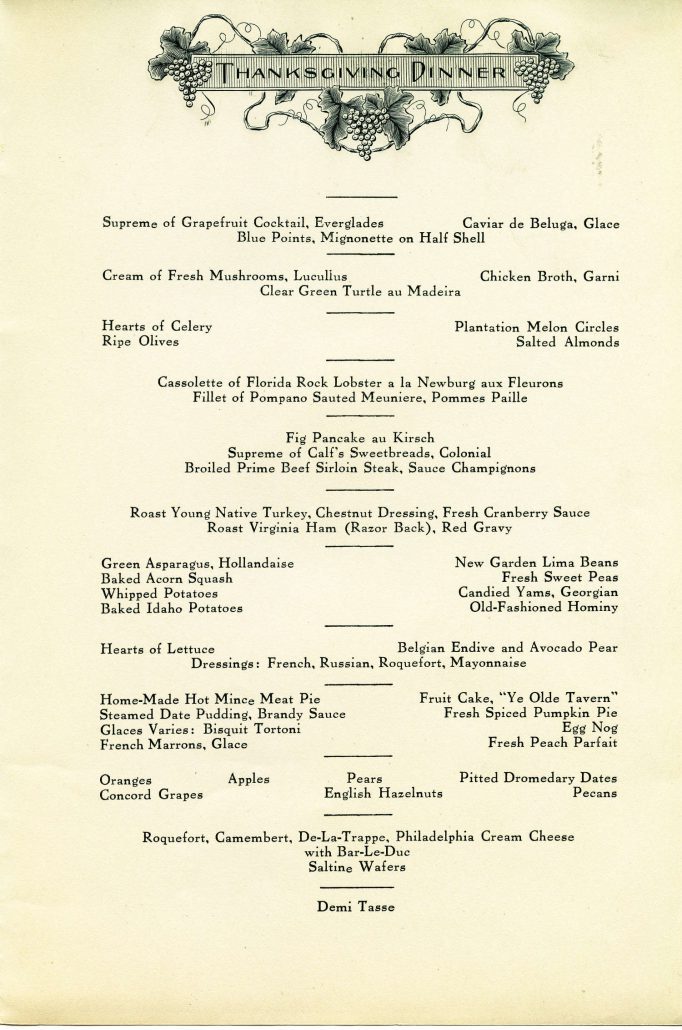 Imagine trying to replicate that spread today. Then again, perhaps some inventive Asheville chef is already working on it.
Nan K. Chase celebrates holidays at home in Asheville. She is the author of Eat Your Yard! and co-author of Drink the Harvest.
Save
Save
Save
Save
Save