TIES THAT BIND
Bonds between local chefs and farmers strengthen amid industry shifts 
***
BY DEENA C. BOUKNIGHT
PHOTOS BY ERIN ADAMS
Chefs and restaurant owners have been thinking on their feet—both literally and figuratively—for two years now. COVID-induced shutdowns and dining restrictions, paired with supply shortages and staffing problems, have forced them to create solutions to what feels like a never-ending series of problems that could've easily toppled many other industries. They have been forced, at one time or another, to redefine nearly every aspect of their business. 
But what didn't change, at least here in Asheville and other parts of Western North Carolina, is the restaurant industry's long-standing commitment to sourcing ingredients from local farms. The years-long bonds between chefs and farmers have continued to strengthen, affirming the belief that sourcing produce and meat from regional producers isn't just a "movement" or a "trend"; it's a smart way to do business and creates resiliency in the toughest of times.
SMALL WORLD
When Ian Griffin and his wife, Gina, first launched Griff's Kitchen & Bar in Candler in October 2020, Ian knew he wanted to rely on the local food and farming community for his menu. At first, his desire to source up to 95% of his ingredients from within the region was predicated on the simple belief that local food tasted better. But as the COVID pandemic continued to unfold, Griffin's keep-it-local approach proved to be a life raft that helped his fledgling business weather restaurant industry storms. 
"The pandemic really just served to bolster my philosophy behind using local as much as possible," he says. "Sourcing locally has insulated me from most of the supply chain issues the pandemic has affected." 
Since seasonal and local ingredients are the focal point of Griff's contemporary, American-themed menu, finding reliable sources has been key, and area farmers markets, including the weekly Enka-Candler Tailgate Market, have proven to be Griffin's best means of connecting with farmers. 
Jake's Farm, an 11-acre operation in Candler, has become especially important to the restaurant as a dependable partner for year-round sourcing of a wide variety of produce from its fields and greenhouses. The restaurant buys additional seasonal produce from Highgate Farm in Marshall and mushrooms from Black Trumpet Farm in Leicester. 
Local grain mill Farm and Sparrow is the source for Griff's grits, grains, and some flour, and Lee's One Fortune Farm in Marion supplies rice as well as ingredients such as persimmons and Asian greens. Value-added items are also sourced locally, including bread from Hominy Farm, hot sauce from Better Thymes, and cheesecake from The Worthy Baker. For year-round access to a few specific seasonal items, such as tomatoes, Griffin works with Asheville-based distributor Mountain Food Products. 
This spring, diners at Griff's can expect to find dishes such as house-made ricotta gnocchi with green garlic cream sauce, oyster mushrooms, charred ramps, pickled onions, and breadcrumbs; or, steamed bao buns stuffed with pan-seared shrimp, fermented pepper mash, cilantro, and arugula. 
Griffin admits that he's been tempted at times to source from bigger companies that offer products from across the country and even beyond, saying "it's really challenging trying to find enough local ingredients sometimes for a restaurant." But he sees too many benefits in staying the local course, including being able to offer superior quality and freshness to his customers. 
"Some days, we serve things that were literally picked out of the ground just hours earlier," he says. What's more, in addition to shielding Griff's from pandemic-era supply chain issues, the focus on sourcing locally has allowed the restaurant to dodge the huge price increases evident with numerous national suppliers while continuing to procure high-quality ingredients. 
"Restaurants and communities have come together to help each other out, which is refreshing considering there is so much divisiveness in the world today," he continues. "Focusing on the close community around us is key." 
EVOLUTION OF A CONCEPT 
Brittany Kroeyr-Brown, manager of culinary development and purchasing for Cúrate restaurant in Asheville, says the shifting dynamics of the pandemic forced Cúrate's staff to pursue several different strategies for adapting, diversifying, and expanding their offerings to the public. In that time, they created ideas for meal kits, a baking program, a national shipping site, a wine club, and more. 
"When we did all that, the goal was to keep people working," says Kroeyr-Brown. One byproduct of those efforts is La Bodega by Cúrate. Born of necessity at the start of the pandemic, La Bodega originally launched as an online market and curbside pickup concept in the space in downtown Asheville that once housed Button & Co. Bagels, which closed permanently in August 2020. La Bodega offered Cúrate favorites like croquetas de pollo, house-made butifarra sausage, and gazpacho, along with pantry staples that were becoming difficult to find in the grocery store—local milk, eggs, and flour.
But in the months since its opening, the La Bodega concept has evolved into a pandemic-era hybrid: a casual, all-day café that doubles as a retail space offering Spanish wine, cider, vermouth, sherry, and sangria. "Guests love it," says Kroeyr-Brown. "We're expanding the menu and adding a beautifully renovated wine bar on the second floor of the space this spring."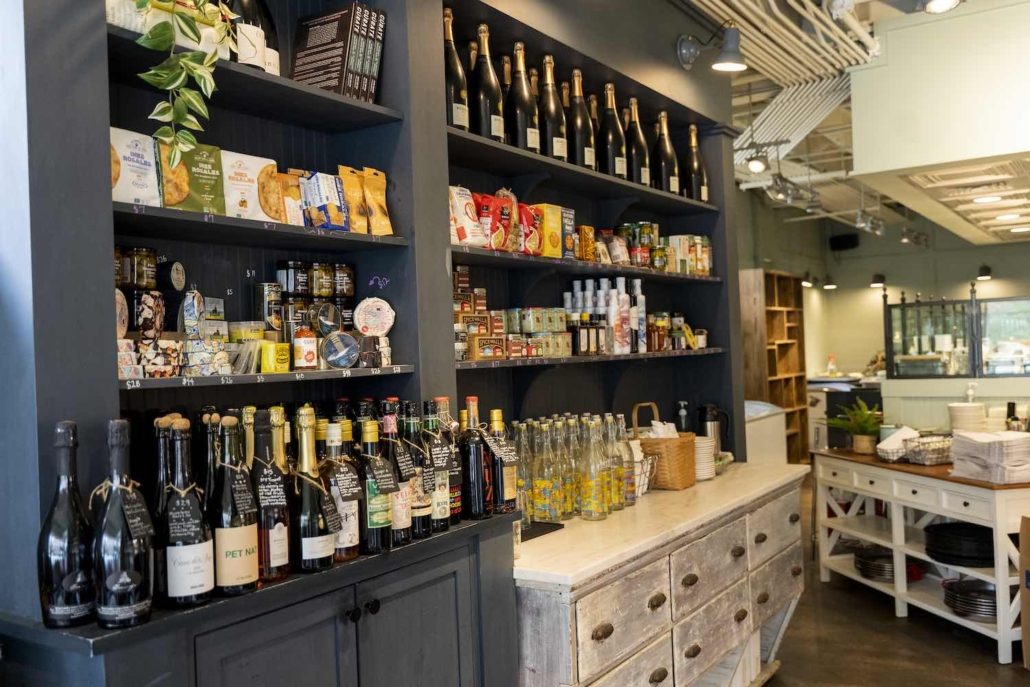 Like Griffin, Kroeyr-Brown is focused on reducing her dependence on corporate supply chains, investing significant energy this year into building strong relationships with a wider array of local and regional producers. A recent trip to Spain, for example, inspired her to expand her connections for North and South Carolina seafood. "We have a coast," she says. "There are people out there doing great things, and we are going to heavily support that." 
Almejas a la sidra is one of several small plates on the Cúrate menu that showcases the regional coastal seafood. "[It's] our version of a Spanish classic," Kroeyr-Brown explains. "Clams from Clammer Dave in South Carolina cooked in Asturian cider with house-made chorizo." 
Plus, Cúrate and La Bodega by Cúrate now set local purchase goals for their staff, providing them with contacts for sourcing from state and regional suppliers. "We are going to be creative with new, interesting produce, but we will also be incorporating staple local items like garlic in our daily routine," she says. 
Cúrate and Katie Button Restaurants co-founder and CEO Katie Button has started to host a new Magnolia Network television series, From The Source, which has enabled Button's staff to delve even deeper into local sourcing opportunities, Kroeyr-Brown adds. 
"We got to know more about what the Eastern Band of Cherokee Indians are doing with heritage corn, and we learned about rice from the Lees of Lee's One Fortune Farm," she says. "I am finding new relationships and learning more about producers and farmers through the show, and I want to share that knowledge with the restaurants and find ways to incorporate those items into their menus." 
Overall, Kroeyr-Brown says, she feels encouraged by the exceptional growth opportunities that devel – oped within WNC during the pandemic. She's particularly energized by La Bodega by Cúrate, which was helmed by her husband, chef Matt Brown. "I am so proud of him and that team," she says. "[It's] a definite win over the pandemic."
When Kroeyr-Brown struggles to find balance, she says, her husband likes to pass along some advice he once received from a fellow chef: "'You are capable of more than you think.' That has never been truer than in the last two years, and we have seen many people overcome and persevere through some really tough times. That brings hope."◊◊
A 30-plus-year writer/journalist, Deena C. Bouknight works from her mountain cottage and has contributed articles on food culture, travel, people, and more to local, regional, national, and international publications. She has written three novels, including the only historical fiction about the East Coast's worst earthquake. Check out deenabouknightwriting.com.
Save
Save
Save
Save
Save
Save
Save
Save
Save
Save
Ian Griffin of Griff's Kitchen & Bar
Brittany Kroeyr-Brown, manager of culinary development and purchasing for Cúrate restaurant in Asheville, and her husband, Matt Brown, a chef at La Bodega by Cúrate.