A WAY OF LIFE
Building a bond over a shared love of food and farms in Western North Carolina
***
PHOTOS BY ERIN ADAMS
Mary Noble Braden lives in a two-story farmhouse on a hilly 20 acres in Black Mountain, with a long driveway leading up to the house that's often occupied with goats, chickens, and at least one of her three Springer Spaniels. When her friend and colleague, Shayne Hollifield, comes to visit—often with a pie or cake or some other sweet treat baked earlier that day—Mary Noble's children can spot her on the driveway and announce her arrival with a vibrant "Shayne is here! Shayne is here!"
In addition to being Mary Noble's friend, neighbor, and business partner in the Black Mountain-based real estate agency Noble & Company Realty, Shayne is known for making desserts that rarely fall short of decadent and divine. In the spring and summer, it'll be pies bursting with fresh and local fruit; in the fall, it'll be Shayne's famous "gooey butter cake," made with local pumpkin, butter, cream cheese, and sugar. The women's mutual love of local food, including the sweet variety, has helped form a friendship that both of them describe as "meant to be."
Mary Noble and Shayne founded Noble & Company Realty in 2020, renovating a block building in Black Mountain's bustling downtown for their headquarters. The women were already well established in Western North Carolina's real estate market at the time, with decades of experience between them, but they wanted to strike out on their own and carve out a special focus on real estate deals that held a special place in their hearts: farm sales. From five-acre mini farms, with just enough space to keep chickens and bees, to 250-acre gentlemen farms, Mary Noble and Shayne wanted to specialize in the type of transactions where the land meant just as much to the buyers and sellers as the buildings on it. 
Both women have roots in farm living. Born in Tuscaloosa, Alabama, Mary Noble spent weekends of her childhood on her grandparents' 7,000-acre farm, where cows and cotton sprawled across the land, and hunting and fishing were favorite pastimes. In between riding bareback through the woods and picking blackberries in the summer, Mary Noble and her brother navigated a John Deere tractor along dirt roads, giving them their first practice behind a wheel. 
Less than 400 miles to the east, in Laurens, SC, Shayne also enjoyed a childhood on a grandparents' farm, a beloved patch of 75 acres surrounded by cattle close to the mill where both of her grandfathers worked. Accompanied by a bevy of playful cousins, Shayne explored the land on small zippy go-carts that inevitably prompted squeals and laughter. 
"The thing is, we understand farms," Mary Noble says. "If I'm selling a beautiful horse farm in Tryon, I know the difference between a quarter horse and a thoroughbred. Because of our own way of living, I feel like we're in a unique spot to sell farms." 
Both Mary Noble and Shayne settled in Black Mountain decades ago, drawn to the striking beauty of Western North Carolina and strong bonds of community. Central to their love of the region is their shared love of food. With the arrival of spring, both women look forward to the opening of the Black Mountain Tailgate Market, which can feature the plentiful harvest of Red Scout Farms and the sought-after offerings of Lee's One Fortune Farm, which grows everything from locally grown rice to hearty Asian vegetables. The women support the Black Mountain Tailgate Market as annual sponsors. 
Mary Noble seeks out the fresh snaps of spring asparagus for a bacon-wrapped asparagus dish that has become a family favorite. She'll round out meals with eggs from her own chickens, mostly ameraucana and copper marans, used for deviled eggs and egg salad. Her husband, John, meanwhile, forages mushrooms from the property to bake and saute in just about anything. In cooler months, Mary Noble will use local kale for a menu of soups—a white bean and kale soup top the list of favorites, as does a simmering pot of sweet potatoes, kale and wild rice. "We do a lot of vegetarian meals," she says. 
Even then, Mary Noble admits that the real magic takes place at Shayne's house up the road. The Hollifield's 1923 home is a cozy home, said to be one of the first houses built in the area. She cooks and bakes for joy and relaxation, an inventor behind the stove who rarely follows recipes. 
The spring season's asparagus will also find a place on Shayne's table, but in a beautifully fresh salad with chunks of cantaloupe, thin slices of red onion, fresh mozzarella, and granola, tossed with a light vinaigrette. By the time summer arrives, Shayne is hunting for greasy beans, which she lets shine in a simple dish with shallots and butter. 
Shayne doesn't think twice about commuting for the best local produce, and ripe tomatoes are her prize. "I go to Irma's Produce in McDowell County for tomatoes," she says. "She has the best tomatoes." Many of them end up in Shayne's famous tomato pie, made with fresh basil, green onions, and cheddar.
Mary Noble and her family bought their farm in 2017, learning later that locals called the property "Foster's Farm." Perched on a hill, facing south, the wide front porch offers expansive views of the mountains and beckons visitors with a row of wooden rocking chairs. Inside, the walls are covered with still life oil paintings done by her grandmother, and a stone hearth behind the wood-burning stove was built by Shayne's husband, a local stonemason. A long wooden dining table, purchased from the Antique Tobacco Barn in Asheville, accommodates her kids and their friends, who like to enjoy a warm bowl of chili before heading outside to the fire pit.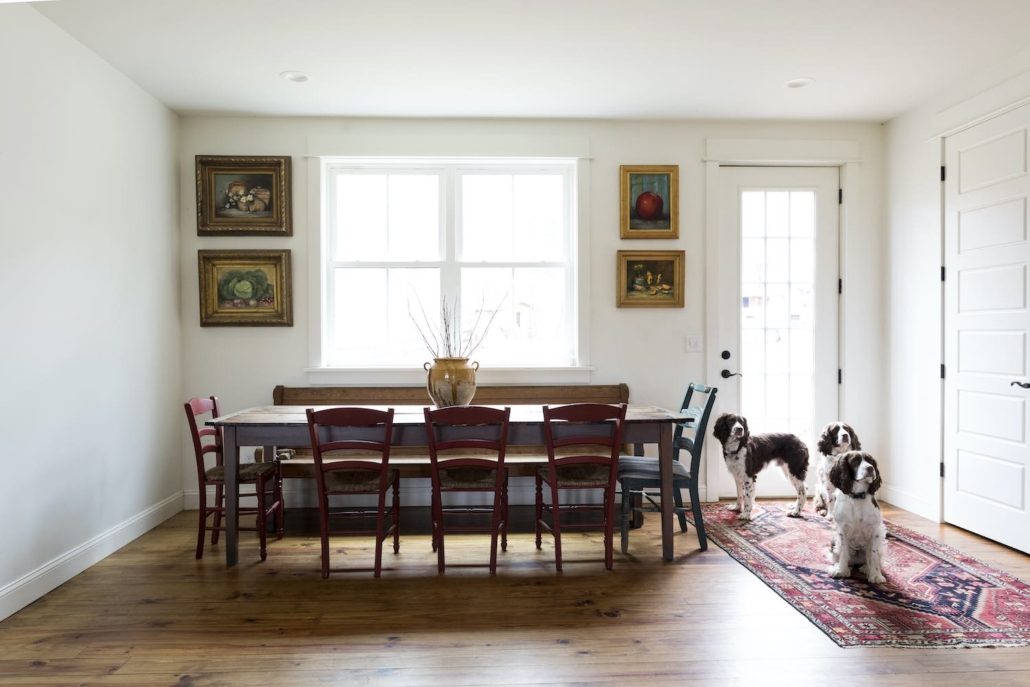 After living for nearly a decade in a 1925 log cabin in downtown Black Mountain, Mary Noble and her family could no longer resist the urge to get back to rural living. "I like to take my dogs for a hike up the hill, unleashed, and have the space." The goats are slowly clearing the land for what will eventually be a garden. 
Meanwhile, their real estate business is booming. While Noble & Company Realty works in all types of residential transactions— spanning all of Western North Carolina and South Carolina's upcountry—the pair have found a special bond with local farms and the unique ability to market these properties to the right buyer. Sellers find a shared respect for the land and insight into how people are going to use and enjoy the region's farms. 
"It really is a way of life," Mary Noble says. "We live it, and we help others find it." ◊◊
Save
Save
Save
Save
Save
Save
Save
Save
Save
Save
Shayne Hollifield (left) and Mary Noble Braden of Noble & Co Realty