The Secret Ingredient
Local producers capture the berry season in jam, sweets, and soda
By Kristina Mercedes Urquhart | Photos by Erin Adams
Western North Carolina's temperate rainforest makes for rich berry production. Strawberries, blackberries, and raspberries are cultivated with relative ease, wild blueberries bramble over the hiking trails at Graveyard Fields, and the region's own "wineberry" offers a tart, sticky taste of Appalachia for as short a seasonal window as ramps or sourwood honey.
Berry farmers and local produce purveyors bring this bounty out of the fields and into the kitchen, where restaurants and makers of berry-based delicacies take advantage of these succulent crops by incorporating them in a variety of dishes, desserts, jams, spreads, and beverages.
PICK AND PRESERVE, Barnardsville
"The first year, I went out to farms and picked the berries myself," says Ashlie Kromis, co-owner and co-canner behind Pick and Preserve, a Barnardsville-based, hyper-local food company that produces artisan fruit spreads.
Ashlie and her husband and business partner, Andrew Kromis, have a rule: the berries used to make their jams must be grown within 150 miles of their location in Western North Carolina. This small condition creates a ripple effect through every aspect of the business, and it influences the ebb and flow of their calendar year.
Their approach to preserving fresh berries harkens back to traditional canning methods. "The way our grandparents did it, they produced and preserved that day," Ashlie says. "They knew that's when the flavor was fresh."
As a result, you'll never find Ashlie or Andrew freezing berries and making jam in December, or using produce shipped from across the country. "We always preserve in the season when the berries grow."
What this means for Pick and Preserve is that batches are small and limited in production, just as the local crop is during any given year. When berry production has finished for the season, the ability to make jam of that variety has also ended. Like wine, this results in a product with terroir, a flavor of time and place.
"When people come to our booth at a market or festival, I always try to explain that what we do is seasonal," Ashlie says. "We work really hard from May until September, five or six days in the kitchen, long hours, and then we make as much as we can."
The couple produced and sold over 3,000 jars of jam last season. While that sounds like a lot, Ashlie and Andrew's method of production restricts expansion—and they like to keep it that way. They know it's the only way to truly keep their business sustaining the local economy and supporting local farmers. Keeping their produce regional, which naturally keeps it in season, allows the pair to adhere to the high standards that are important to them.
While they share nearly every role on the homestead and in the kitchen, Ashlie and Andrew know they can't do it all alone. During the company's first seasons, they sourced many of their berries from farms in Hendersonville and Weaverville. Now they grow the majority of their strawberries and black raspberries, but still rely on local farms to supply the produce they don't grow themselves.
Much of their other fruit comes from local purveyor Kendall Huntley, who owns Whispersholler Farms and serves as a broker connecting regional farmers with restaurants and value-added businesses that want their produce.
Pick and Preserve was able to bring it even closer to home recently by sourcing with Rayburn Farm in Barnardsville, which also supplies the business's herbs for jam infusions. Ashlie credits Michael Rayburn with assisting in the creation of their blueberry and lime basil jam by picking the herbs at their freshest and immediately running them to Pick and Preserve just down the road.
"We can't do everything—pick it, grow it, produce it—but we get as close as we can. It takes a village, and one thing we're blessed with is that Asheville is a bountiful city, as far as small farms go. We want to support the local farmers in the area and buy from them. Why try to do it all yourself?"
WAYNESVILLE SODA JERKS, Waynesville
On the other side of Asheville, west towards Waynesville, soda "jerks" Megan Brown and Chris Allen are producing highly sought-after nonalcoholic craft beverages. Their tagline Southern Appalachia in a Bottle couldn't be more accurate.
"We usually take inspiration from the farm first," says Allen. "We're only building flavors around something local."
Waynesville Soda Jerks' main source of produce for their bottled beverages is Wright Way Nursery in Waynesville, a grower that supplies the duo with raspberries, blueberries, and black raspberries. Proximity has helped both businesses grow in tandem, and the relationship between farmer and producer has proved to be a symbiotic one that supports the local economy.
"It's a two-way street," says Brown. "As we develop the business, different farms are seeing us as a great outlet to boost their sales, so they can feel confident in their production and continue to expand."
With Waynesville Soda Jerks and other small businesses as customers, farmers are able to pursue new opportunities knowing they have a market for the berries. Like the Kromises at Pick and Preserve, Waynesville Soda Jerks takes inspiration from their farmers and allows those berries (and customer demand) to guide their culinary choices.
Both Brown and Allen had backgrounds in the food industry before launching Waynesville Soda Jerks, and they were keenly watching the trends. In 2013, the couple was selling hand-mixed sodas at the Waynesville tailgate market.
They found that customers wanted a bottled beverage, and with Beer City USA just over the ridge, there was a demand for a locally crafted, nonalcoholic alternative. The food landscape was also changing to include a focus on how produce was grown and where it came from, and that became the basis of their business model.
"We're building flavors around something local," Brown says. "The region has a high variety of berries and an abundance of them, so we try to use as many as we can."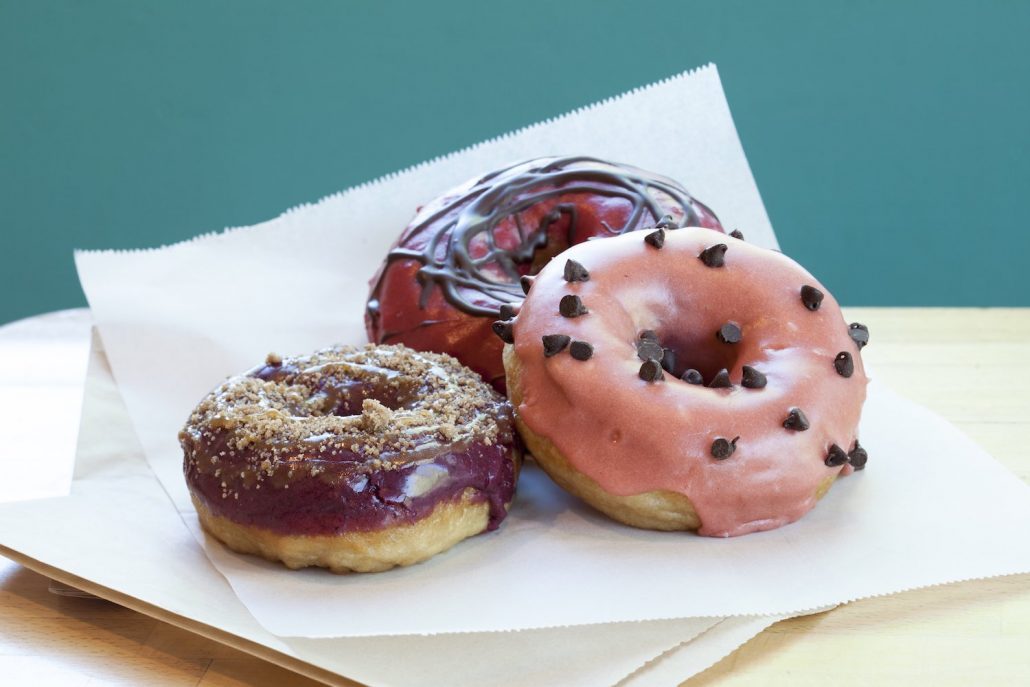 VORTEX DOUGHNUTS, Asheville's South Slope
Before each growing season, Vortex Doughnuts invites Barnardsville farmer Michael Rayburn to consult with the kitchen. The doughnut and coffee shop, near Southside Avenue in Asheville, is committed to serving the area with locally sourced ingredients, and their relationship with the farm has been established since the shop's birth in 2014.
Doughnuts are made fresh daily with blackberries, blueberries, and strawberries from the north Buncombe County farm, with the processed berries converted in-house to jellies for doughnut fillings, or used in fresh glazes for the doughnuts. The shop will get a delivery of 10 to 15 pounds of berries from the farm at a time (and also a wide variety of herbs), and they're processed immediately.
"We don't like to sit on the berries too much," says Adam Jennings, kitchen manager for Vortex. "We process them the second they get here." The farm and the shop are big fans of each other, and their working relationship functions like a well-oiled machine.
LOCAL PROVISIONS, Asheville
Nestled in the epicenter of downtown Asheville, the restaurant Local Provisions aims to pay homage to the cooking traditions of the South, while incorporating innovative techniques and flavors.
When it comes to berries, executive chef Justin Burdett keeps the application simple and straightforward, in an effort to prevent the flavors from being adulterated or lost in the greater dish.
"We mostly like to apply berries in their most simple state, as to not manipulate the flavors too much," he says. "During the summer, we use berries in a variety of salads to add a naturally sweet element to the dish that often balances funky cheeses and spicy, raw vegetables." Spring strawberries pair with local feta, for example, and bamboo shoots lay the foundation for another fresh summer berry salad.
Berries of all varieties are featured heavily in Local Provision's summer desserts, and jams are prepared at the restaurant for seasonal brunches. "If it can be made in-house, it is, and if we're able to source locally, we do."
The restaurant's own "whiskey strawberries" might be the most layered application of the coveted fruit. Whole berries are jarred with whiskey, vanilla, juniper, coriander, champagne vinegar, ginger, lemon, sugar, and water, and then used for a series of desserts, including their housemade cream cheese icing. The cake is iced with the strawberry cream cheese frosting and finished with whole whiskey strawberries on top.
"Berries have a lot of natural sugar that enhance dishes and add another layer of flavor, while still keeping dishes light and bright," says Burdett. ◊◊
Save
Save
Save
Save
Save
Save
Save
Save
Save
Save
Save
Waynesville Soda Jerks is one of several regional businesses that rely on local berry production.