Getaway: Brevard
Brevard rocks the recreation vibe
By Nan K. Chase | Photos by Erin Adams
What a sweet, lively little town Brevard always has been, during my nearly half-century of passing through, and probably always will be. It is actually getting more attractive not just to the usual out-of-state tourists but also to Ashevillians who venture beyond their own city limits.
On a recent day trip from Asheville, I spent the morning on a horseback ride with my granddaughter in nearby Pisgah National Forest, followed by milk shakes together at Dolly's Dairy Bar. My husband and I met up afterward to explore the tidy downtown, and I fell in love with Brevard again.
First we checked out the beautiful open-air facilities at Brevard Music Center, about one mile from the middle of town. The center's annual 10-week summer music festival (this is its 81st season) is packed with classical, opera, pops, and jazz performances in a lovely wooded setting, as well as venues around town. It turns out that there's also a nearly 400-acre, city-owned tract of land right next door, called Bracken Preserve, designated for hiking and mountain biking, and it links up with trails in the seemingly endless Pisgah National Forest.
Then we returned to Main Street for a stroll (free parking – cool!), stopping in at just about every bustling shop, gallery, café, and restaurant for a peek at their menus and wares. Finally, we ventured a few blocks off center for an amazing meal at a laid-back new restaurant. More on that to come.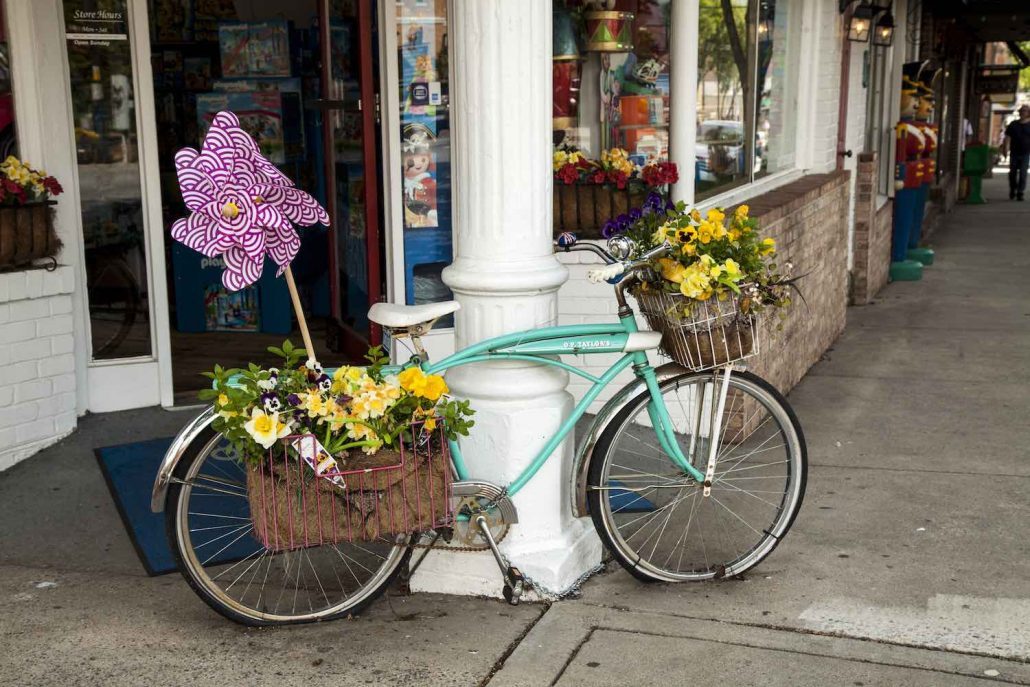 This was a soft early spring day, and long-ago memories of Brevard came flooding back. When I was a young teenager, my maternal grandparents had built a house at Lake Toxaway, farther still up into the mountains from the Asheville airport. Brevard was the halfway point in that drive and had the near est grocery store.
Later, when my own children attended sleepaway summer camp, Brevard was the last sign of civilization in the long drives from home to whichever camp we chose that year. The region is a haven of youth camps, and generations have grown up with marvelous nature experiences there.
For years, especially as empty nesters, my husband and I have sought out the waterfalls. Transylvania County, of which Brevard is county seat, rightfully boasts a thousand waterfalls. They are all out there somewhere: some conveniently located roadside, some reached on broad and well-marked pathways, and others hidden deep in the woods (my current favorite is Twin Falls, a gem that requires nearly an hour of hiking, a gnarly mountain bike trek, or a nearly four- hour guided horseback ride with Pisgah Stables).
Miles and miles of hiking trails are just outside of town, not only in the Pisgah National Forest but also in DuPont State Recreational Forest, Gorges State Park, and beyond. Ditto for mountain biking, kayaking, horseback riding, and even hunting. Now, with grandchildren of my own, I share Brevard with them, and I not only see but feel how the town has become a vibrant hub of recreational tourism.
LET'S EAT!
Are you ready for this, Asheville foodies? Brevard has some fantastic eats. In the last few years, higher-end restaurants have joined an existing lineup of coffee shops, international cafés, a brewpub or two, and a few classic diners.
Any visit to Pisgah National Forest, especially if you slip and slide down a 60-foot bolder into the bracingly cold water at nearby Sliding Rock, naturally includes an ice cream or milk shake at Dolly's Dairy Bar & Gift Shop, just outside the forest entrance. In town, the old-timey Cardinal Drive-In still offers car service and malteds.
On Main Street, several bakeries and coffee shops have outdoor seating, and an emporium called The Proper Pot sells kitchen equipment plus wine, cheese, crackers, spreads, and other picnic fare. I liked Spice it to a Tea!, where I selected a fragrant tea sample pack to bring home.
Local folks recommended the elegant Jaime's Creole Brasserie for a gourmet blowout; besides a hearty "roast beef debris" open-faced sandwich and a crawfish-and-bacon mac and cheese, there's a whole roasted boneless pig that serves 12 and requires two weeks' notice.
A stop at the White Squirrel Shoppe yields souvenirs honoring Brevard's curious white squirrels, the town's furry mascots, and there are clothing shops and art galleries for all tastes.
Our big treat was a late lunch at the year-old Magpie Meat & Three, a light-filled hangar of a place with a fire pit and a separate outdoor menu, a kiddie play yard, an interesting beer list, and chefs who do magical things with house-smoked meats.
The smoker is opened every day around 4 p.m., a treasure chest of meats and sausage, and we were a bit early. Instead of ribs or pulled pork, we enjoyed cups of rich carrot soup and some chunky house-smoked trout spread served with just-right toast slices—both outstanding—plus an order of deep fried green beans.
If you've never visited Brevard, the best introduction comes each Fourth of July, when the whole day is dedicated to all-American pastimes: a morning fun run, city officials reading the Declaration of Independence, a day-long street festival, an auto show, a pops concert, and, of course, fireworks. Don't miss it. ◊◊
Save
Save
Save
Save
Save
Save
Save
Save
Save
Save
Brevard has a vibrant food scene, with an eclectic mix of bistros, bakeries, diners, and cafes.

A trip to Brevard is complete with a sighting of its famous white squirrels.