Can Culture
Why summer adventures require beer in cans
By Anne Fitten Glenn
The crack of a pull tab, that little aromatic burst of carbonation, followed by that first tongue-tingling sip of flavorful beer—this full-on sensory experience is synonymous with summer for many.
While beer is always a thirst-quenching companion in hot summer months, canned beer is particularly suited for the season. The can blocks out light and provides an oxygen-free environment, helping to preserve the flavor of beer. And with bottles prone to breaking, cans are a more reliable choice for just about any outdoor activity.
Several small brewers experimented with cans early on, although Oskar Blues Brewery claims to be the first craft brewer to can its own beer in its Colorado facility in 2002. In Western North Carolina, Catawba Brewing Company was the first brewery to can in-house, starting in early 2012, followed by Asheville Brewing Company, which installed its canning line in 2015.
"We purchased the canning equipment because my research told me that canning was a better, more stable package for my beer than bottles," says Scott Pyatt, Catawba Brewing Company co-founder and longtime brewer.
Pyatt spent two and a half years experimenting with a two-head, hand-operated can filler before he felt comfortable releasing Catawba's canned beers to the public. Back then, each can was filled and labeled one at a time.
In 2013, Catawba upgraded their canning line, and they did so again this past spring, enabling them to significantly increase their capacity—from two cans a minute five years ago to up to 100 cans a minute today.
Rather than purchase expensive equipment and pallets of cans, many breweries have turned to on-site mobile canning and rent the equipment when needed. Meg and Craig Smith moved to Asheville in 2013 to open Land of Sky Mobile Canning, an affiliate of a similar operation they had worked with out West.
"Most breweries want exposure to a canning line before they implement it in-house," says Craig Smith. "We gave them the opportunity to get the kinks out before they made a huge capital investment in equipment, staff, and resources."
The Smiths recently sold their operation to Iron Heart Canning, which has consolidated several East Coast mobile canning businesses and continues to serve numerous Southeastern breweries from their Asheville office.
"The advent of mobile can lines means that anyone with a checkbook and a carbonated beverage can get their product on the shelves and become competitive," Pyatt says. "By 2015, pretty much every new brewery's business plan involved using mobile canning until they could afford to buy their own equipment."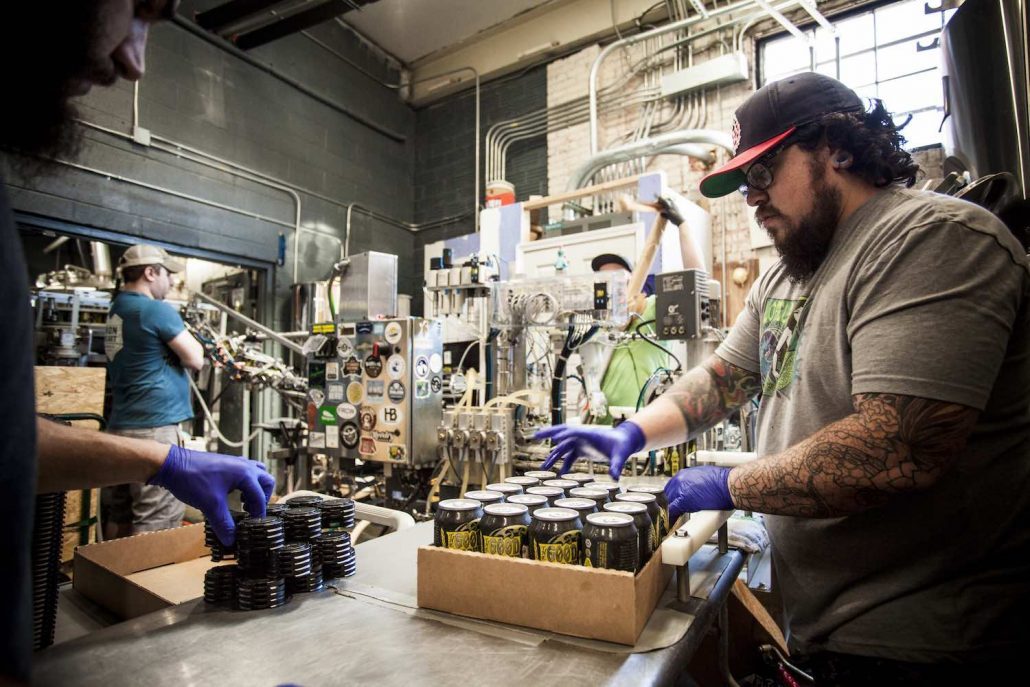 Many of the region's breweries now put at least a few of their beers into cans, even if they also offer bottles, and several, including Burial Beer Co., Pisgah Brewing Company, and Nantahala Brewing Company, recently made the transition from mobile canning to in-house canning lines.
Nevertheless, some beer makers and drinkers prefer bottles. Beer has been canned since the 1950s, but craft brewers typically chose bottles when small-batch beer began to proliferate in the 1990s and 2000s. The larger-format 22-ounce bottles became particularly popular, in part because they looked similar to wine bottles.
Apart from style preferences, the choice between cans or bottles can hinge on environmental concerns. Cans weigh less than bottles and are easy to palletize and stack efficiently, thus decreasing shipping costs. Can detractors note that aluminum mining has high environmental costs, but the aluminum can also be recycled an infinite number of times, helping to minimize the impact.
Six-pack rings have also come under attack for harming wildlife and polluting oceans. However, most six-pack rings are now made of photodegradable plastic. "You lay them in the sun, and in about three or four days, they completely crumble. They aren't killing turtles anymore," Pyatt says.
As for which package does a better job of preserving taste and flavor, the can wins hands down. Cans do a better job of blocking light and providing an oxygen-free environment—fighting off two powerful enemies to good beer. While amber-colored bottles protect beer from most light, cans block it out altogether.
Canning lines are also engineered to minimize the amount of oxygen in the can, thus increasing shelf life. There should be little to no headspace in the top of a beer can where oxygen can hide out. Low-fills are typically kicked off the line or removed by packaging technicians.
Sturdier than bottles, canned beers are a good companion for bike riding, hiking, river sports, golfing (both of the disc and the little white ball varieties), baseball games, outdoor music festivals, poolside, and, of course, lawn mowing.
When deciding to start a mobile-canning operation here, the Smiths said the presence of an active outdoor community was a draw. "Craig and I feel that canned beers are a huge benefit for all the people who mountain bike and hike—both those who live here and for the outdoor tourists, whose numbers are incredible," says Meg Smith. "People come here now to drink beer and be outside. And you can't carry glass into the woods."
That was the spark for Asheville Brewing's canning line purchase. President Mike Rangel says he'd seen articles about glass being banned in national parks and rivers, and he realized that sturdy but portable and lightweight cans make sense for this area.
As Highland Brewing Company founder Oscar Wong often says, "Fresh beer is like fresh bread." Beer should have a package date, typically on the bottom of the can. It's best to drink craft beer, especially canned beer, when it's fresh from the source—and to do so in the sun while having fun. ◊◊
Save
Save
Save
Save
Save
Save
Save
Save
Save
Save
Sturdier than bottles, canned beers are a good companion for bike riding, hiking, and river sports.