Presented by A-B Tech Community College
THE COMPETITIVE EDGE
WORDS BY LAURA LEAVITT | PHOTOS BY ERIN ADAMS
***
Chef Instructor Chris Bugher brings a collaborative spirit to his culinary teaching, but don't be fooled: he has the heart of a competitor. As an athlete in high school, he discovered a drive to rack up wins. But it was when he joined the world of competitive cooking that he found his real competitive edge.
"I was on the student competition team when I was in college in West Virginia, and that's where I really got into ACF (American Culinary Federation)," Bugher says. "After that, I started doing all kinds of competitions, Iron Chef competitions and recipe contests. It taught me so much." 
Bugher wasn't yet a part of A-B Tech's culinary program when he first noticed their teams at competitions, and they always made an impressive showing in his eyes. So when a job for a chef instructor opened up at A-B Tech, Bugher didn't hesitate to apply. When he was hired and found out that the role would include coaching the competition team, he jumped right in.
Competition cooking is demanding in a way that challenges a chef to excel in every respect. "It's such dedication on every level, from organization to sanitation to the quality of the food," says Bugher, a certified executive chef. "Everything has to be perfect and you have a small window, 60 minutes or 90 minutes, to cook. It's just go-go-go, an adrenaline rush."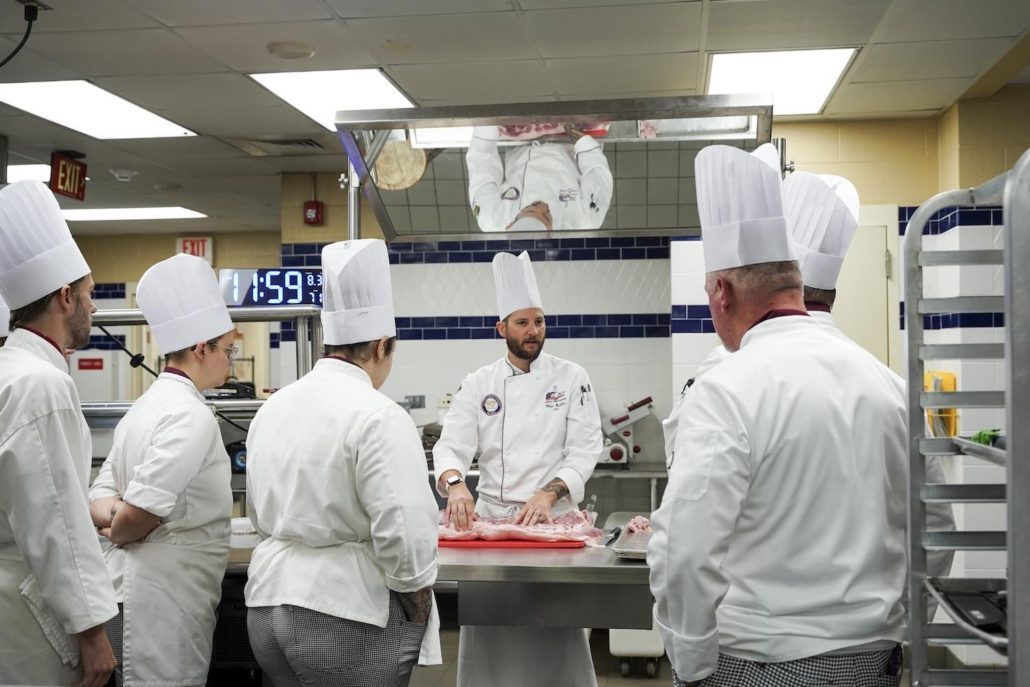 Bugher has coached six teams to the nationals of ACF student competitions in his seven years as an instructor at the school. This year, in Las Vegas, he and Chef Stephen Hertz coached the team that won a bronze medal. 
During a year off, in 2018, he focused on his own participation in the ACF Chef of the Year competition. He placed first in the Southeast Regionals for the American Culinary Federation Chef of the Year, and went on to compete at the national level. "At competitions, I push myself to learn so I can bring it back to the students. I'm happy to share anything I have," says Bugher. 
The school's student competitors, meanwhile, are demonstrating their own leadership within the world of cooking competitions. Each year, they design their equipment to be as efficient and effective as possible, using things like portable cast iron French Tops and pegboards for convenient access to equipment. Their innovations are so valuable that other teams tend to imitate them in subsequent competitions. 
This year, Bugher was honored to receive one of the highest awards in the American Culinary Foundation: the Presidential Medallion. It's awarded by the President of the ACF for "outstanding representation of the ACF fundamental principles, including superior strength of character and continued contributions to ACF and/or the culinary industry as a whole." 
In the coming months, Bugher will set his sights on international competitions, planning to compete in the Culinary World Cup in Luxembourg this year. There, he hopes to learn more about a new competition, the Global Vegan Challenge. 
"I have more students each year who are vegetarian or vegan, and I find it really interesting," he says. "I've found it's helped me in everyday cooking to focus on everything except for the protein. Every part of the dish should be the star, not just the chicken or steak." 
While Bugher has worked in many kinds of restaurants and food service jobs, the commitment to craft and putting his personal twist on recipes keeps him constantly growing. "This plate is representing you; you're putting yourself out there and saying, 'I made that,'" he says. "Caring about the plate makes the difference."
Save
Save
Save
Save
Save
Save
Save
Save
Save
Save
A-B Tech chef instructor Chris Bugher