MUSCADINE PIE
Recipe by Terri Terrell | Styling by Michele Gentille
Photos by Erin Adams
***
The muscadine grape is the first native grape species to be cultivated in North America and is found mostly in the southeastern United States. It's a seasonal treat with explosive flavor that I think is extra wonderful with buttermilk or vanilla bean ice cream. 
***
Serves 8-10
6 cups muscadine grapes 
1 cup sugar 
1 teaspoon Garam Masala spice mix 
¾ teaspoon kosher salt 
1 tablespoon all purpose flour 
11/2 tablespoons cornstarch 
1 tablespoon fresh lemon juice 
1 teaspoon vanilla extract 
Pie dough for 2 pies, one for bottom and one for top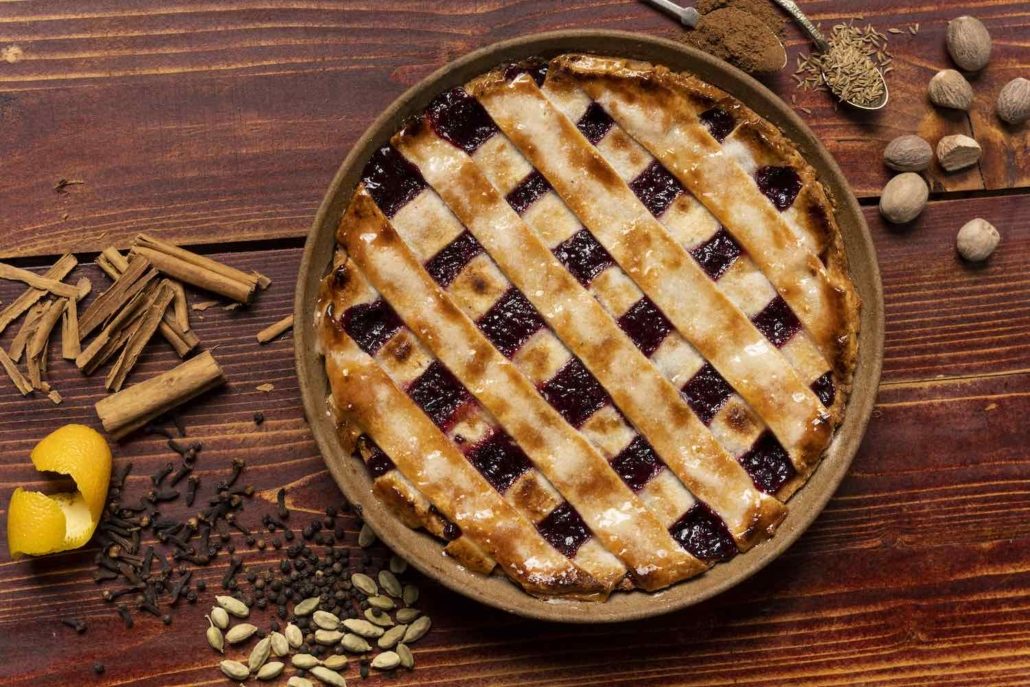 Preheat oven to 400°F. 
Rinse grapes and separate skin from pulp by squeezing each grape between your fingers. Release the pulp and seed into one bowl and the skins in a separate bowl. 
Transfer grape pulp to a heavy-bottom saucepan and bring to a gentle simmer, cooking for 15-20 minutes until it starts to liquify and the mixture has slightly reduced. Remove from heat and pour into a non-reactive bowl to cool to room temperature. 
Place the skins in the bowl of a food processor and pulse until they are chopped into small bits. Set aside for later use. 
Roll out one of the pie doughs and line a deep 9" pie pan with it. Prick all over with a fork, freeze for about 10 minutes, then bake in the oven until just golden. The remaining dough will go on top later. Lower the oven to 350°F. 
After the grape pulp has cooled, transfer to a food processor or blender on low speed to break down the pulp further, less than a minute will do the trick. Using a fine-mesh sieve, strain the mixture over a bowl, pressing down with a rubber spatula. This will separate the seeds from the pulp. Discard seeds and reserve the juice, it should yield a little more than 1 cup. 
Whisk the dry ingredients together and, in a separate bowl, combine the grape skins and juice. In a heavy bottom saucepan, pour half the skin-juice mixture plus the dry ingredients and mix well. Simmer the filling on medium low heat, stirring often, until it gets very thick. Remove the pan from the heat and add the remaining skin-juice mixture, lemon juice, and vanilla. Mix well.  Let the filling cool to room temperature. 
Pour filling into the pre-baked pie crust. Using the second uncooked pie crust to create a lattice design on top. Brush with melted butter, and sprinkle with sugar. Bake at 350°F for 30-35 minutes or until the top is golden brown and the filling is bubbling. Let the pie cool to room temperature and set up for at least 2 hours before serving.
Save
Save
Save
Save
Save
Save
Save
Save
Save
Save
Pair this muscadine pie with a scoop of vanilla ice cream.