COLLARDS
A Complicated Legacy
WORDS BY CHRIS SMITH
***
The legacy of collards is complicated.
Collards heralded from the cold climate of Northern Europe and arrived in New England in the early days of colonization. Originally called "coleworts" and later known as collards, this food crop was considered inferior to its close relative, the cabbage. 
When collards made their way to the southeast via the east coast seed trade, they were readily adopted by enslaved Africans. Collards may not have been something they were already familiar with, but a culinary tradition of cooking with dark leafy greens and an appreciation of their nutritive sustenance resonated with African cooks. 
Collards are biennial, which means you can plant them in spring and they won't start flowering in the heat of a southern summer. A plethora of summer bugs will want to eat your collard greens, but if you can navigate that challenge, then collards will continue to grow through fall and winter before going to seed the following year. 
This ability to produce collards over a long season is one reason they became popular among poor white families and enslaved Blacks in the south. That said, many people start growing collards around July, so they'll mature by the time the first frosts of October roll around. Every collard lover knows a collard kissed by frost is a sweeter experience!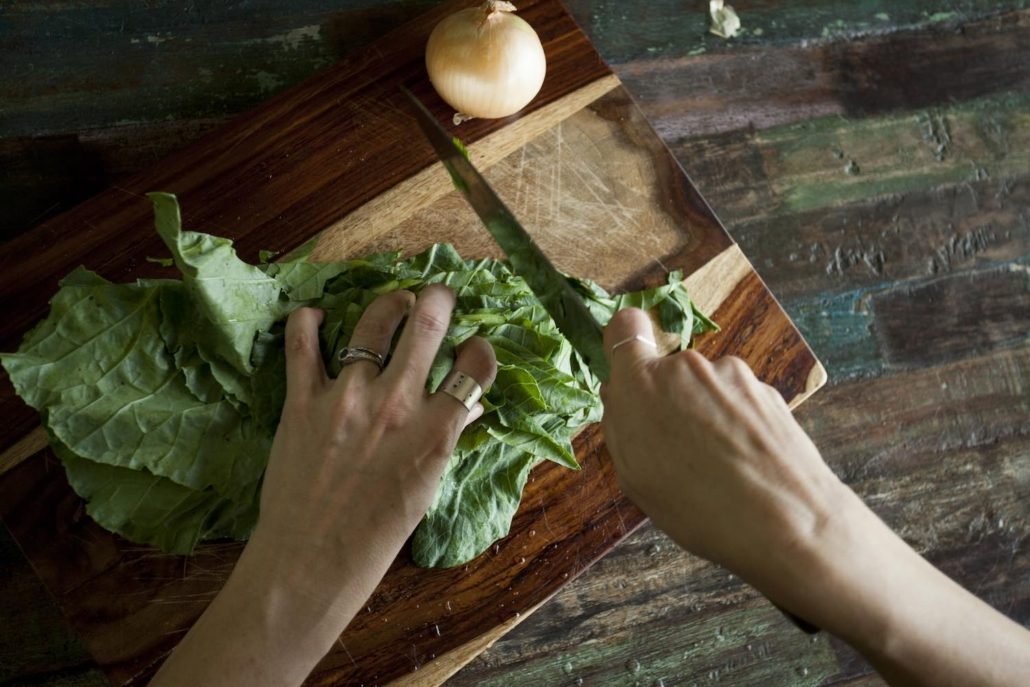 Collards began to gain greater notoriety in the Southeast when enslaved cooks began cooking collards for their white enslavers. The written documentation is not explicit because enslaved people were not allowed to read or write. But Ira Wallace, author of Vegetable Gardening in the Southeast, said, "we can see evidence of the influence of Black cooks by looking at the appearance of collard recipes in the cookbooks of white women." 
So while collards are not an African crop in the same way as okra, southern peas or watermelons, they have nonetheless been shaped and developed by the hands of enslaved Africans in a way that makes collards a uniquely American crop. 
Collards have shared the fate of so many vegetables, in that only one or two varieties are widely grown today. I am lucky to be part of The Heirloom Collard Project, a collaborative organization reviving a diverse collection of heirloom collards of around 90 varieties collected across the south. The varieties include descriptive names like Jernigan Yellow Cabbage Collards, William Moore Heading Collards, Crinkly Leaf Collard, Alabama Blue and Nancy Malone Wheat Purple. 
A large part of this work includes reviving the culture and culinary traditions of collards. We celebrate collard greens cooked with ham hock or turkey neck, cornbread and potlikker, and collard kraut. But collards are also a versatile green in the kitchen with lots of contemporary applications. 
Ashleigh Shanti, a former chef at Asheville's Benne on Eagle and a James Beard Award nominee, is a dedicated collard fan. While at Benne on Eagle, she helped create a potlikker martini, and has worked with us to select varieties that are tender and tasty for raw eating. She shared a four-ways collard salad that includes raw green leaves, crunchy collard chips, pickled collard stems, and a collard pesto dressing. You can see her video at heirloomcollards.org. 
Chef Michelle Bailey of the Smoky Park Supper Club created "collard dust" for a collard-focused dinner hosted at her popular Riverside Drive restaurant, and at a later event used collard leaves for wrapping an "Appalachian Dolma." Meanwhile, local chef Jeremy Salig visited our farm and tasted over 20 varieties from our collard trials, selecting "Tabitha Dykes" as the sweetest collard and harvesting a bunch of its leaves to make collard oil for yet another collard-focused meal. 
In addition to reviving the collard culture, we must also restore the seeds themselves. Bonnetta Adeeb is a co-director of the Ujamaa Cooperative Farming Alliance and has encouraged growers across the south to help regenerate many of the threatened collard varieties with the hope that we can regenerate enough seeds to sell through their seed catalog (ujamaaseeds.org). 
"To me, collards represent the African diaspora because the amazing biodiversity that you see in collards is the same as the amazing diversity you see in our people," she said. "It's an analogy for the amazing journey we have gone through." 
***
Chris Smith is executive director of the Utopian Seed Project, a crop-trialing non-profit working to celebrate food and farming. His book, The Whole Okra, won a James Beard Foundation Award in 2020 and he is the co-host of The Okra Pod Cast. More info at blueandyellomakes.com and utopianseed.org.
Save
Save
Save
Save
Save
Save
Save
Save
Save
Save
Collards made their way to the southeast by way of the East Coast seed trade.