PASTRIES THAT TAKE THE CAKE
Asheville's Premier Pastry Chef and Cake Designer, Karen Donatelli, Talks About Wedding Trends of 2022
Photos by Almond Leaf Stuios
More couples get engaged in December than any other month of the year, which means the new year marks the start of wedding planning season—when brides and grooms-to-be start to book their venues, DJs, catering companies and, of course, pastry chefs. 
Eager to find out about the desserts making an appearance at 2022 weddings, we consulted with Karen Donatelli, a popular wedding cake designer who was ranked the top pastry chef by local newspaper Mountain Xpress, about the trends guiding brides and grooms in 2022. 
"The brides and grooms today are taking the marriage ceremony and making it their own," Donatelli says. "Their cakes and their pastries are a reflection of their style, of their moment, and the experience they're creating." 
RISE OF THE PASTRIES 
Traditions around a wedding cake go back hundreds of years. In the U.S., a tiered cake with white frosting marked sophistication and wealth for several decades. But these days, brides and grooms are often turning to cakes as more of a ceremonial showpiece than a dessert to serve their guests, Donatelli says. 
A wedding cake nevertheless plays an important role for those who want it and requires top-quality ingredients and inspired flavors. Donatelli's four-layer wedding cakes come with three levels of filling, with flavors ranging from chocolate hazelnut and cannoli to the always pleasing vanilla bean. 
"The cutting of the cake is a beautiful symbol; it's the first thing a couple will share after getting married," she says. "I really appreciate the ceremony of it." 
But with brides and grooms often bucking convention—opting for ceremonies and receptions that reflect their own unique styles—they take the same approach to desserts. Donatelli has created cinnamon bun cakes for breakfast receptions and sturdy "to go" delights for couples who want to tie the knot on top of a mountain. 
More often than not, a wedding cake will be featured as part of a bigger dessert table, Donatelli says, where a variety of bite-sized desserts are what beckon the guests. (See Top Hits below.) 
PRESENTATION 
The art of creating a beautiful spread of colorful desserts, creatively placed on platters or tiered stands, has become a specialty of Donatelli and other wedding pastry chefs. The dessert table becomes a destination for wedding guests and incorporates a visually stunning display. 
Donatelli encourages brides and grooms to discuss the look of this table presentation with their pastry chefs, in addition to the desserts themselves. The chefs should have a good collection of platters and stands in a range of aesthetics, capable of complementing any event—from farm and barn weddings to elaborate events with sophisticated tablescapes. 
Perhaps more than anything, Donatelli encourages brides and grooms to feel comfortable in creating the look and feel of their event. "A good pastry chef is going to listen to what they need and what they want," Donatelli says, "and have the skill and know-how to make it happen."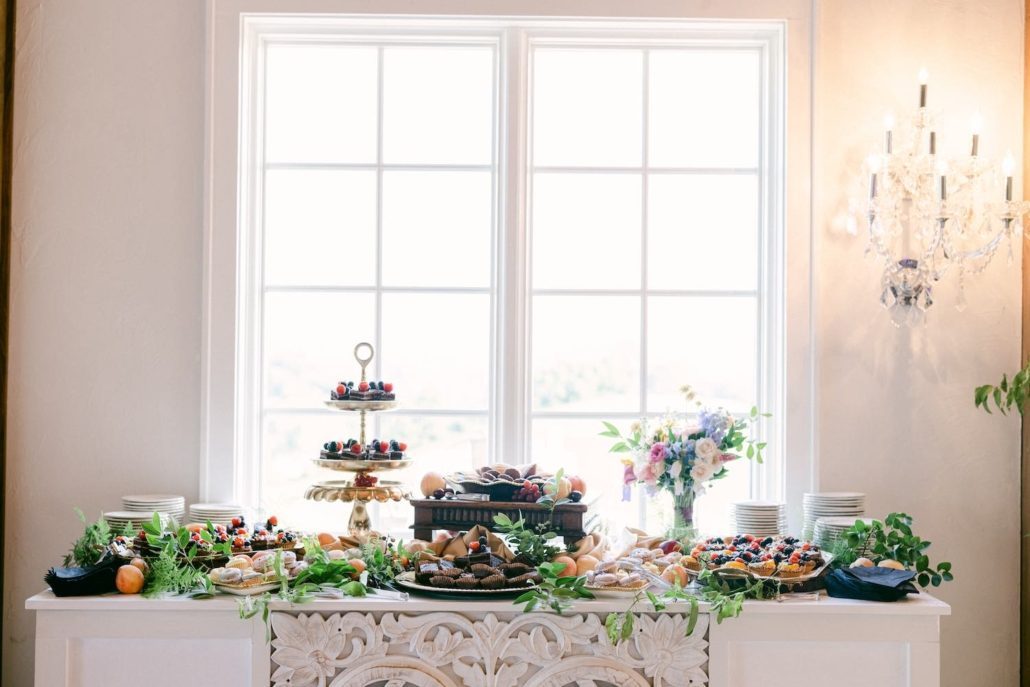 THE TOP HITS 
After two decades in the business, Donatelli says she has created a list of "top hits" of pastries that score big with wedding planners and brides and grooms. 
Tartelettes 
A bite-sized version of a tart, Donatelli's tartelettes are decadent and fun. A baked berry version is popular for spring and summer events, while a French apple tartelette is good year-round and makes an appearance at dozens of local weddings each year. 
Starting with a handmade sweet tart crust, Donatelli adds an almond frangipane custard and a layer of baked apples, usually Granny Smiths that have been sourced locally, and then coated with cinnamon and sugar. The tartelette is topped with an apricot glaze, delivering two to three bites of a fruity richness. 
"All of the components are complex, and there's a lot of love that goes into these," she says. 
Trail Mix Cookies 
With many people limited by dietary restrictions or food sensitivities, brides and grooms are flocking to Donatelli's "trail mix cookies" to provide a vegan and gluten-free option for friends and family. 
"These are hearty, and they have a great flavor," Donatelli says. "People really like them." 
The cookies are made with peanuts, almonds, oats, carob, cranberries and peanut butter, and win over fans with a not-too-sweet sweetness. 
Eclairs 
These elegant pastries play to Donatelli's strengths as a creator of classic European-style desserts. They are pretty and rich and always impress. 
The eclairs start with a pâte à choux, which is then baked and dipped in chocolate. They are then filled with the pastry cream that gives eclairs their signature style, coming in either chocolate hazelnut, caramel or vanilla cream flavors. 
"Eclairs are just one of those classic pastries, a beautiful dessert," Donatelli says. "When you bite into it, it has these small buttery air pockets filled with cream." ◊◊
Save
Save
Save
Save
Save
Save
Save
Save
Save
Save
A three-tiered platter of pastries by Karen Donatelli