BRAISED RIGHT
Low-and-slow cooking technique delivers warmth and flavor for chilly days
***
BY KAY WEST
PHOTOS BY ERIN ADAMS
Just as local tomatoes, cucumbers, and summer squash relinquish their seasonal places in home and professional kitchens to root vegetables, hearty greens, and winter squash, cooking techniques also shift with the onset of cold weather to focus on delivering comforting warmth that takes the chill off blustery winter days. 
Braising is one such method that tends to emerge from summer slumber to take the spotlight during the cold months. The term "braise" is derived from the French word braiser, and describes a process in which food—often meat, but also vegetables—undergo a quick sear with a high, dry heat followed by a low-and-slow simmer in liquid. Braising is prized for its ability to enhance the flavors of food. 
Three Asheville chefs who specialize in different types of cuisine share their fondness for the braising method, its connections to their roots, and how they employ it at home and at work. 
Andrew McLeod 
AVENUE M 
Avenue M executive chef Andrew McLeod understands the craving for braised foods when temperatures dip. "When it gets cold, we want that meal that has been cooked for a long time, has steam rising from it, and the smell fills the house," he says. "I have an emotional attachment to that type of cooking." 
That attachment began at home in Hendersonville where McLeod was raised. "My mom used to do chicken and potatoes in a cast-iron pot, and it was my favorite thing to eat in winter—so comforting and satisfying." 
He grew up eating a lot of slow-cooker recipes, too—roast beef, pork shoulder, and all kinds of dried beans—meals that could be set up in the morn – ing before leaving for work to yield finished dinners at the end of the day. The convenience factor was important for his family, he says, pointing out that many home kitchens today are equipped with Instant Pots and electric pressure cookers that can speed up the braising process. 
Professionally, McLeod is well-versed in the gospel of low and slow. He's employed braising techniques in his post at Avenue M since January 2020 and has worked in several high-profile restaurants, including stints at the Grove Park Inn in Asheville, the celebrated Quince restaurant in San Francisco under Michael Tusk, and in Sean Brock's Husk restaurants in Nashville, Greenville, and Savannah. 
McLeod's personal passion is making salumi by hand, and his house-cured meat products are the foundation of the "chef's selection" charcuterie on Avenue M's menu. But also holding a prominent place on the menu are handmade pastas, particularly the filled pastas such as cavatelli, agnolotti, and ravioli. In fall and winter, says McLeod, the restaurant's runaway favorite item with guests is cannelloni stuffed with braised short ribs. 
"We braise the short ribs with red wine, garlic, fennel, carrot, and onion, remove and pick the meat, purée the fat and vegetables, and reduce the cooking liquid to a glace, then mix it all together to make a 'farce,' which we pipe into the pasta sheets, and roll-cut for the cannelloni," McLeod explains. Preparation for the dish, which is served with a Robuchon-style potato purée and pecorino fonduta, takes two days from start to finish. 
At home, McLeod keeps things simple for himself and his wife. "The first cold snap we had, in late October, I braised short ribs and served them on polenta," he says.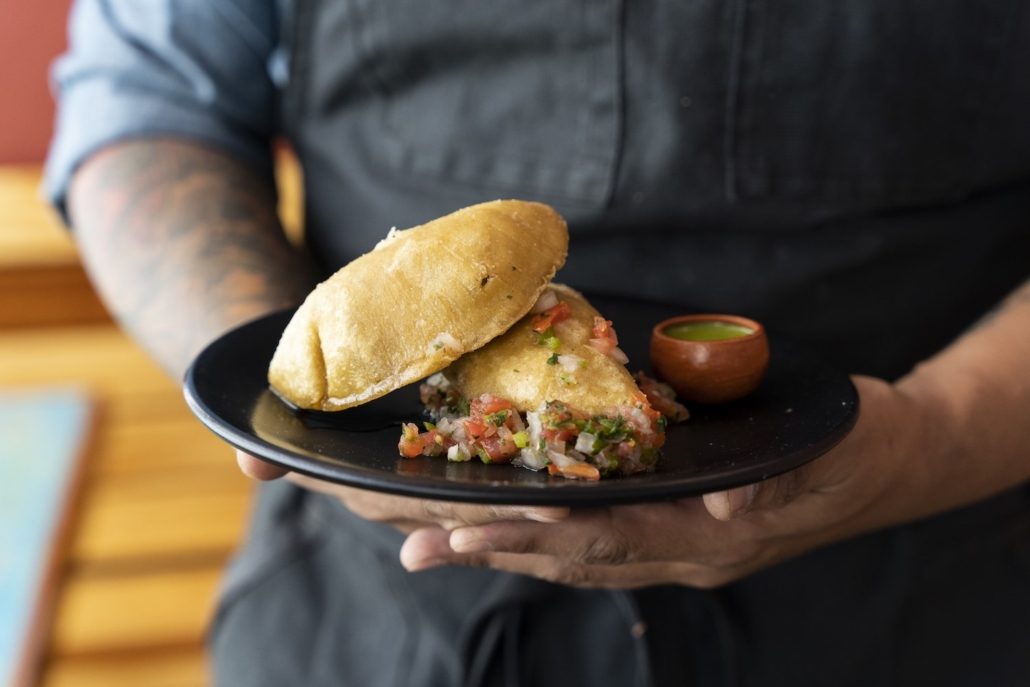 Hector Revilla 
EL GALLO 
Born in Brooklyn, Hector Revilla spent his early childhood in his family's native Venezuela and enjoyed the South American dishes his parents cooked at home. After initially pursuing a career in audio engineering, Revilla realized he could no longer deny his love for food and kicked off his culinary career as a line cook in a vegan, raw food restaurant in New York. 
These days, Revilla is in a kitchen that resonates a bit more with the fare of his Venezuelan upbringing. In July 2021, Revilla became the chef of El Gallo, the Mexican restaurant in downtown Asheville launched by restaurateur Jacob Sessoms. Revilla was formerly at Sessoms' acclaimed Table restaurant, which used to occupy Ello Gallo's College Street space, after moving to Asheville from Minnesota with his fiance in the fall of 2019. (Table closed due to the COVID-19 pandemic in 2020, and Sessoms moved it to Lexington Avenue, launching El Gallo in the original Table spot with chef Luis Martinez.) 
"We had never been to Asheville, but it had a lot of things we liked—mountains, outdoor recreation, close to nature," Revilla explains. "And after three years in the Twin Cities, I had enough of those winters. I am not meant to live in that weather!" 
But it was in Minneapolis that Revilla learned the techniques of low-and-slow cooking. While working at the former Corner Table restaurant, a popular Minneapolis eatery led by chef Karyn Tomlinson, he participated in Cochon 555, a prestigious national whole-hog, nose-to-tail cooking competition that supports local farmers and educates chefs and diners on heritage pigs through the creation of tasting menus. 
In 2018, Tomlinson was the first woman to win the Cochon 555 national title and the "Queen of Pork" crown. And it was while assisting her in that competition that Revilla discovered the proper techniques and sweet-spot temperature for a perfect braise. 
There are two ways to prepare meat for braising, Revilla explains— either with a marinade or with a salt-and-pepper rub and then seared. Although the chef advises home cooks not to sear marinated meats as the marinade could burn, the second method is common. 
A braise starts with a neutral oil brought to a high temperature in a heavy, oven-proof pot large enough to accommodate everything that will be cooked. A seasoned meat is then seared on all sides to seal in the flavor. After the browned meat is removed to a platter, the heat can be lowered and accompanying vegetables (onion, garlic, celery, and carrots) can be sautéed in the dish until soft. Once the meat is returned to the pot, a braising liquid can be added (water, wine, or other liquids, depending on the recipe). The pot is then covered and put in an oven to continue cooking. 
When it comes to cooking time, internal temperature is key, Revilla notes. "Let's say you're braising something in a 250°F oven for four to 12 hours—it's when the internal temperature of the meat reaches 200°F that you hit the sweet spot, when all the fat breaks down and it becomes edible," he explains. "At 185°F, it's still a tough chew, and at 215°F, it dries out." 
Another tip for the home cook: Allow your 200°F meat to cool and rest before serving. "If you take the protein out of the pots as soon as you take it out of the oven, it will fall apart," he says. "Let it rest in the liquid so it firms up and grabs onto all the juices." 
At El Gallo, Revilla puts his braising knowledge to work producing the restaurant's most popular item, the quesa birria taco. "We braise chuck roast, which has a de – cent amount of marble and a fat cap," he explains. "Depending on the size of the cut, it's anywhere from six to eight hours in the oven, so I do that on the day we're closed to have it ready for the week." 
Through the winter, Revilla will add more braises to the menu, most likely using pork, particularly pork belly and ribs. 
At home, his go-to meal using braised beef is empanadas. "They're traditional in Venezuela and Columbia. It's basically braised beef, black beans, poblano peppers, onions, garlic and sweet plantains," he says. "It's the perfect combination of salty and sweet with a hint of spice."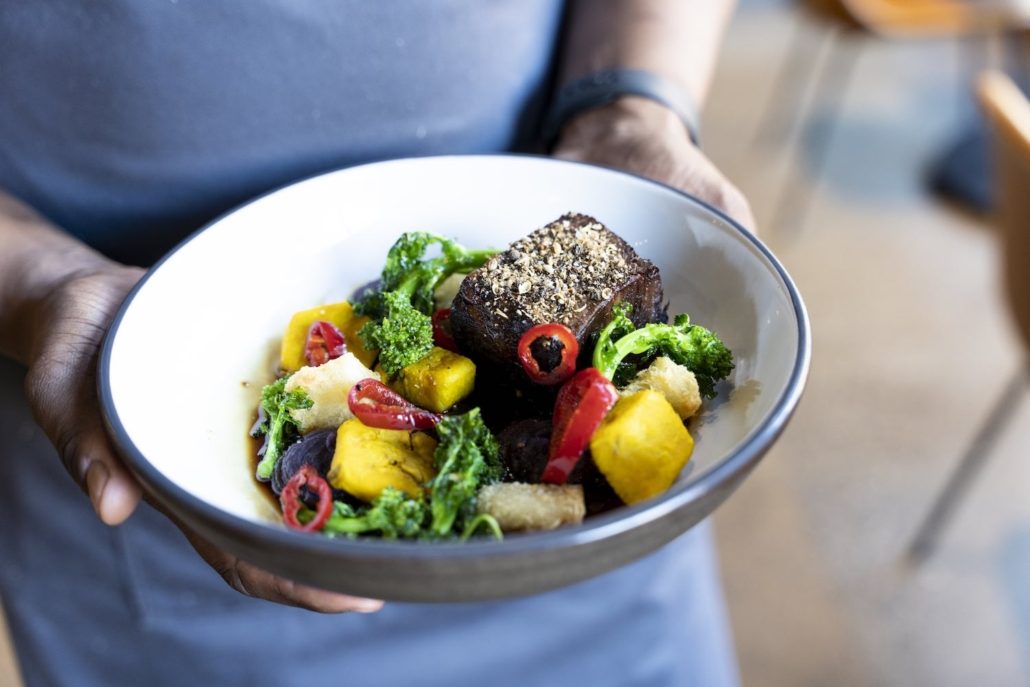 Cleophus Hethington 
BENNE ON EAGLE 
Chef Cleophus Hethington was busy building an impressive resume even before he landed in Asheville in August 2021 to take the post of chef de cuisine at Benne on Eagle, the John Fleer-owned restaurant that ranked fifth on Esquire magazine's 2019 list of the 22 best new restaurants in the country. Leaving behind previous careers in the U.S. Navy and public health sector, Hethington gave in to the pull of his longtime love of cooking to pursue it as a profession. He accepted an internship in 2011 with the opening team of Yardbird Southern Table in Miami, which turned into his first professional cooking job. From there, he worked in the kitchens of Jean-Georges Vongerichten's Matador, the Four Seasons Surf Club and Lazy Betty in Atlanta. 
Hethington cultivated a keen interest in the dishes, flavors, ingredients, and techniques of the African diaspora while launching the Ebi Chop Bar pop-up dinner series in Atlanta in 2017 and creating his boutique line of Triangular Traded Spices in 2019. Ask Hethingon about the seasonal return of braised meat and vegetables to restaurant menus, and he will gladly share knowledge from his years of study of African diasporic foods through cookbooks and travel. 
"Coming from the perspective of the culture I am most influenced by and cook in, braising is not a winter thing; it's year-round," he says. "Think of Latin America, the Caribbean, and Africa—a lot of dishes are braises and stews, which are basically the same method of cooking. It is a cultural thing passed down generations." 
Hethington points out that much of the cooking of his enslaved ancestors came down to the foods they were allowed ac – cess to—such as the offal from slaughtered hogs—and what tools they had to work with (often a single pot over an open fire in a hearth). "Whether it was something like moqueca [Brazilian seafood stew], or pepper-pot stew, or oxtails, how to make it delectable? You cook it for hours." 
Braised dishes have proven to be very popular at Benne. Somewhat to Hethington's surprise, the pepper-pot stew with braised short ribs has been a bestseller, and now the adventurous chef hopes to find local sources for goat and rabbit and more reliable access to oxtail so he can add those meats as specials to Benne's braised repertoire. 
But braising doesn't have to be just for meat. Vegetables can also hold their own as delicious slow-simmered dishes. Greens are a staple part of diaspora culture, and braised creamed collards are a popular— and vegan—side on the Benne menu. "We braise or stew them for at least a good hour, adding a house-made gastrique and hot sauce," Hethington explains. He then adds a vegan bechamel to the braised greens made from a neutral oil, flour, water, puréed fennel, and cooking liquid from the collards. 
Braising, Hethington says, ensures that everything in the process, including the cooking liquid, can be used, whether to make a sauce, a fortified stock, or a thick jus. "It's technique and timing," he explains. "It's understanding the ingredients and products you're using to get to the desired end goal." 
And, he points out, employing this technique at home yields rewards beyond sensational flavor. "Braising fills the house with a comforting smell and warmth that essentially welcomes you home at the end of the day." ◊◊
Save
Save
Save
Save
Save
Save
Save
Save
Save
Save
Chef Andrew McLeod of Avenue M
Chef Hector Revilla of El Gallo
Chef Cleophus Hethington of Benne on Eagle