SWEET ON SORGHUM
A Southern Appalachian staple is celebrated in the "International Year of Millets" 
***
WORDS BY CHRIS SMITH
A shared community ambition for 2023 should be to grow more sorghum, a type of millet, and not just because 2023 is the "International Year of Millets."
The grassroots and newly emerging North American Millet Alliance (NAMA) aims to give millets due recognition for being a nutritious and diverse collection of cereal grains, especially in times of climate change. It's using the United Nations General Assembly "International Year of Millets" resolution as a launch pad for their efforts and wants millets to become embedded in our food culture and feed us in times of climate chaos. 
Millets are a collection of cereal grains that have been cultivated by humans for at least 7,000 years. Widely grown across Asia and Africa, they all belong within the large botanical family of grasses (Poaceae). The broad "millet" category includes Pearl Millet and Fonio (West Africa), Foxtail and Proso Millets (China), Teff (Horn of Africa), Finger Millet (East Africa), and Little Millet (Southeast Asia). 
There is also Great Millet, better known in the U.S. Southeast as sorghum and sometimes considered its own category of cereal grain. Sorghum's botanical origins can be traced to the Ethiopian/Sudanese region of Africa, where it is prized for its productivity in dry conditions and high heat. In other words, it's climate resilient. 
Joanna Kane-Potaka, assistant director general for external relations of The International Crops Research Institute for the Semi-Arid Tropics described millets as "a smart food—good for people, the planet, and farmers."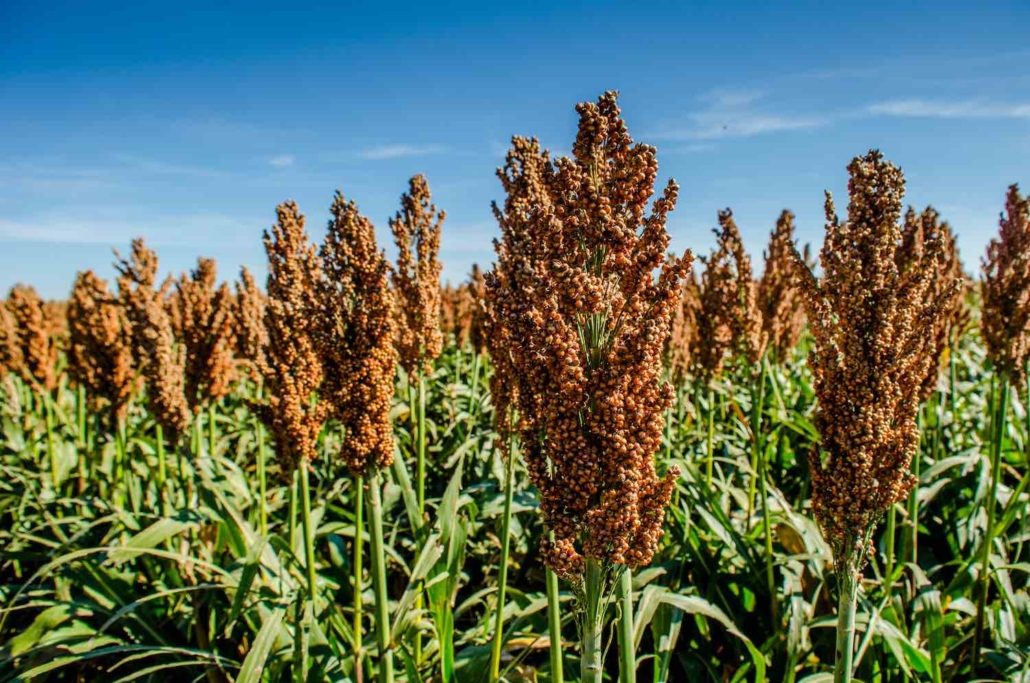 While sorghum confidently lays claim to being tough in the field, with one source describing sorghum as the "camel of cereals," and another report showing sorghum surviving air temperatures as high as 108°F, it does have a sweet side (or rather, interior). As a close relative of sugarcane, the stalks of sorghum can be crushed to extract a sweet juice, forest green in color and quite delicious. This juice is then boiled down into a thick, dark syrup not unlike molasses. 
Sorghum syrup was a deeply rooted Appalachian tradition and once a solid fixture of the fall season. Equipment for large-scale processing is now hard to come by, but I was able to witness an antique sorghum press in action when I attended the 2022 Fall Convening of the Ujamaa Cooperative Farming Alliance (UCFA). Volunteers did the job once held by mules and turned the gears that crushed the canes and cranked out gallons and gallons of juice from long lengths of locally grown sorghum named Della, a variety known for high juice content. 
The UCFA celebrates culturally significant crops. And since sorghum is a grain of Africa, having crossed the Atlantic with the slave trade, the group is reclaiming that heritage by encouraging their growers to plant, harvest and process more sorghum. 
Other common uses for sorghum include cooking it into a porridge (perhaps sweetened with sorghum syrup), using it as a whole cooked grain in place of rice or quinoa, or grinding the grains into a gluten-free flour for use in breads and baking. 
From Zambia to Ghana, there are traditional sorghum beers known for their characteristic cloudiness. And while sorghum is more distantly related to corn than sugarcane, the small grains pop into a mildly flavored nutty snack, just like popcorn. 
So, when using the winter months to plan your garden and kitchen ambitions, consider adding sorghum to the mix. Its varied uses will have you sweet on a climate-resilient crop that could very well play a bigger role in our diet moving forward. 
***
Chris Smith is executive director of the Utopian Seed Project, a crop-trialing non-profit working to celebrate food and farming. His book, The Whole Okra, won a James Beard Foundation Award in 2020 and he is the co-host of The Okra Pod Cast. More info at blueandyellomakes. com and utopianseed.org.
Save
Save
Save
Save
Save
Save
Save
Save
Save
Save
Great Millet is better known in the U.S. Southeast as sorghum. Sometimes considered its own category of cereal grain, sorghum's botanical origins can be traced to the Ethiopian/Sudanese region of Africa.