COOKING SCHOOL DIRECTORY
Update your menu for 2023 with new recipes, cooking skills, and baking techniques.
***
A-B Tech Community College | Continuing Education 
Abtech.edu/programs/continuing-ed 
A-B Tech is known for its award-winning culinary program, which offers a two-year associate's degree and has produced several nationally recognized chefs. But the school's continuing education program is also a popular destination for everyday cooks and bakers who are looking to elevate their skills. Classes take place on A-B Tech's campus, located minutes from downtown Asheville, typically one evening per week over the course of four to six weeks. 
The cooking and baking courses are dynamic and offer instruction on everything from easy one-pot meals to cake decorating and wine pairing. One recent course, offered by long-time cooking instructor Donna McCrain, showcased a variety of homemade soups—for simple weekday meals, as well as elegant dinner parties. The cost of the classes ranges from $75 – $115, and students are often encouraged to bring containers to take home leftovers from the classes. Visit A-B Tech's website to see the latest course offerings and registration deadlines.
Cottage Cooking 
Cottagecookingasheville.com 
Visitors rave about the 2 to 3-hour "cooking class dinners" hosted by John Godts and Liisa Andreassen in their charming Asheville home. Guests are invited to relax and watch or actively participate in the creation of a beautiful meal that everyone enjoys when done—all while picking up tips for basic knife skills and cooking techniques, alongside recipes. 
The couple offers 20 menus from which to choose. One fan favorite, the empanadas class, starts with the creation of a roasted tomato and red pepper soup, followed by chorizo-stuffed empanadas with a cilantro cream sauce, and finished with a cayenne-infused chocolate mousse. A pasta class teaches guests how to make handmade tagliatelle, while a "southern seasons" class will include cheesy scallion biscuits, a bourbon pecan chicken over ginger mashed potatoes, and banana pudding. 
Cottage Cooking offers about 8-10 classes per month, on evenings, and one Saturday morning baking class. They also welcome custom and private classes upon request. Sign up for their newsletter to stay up to date or visit their website for more details.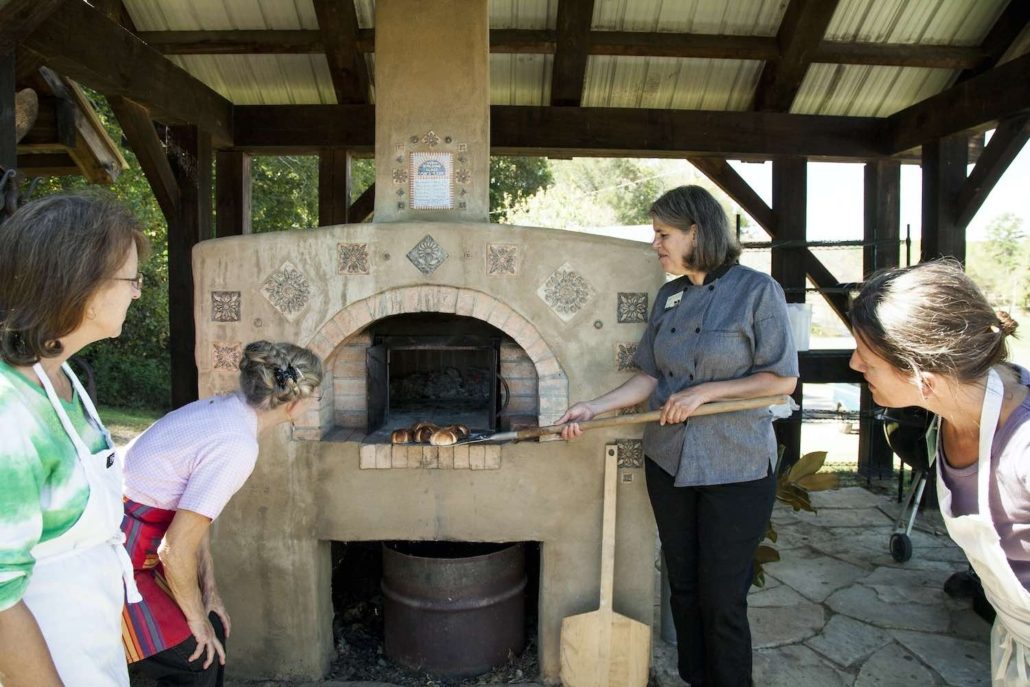 John C. Campbell Folk School 
Folkschool.org 
The John C. Campbell Folk School is a truly special place, offering hundreds of classes— from weaving and woodworking to pottery and dance—and their cooking and baking courses attract a particularly loyal following. Located on a peaceful 270 acres in Western North Carolina, the school was founded nearly 100 years ago with a mission to celebrate makers and learners, and attracts students from across the country. 
The school offers weekend and week-long courses, providing housing and meals and inviting guests to enjoy a variety of evening activities, including dances, concerts and artisan demonstrations. A helpful note: classes often sell out months in advance, and so guests are encouraged to book early. 
Cooking and baking classes are tailored for both beginners and experienced chefs, and the instructors create a relaxed environment, fostering a sense of community and a place to create lasting friendships. Courses offer instruction on artisan breads, cheesemaking, and charcuterie, as well as global culinary traditions like Indian, Northern Italian and French cooking. One class, offered by celebrated local instructors Barbara Swell and Nanette Davidson, tackles savory pies and woodfired flatbreads, along with seasonal salads, summer soups, and herbal cocktails. 
Organic Growers School 
Organicgrowersschool.org/conferences/spring
Based in Asheville, the Organic Growers School is a regional education hub for anyone interested in farming, gardening, and organic living. Their annual Spring Conference—taking place February 24-26 at Mars Hill University—is a major event, attracting students from several states and offering a dynamic lineup of classes and workshops taught by some of the most celebrated instructors in the area. 
This year, the conference will include four cooking classes and a half-day workshop on fermentation. One class, Magical Mead Making, will guide students through the process of making mead, a fermented alcoholic beverage (sometimes called "honey wine" or "nectar of the Gods") made with honey, water, and yeast. Another class, Traditional Foods of the Cherokee People, will offer instruction on the foods gathered in the Great Smoky Mountains by the Cherokee, including wild mountain salads and plants. 
The courses will offer formal instruction, demonstrations, and tastings, and participants will be invited to taste the dishes made in class. Students can choose to attend the conference for a single day or all weekend. OGS offers a sliding-scale system of rates, ensuring all are welcome. Check out their website for more details and registration information.
Save
Save
Save
Save
Save
Save
Save
Save
Save
Save
Nanette Davidson, a cooking and baking instructor at the John C. Campbell Folk School, teaches a course on savory pies and wood-fired flatbreads.