Ripe for the Picking
U-Pick farms are on the upswing in Western North Carolina
By Sarah Hart
Late afternoon sun caresses your shoulders as you lift warm, plump fruit to your already berry-stained lips. Your legs are scratched from the bramble, and you don't even care. You've eaten your fill—and then some—out on the farm today, and it seems as if an endless summer stretches before you.
The daydream evokes almost universal nostalgia, whether or not you actually frequented a pastoral berry patch in your youth. The historical allure of U-pick stretches back to the 1800s and probably further, correlating with other early forms of agritourism.
Modern U-picks, particularly for blueberries, blackberries, and strawberries, began springing up across the U.S. in the 1930s and '40s, spurred by falling market prices for fruits and vegetables as well as a scarcity of paid rural pickers thanks to World War II. Farmers could move crops and save on container and commission costs by opening their fields directly to local consumers and charging them by the pound to pick, gaining a de facto labor force.
Widespread use of the automobile, in turn, meant that the average city-dweller could enjoy a day in the country, complete with all the trappings of idealized farm work. In North Carolina, tobacco growers found they could shore up income by adding U-pick crops.
Popularity boomed in the 1950s and stayed high through the '70s, when berries were still understood as a seasonal novelty, and not a thing that could be purchased 365 days a year at the grocery store. U-picks provided unique access to bulk produce that could be turned into jams or other canned preserves for the winter. And nostalgia played a role even then, with U-pick days harkening back to a seemingly simpler time.
Though interest dipped at the end of the 20th century, it's no surprise that these days, with the renewed draw of all things local and homegrown, U-picks have seen a resurgence. In fact, the U-pick model exists more and more as a stand-alone business rather than an add-on, and it is enticing second-career farmers such as Johnnie James of Bethel Valley Farms, outside of Boone, and the Perry family of Perry's Berry's in Morganton.
After more than three decades as an accountant in Florida, James and his wife, Julann, decided to cast their lot with berries instead. "It's not an obvious jump, is it?" he laughs. "When I was a CPA, the majority of my clients were in agriculture. I admired their faith and passion for land and the quality of what they produced."
James purchased an abandoned 39-acre farm in October 2011 and had his first raspberries and blackberries in the summer of 2013. Attempts at selling direct to grocers like Lowes Foods in the first year were frustrating. Finally, James came to the conclusion that he was set up best for U-pick, which he launched in 2014.
"If you look at the berries from Driscoll's and Dole, they are bred for long shelf life," James explains. They're not as sweet as the ones picked right off the bush in your own backyard because high sugar content leads to quicker deterioration, which is not what commercial producers want. "What I realized, finally, was that the varieties I had planted are bred for home consumption. The moment you pick them, they begin to deteriorate. Expanding grocery sales didn't make sense—but U-pick is a perfect match."
For Deborah Perry and her husband, Terry, what began as a fun idea to plant a few blueberry bushes for their grandchildren expanded into more than 2,400 blueberry plants, plus an additional 700 raspberry bushes and 500 strawberry plants. "It grew beyond expectation, but we're excited about it," says Perry.
They opened Perry's Berry's to the public for U-pick in 2013,tapping into their shared passion for health education. Both still work part-time in nursing jobs, though Deborah also has a U-pick pedigree.
"My father raised cabbage, potatoes, that type of crop," she says, "then got into Christmas trees in later years." Her three brothers still run a Christmas tree farm in Avery County.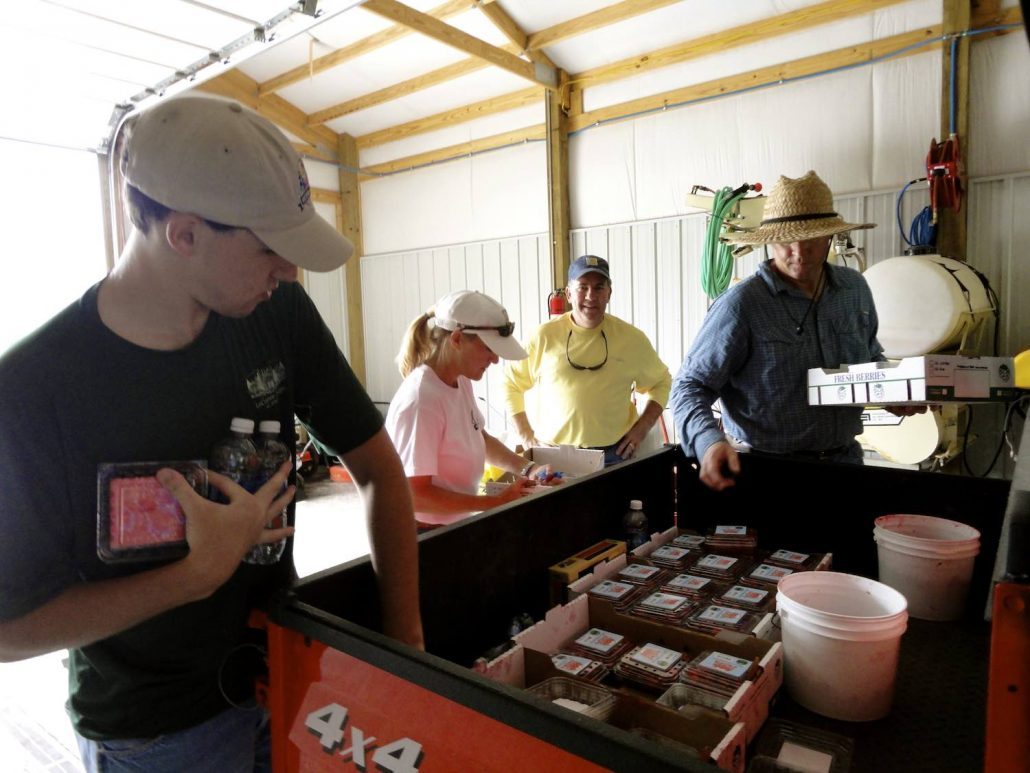 Operating a U-pick requires its owners to wear a more extensive set of hats than a traditional farm might. Often they must be tour guides, activity directors, event planners, zookeepers, educators, cooks, janitors, and safety and liability experts—all in addition to mastering agricultural techniques and business practices.
"We're a working farm," confirms Perry. "We thoroughly enjoy the agritourism part of it, but it is a balance. Farming is a busy career. You're up early sowing and up late praying for rain."
Perry's Berry's is home to goats, ducks, horses, donkeys, chickens, and bees alongside its berries, and offers school group programs in agricultural education, children's birthday parties, and playground and picnic areas. The farm store sells their own jams, jellies, eggs, and honey, as well as blueberry ice cream made from their berries by The Hop Ice Cream Café in Asheville.
James has been more hesitant to add supplemental activities and products at Bethel Valley Farms, but with scattered picnic tables among the gently sloping hills and hiking trails leading to a multi-state view at the top, the farm itself has been a draw. It's also a stop on the High Country Farm Tour, which has helped to drive visitors.
"If I knew everything I know today, I might not have chosen to be so way out in the country," reflects James. "Most of my visitors are people that come to the mountains for 10 days, or have family visiting, and are looking for things to do—and U-pick is one thing to check off the list."
The best U-pick farms offer a variety of berries with staggered harvest times, so there's always something to pick—even though visitor traffic is often weighted heavily to the beginning of summer.
"In the mountains, you can have a late frost into the middle of May," points out James, who grows blueberries and grapes in addition to blackberries and raspberries. "If you have all early varieties, you just lost your whole crop. I wouldn't gamble on going early." Likewise, an early freeze at the first of October can bring a swift end to the season.
Ease of picking is another consideration, from thornless varieties to the height of the bushes (Perry's Berry's maintains a short-bush field specifically for small pickers). Raspberries are among the most difficult and time-consuming berries to pick, while blueberries are the easiest.
"I don't like picking raspberries," admits James. "With blueberries and blackberries, you grab hold and the core comes off the bush. Raspberries are so fragile because the core stays on the plant and they are hollow in the middle. It seems to go so slowly."
"I think with blueberries, sometimes you could stand in one place and pick a whole gallon just turning around from bush to bush," says Perry. "It's not hunt and find."
The Perry family is always ready to point customers to a specific field for a sweeter or tarter berry, if requested, and they grow a few sought-after specialty varieties—including pink lemonade blueberries and golden raspberries—for added "curb appeal."
Each of their four blueberry fields is named after a grandchild, leading to excitement over who has the most popular berries.
"It's so much fun to have folks who have never picked before," says Perry. "We explain what to look for as far as a ripe blueberry. They're so excited about their first time. The best thing is seeing that joy."
Berries are sold by weight, though Perry's Berry's also prices a full gallon bucket at $14. "I was selling by volume," says James, "but people were trying to compare the price to the grocery." He partnered with ASAP (Appalachian Sustainable Agriculture Project) on a U-pick box with his logo and now sells by weight. "They love that takeaway. Nobody gets worried about the price."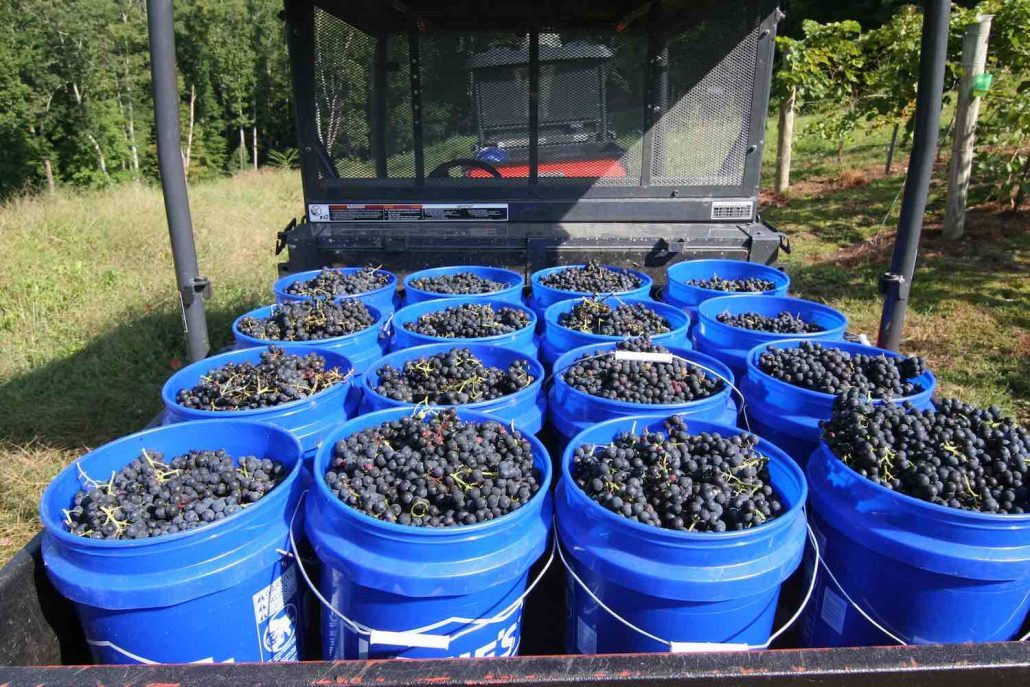 Though both Bethel Valley and Perry's have found a strong center in U-pick business, they still sell elsewhere, like to craft beverage producers. James's grapes go to Grandfather Vineyard and Winery in Banner Elk, and he has also collaborated with owner Steve Tatum on a fortified raspberry wine. Perry's Berry's supplies three local breweries: Fonta Flora in Morganton, Blind Squirrel in Plumtree, and Appalachian Mountain in Boone.
Lulls in business do happen, especially at the start of the school year when thoughts turn to pumpkins and hayrides, and even a 100-percent U-pick farm will probably need to supplement with staff or day laborers (or, in the case of many, family members).
"Farming is not for faint of heart," says James. "In accounting, you balance across time. It doesn't work that way in farming. The year I planted, we had a drought, and I lost some plants. The next year had record rainfall—mud running down the side of the hill, hailstorms, high winds. But I love the beauty of the outdoors and the feeling of being able to grow these things. I get a great sense of satisfaction with people coming out and enjoying it." ◊◊
Save
Save
Save
Save
Save
Save
Save
Save
Save
Save
U-pick farming operations present a unique set of challenges to the region's farmers.