Presented by The Ingles Table
POP POP'S SUNDAY GRAVY
By Josh Michael | Radio Host & Contributor to The Ingles Table
Photos by Erin Adams
As a fourth-generation Italian-American, food and family are both very important to me. In the chilly months of fall and winter, my family would head to my grandfather's house on Sundays, watch Philadelphia Eagles football, and enjoy a meal of PopPop's famous pasta with Sunday gravy.
When Pop-Pop passed, I asked my Uncle Paul for the recipe. But I noticed that wine wasn't listed on it, even though I remember Pop-Pop putting wine in his gravy. When I asked my Dad about it, he said, "Well, the wine was a given—the amount depended on his mood that day." 
After some trial and error, I got it right and invited my Mom and Dad over for dinner. As soon as my father walked in the door, he said, "You're making Dad's gravy. It smells just like Pop-Pop's house." 
***
¼ cup olive oil 
½ onion, chopped 
1 green pepper, chopped 
1 package pre-cut mushrooms (8 ounces) 
2 28-ounce cans peeled Italian tomatoes 
4 tablespoons parsley, finely chopped 
2 bay leaves 
2 tablespoons oregano 
1 clove garlic, chopped 
Salt and pepper to taste 
1 6-ounce can tomato paste 
½ cup red wine (any Merlot will work) 
Package of your favorite pasta 
Start by chopping all the vegetables. Add olive oil to the bottom of a pan, without turning on the heat. Add the peeled tomatoes to the pan and crush the tomatoes using a whisk or the side of a spoon. Once the tomatoes are crushed, turn heat to medium-low. Add the onion, green pepper, mushrooms, parsley, bay leaves, oregano, garlic, and salt and pepper to taste. Add red wine. 
Stir all the ingredients together and let simmer for 30-35 minutes, stirring occasionally. Add tomato paste. Stir together and let simmer for another 30- 35 minutes, stirring occasionally. 
While sauce simmers, cook the pasta of your choice. Before draining, add a ladle or two, as needed, to help thin out the sauce. Pour the sauce over the pasta and serve. ◊◊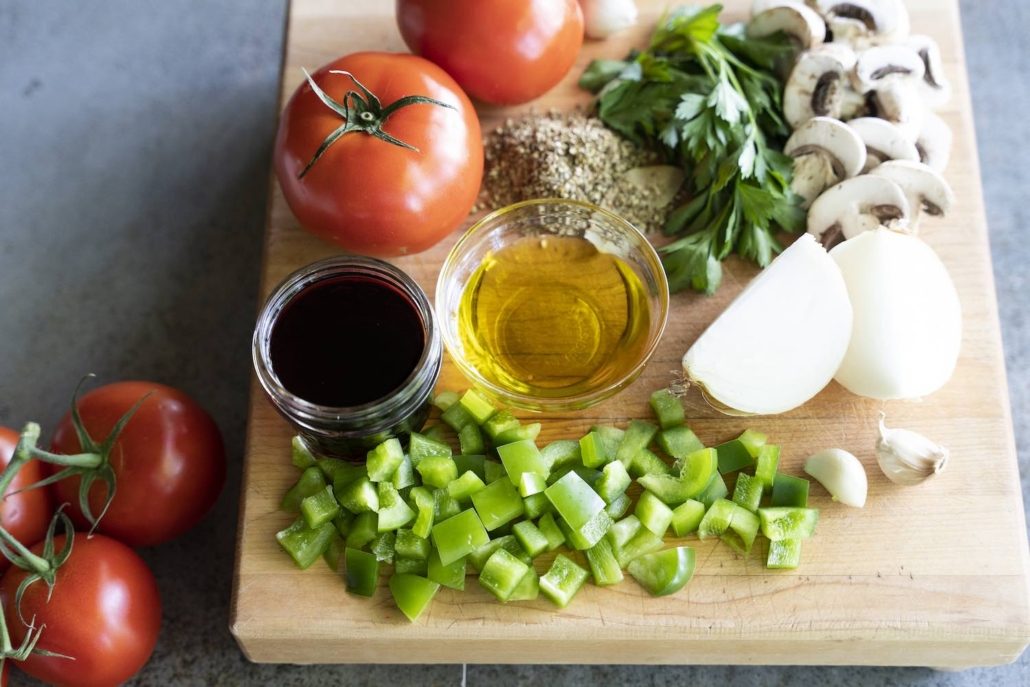 Josh D'Innocenzi, better known as "Josh Michael," is one half of "Josh & Ariel in the Morning" on Asheville's Star 104.3 and the afternoon host on Asheville's Rock 105.1. He is also the host of "Ingles' Chef's Kitchen," which you can catch on multiple local TV stations. Josh is originally from South Jersey, just outside of Philadelphia, but moved to the Montreat/Black Mountain area when he was 8 years old. Although he doesn't have any formal training in the kitchen, Josh enjoys learning new techniques and experimenting with both new and old recipes.
Save
Save
Save
Save
Save
Save
Save
Save
Save
Save
Josh Michael, Radio Host and Contributor to The Ingles Table