SAVE ROOM FOR DESSERT
Diving into the Ultimate Dining Indulgence
By Gina Smith | Photos by Erin Adams
Ordering something sweet to cap off a restaurant meal always feels like a bit of a guilty pleasure—an indulgent treat yourself moment or the finishing flourish to a special dinner. But with the uncertainty of recent times, when each opportunity to dine out with family and friends resonates as a rare and precious event, dessert can be more of a sorely needed sensory celebration than a luxurious afterthought. 
Even back in May 2020, when Americans were first starting to feel the strain of lockdown and eager to get back to restaurants, market research firm Datassential found that 68% of people planned to eat something "indulgent" when they were able to return to dining out. Today, Asheville-area chefs and restaurant owners are catering to that desire with desserts that turn heads and evoke feelings of delight.
Playing with Fire 
Hilary Lamont – Asheville Proper 
Pastry chefs are particularly dialed into that need for something sweet. "I want my desserts to bring joy to people," says Asheville Proper pastry chef Hilary Lamont. "It's been a rough year for a lot of people, and if they can have a nice dessert that makes them happy and helps them remember this restaurant and Asheville in a positive light, that's a great thing." 
Lamont has long been a believer in the therapeutic power of a well-crafted dessert. Always a baking hobbyist, her first job as a teenager in Florida was at a bagel shop. She studied hospitality management at Florida State University before eventually moving to Asheville a decade ago where she worked in front-of-house supervisory positions at the Biltmore Estate and Sierra Nevada Brewing Co. before turning the focus of her career to pastry about six years ago. 
A stint in the A-B Tech culinary program gave Lamont an appetite for confecting treats that marry a variety of techniques, textures, flavors, and colors to achieve a single, wholly satisfying experience. 
"When I create a dessert, I'm going for maybe three to five elements on a plate," she explains. "I want it to be diverse—it should have a creamy element, something hot, and something cold to contrast." 
Seasonally, she seeks local fruit and other natural elements to bring pops of color. And crispy additions, like the smoked peanut crumble on Asheville Proper's chocolate torte, offer a pleasing crunch against the rich, silky backdrops of many desserts. 
A somewhat off-the-radar element that Lamont incorporates into her repertoire on the regular is fire. As a live-fire steakhouse with a wood-burning grill as its centerpiece, Asheville Proper's menu features dishes, from the cheese plate to the cheesecake, that have been kissed in some way by flames. For Lamont, this offers a delicious challenge. 
"I enjoy smoky flavors, but it can be difficult trying to incorporate them in a way that feels approachable for people, because it can be kind of an acquired taste," she says. 
She often employs fire in her desserts subtly through smoked ingredients, such as sugars, cream, and nuts, including the aforementioned smoked peanuts on the chocolate torte. "It's just a hint of smoke flavor with this rich chocolate and the sweet caramel," says Lamont. "It balances and rounds the dish out as well as adding that live-fire element." 
She also can be a bit more direct with her application. "For our s'mores dessert, we torch the meringue, and that adds texture and also this beautiful visual appeal plus just the flavor of it." 
Her elegant take on s'mores with house-made honey graham crackers and toasted marshmallow ice cream is bright, cool, and ebullient, a distant, refined cousin of the gooey, sugar-saturated superstars of family camping trips and backyard bonfires. 
"It's such a nostalgic thing. It's almost embarrassing, but I used to microwave s'mores at home when I was younger just because I wanted to eat them," she says. "We use all-local, whole-wheat flour that has such a good texture and flavor, and combined with local honey—it's so good! And, of course, we have our own homemade marshmallows. All those little things, just adding that little bit of extra attention to them, makes it that much better." 
In the end, one of Lamont's goals with her desserts, particularly given Asheville Proper's focus on hearty steaks, is to make sure they aren't just a disposable postscript to the main meal. "I want to be sure everything I put on the menu stands out enough that someone's going to save room," she says. "I really just want guests to walk away remembering and really enjoying and being impressed with that last bite."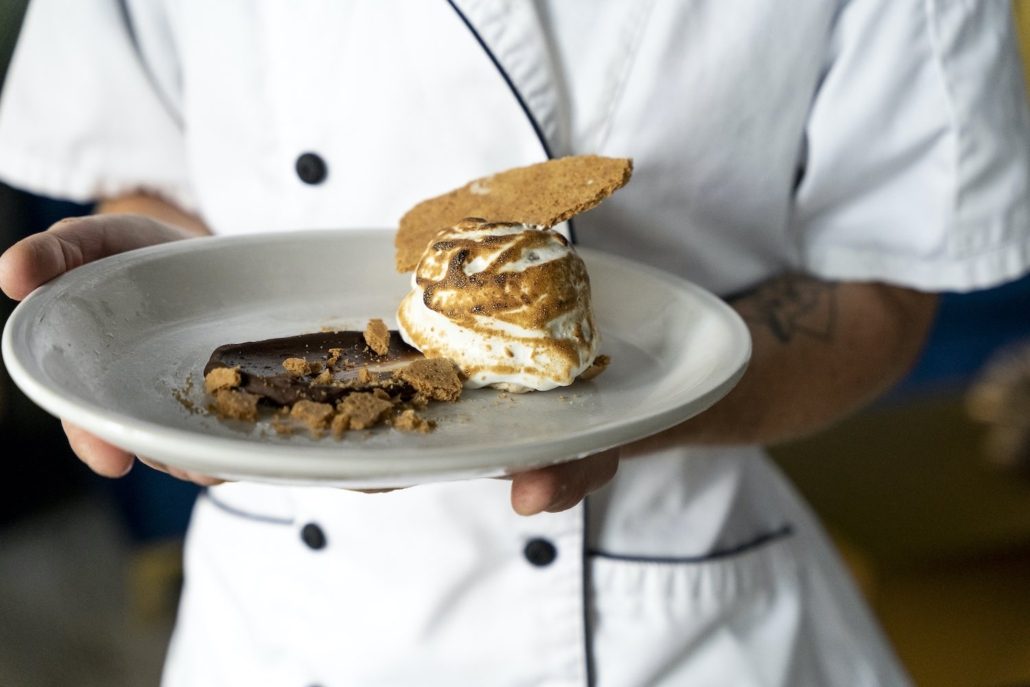 All-Star Treats 
Brian Sonoskus – Star Diner 
The first time chef Brian Sonoskus can recall getting excited about making a dessert was in high school vocational cooking class. The dessert? Baked Alaska, an unlikely but impressive mountain of cake, ice cream, and toasted meringue. 
"It's one of those old-school things," he says. "It was like my pinnacle for dessert at the time—mind you, this is 1984, and things like peach melba and baked Alaska were the country club desserts of the day." 
Nowadays, Sonoskus isn't making much baked Alaska, but he gets excited about plenty of other sweet dishes as executive chef and co-owner of Star Diner in Marshall. "Desserts are always the icing on the cake, if you will, the special treat at the end that really makes a celebration complete," he says. 
Sonoskus, who operates Star Diner with his wife, Kate, in a charmingly repurposed gas station, says he draws inspiration for his restaurant's beloved, scratch-made desserts from many sources, but some have deep roots. "They come from all different places in my life," says the chef. "Some things are simply reinvented from our grandmothers' old three-by-five index card recipes." 
Sonoskus' graham cracker pie, for example, which was originally written on one of Kate's grandmother's recipe cards, was a humble combination of graham crackers, sugar, egg whites, and vanilla. "Of course we top it with some salted caramel ice cream and caramel sauce to kind of step it up a little bit, but it's just a really neat little thing," Sonoskus explains. "It comes out kind of like the consistency of a brownie or a blondie—kind of crispy on the top and bottom and kind of half-gooey in the middle. It's really different and unique, something so simple and yet so good." 
Like Lamont, Sonoskus works to achieve contrasts—a little gooey, a little crispy, a little savory, a little sweet. One nicely balanced dessert for the fall menu is a crème brûlée with candied ginger. "It's got these little bursts of sweet and spicy ginger in it, then I top it with brown sugar apples," he says. "I want to try and put in things that aren't all just straight sweet. I want to add punch, so I use things like lemon juice or creme fraiche, something that's going to be a little tart, a spike of flavor." 
In a similar vein, Star Diner's chocolate mousse gets kicked up a notch (or two) with cayenne-spiced pecans and tart raspberry sauce. And the pecan pie, a fall and holiday go-to dessert for Sonoskus, is made with brown butter, adding an extra rich and nutty layer to the flavor profile. Incorporating colorful seasonal fruits into desserts, like fresh local peaches and blueberries in the summer and apples in the fall, is another strategy for building both flavor and visual appeal. 
Topping the list of Sonoskus' personal favorite desserts is Star Diner's buttermilk cheese pie, which he's been making for more than 20 years. More complex than its name implies, the dessert is served in a ramekin, underpinned by a brown-sugar graham crust and crowned with a simmered pinot noir glace. 
"We call it cheese pie because it's a little bit lighter and smoother and creamier than cheesecake," he says. "It's so decadent, so rich and creamy, but it's got buttermilk and lemon juice in it that really adds a twang." 
Art and Science 
Mallory Foster – Chestnut and Corner Kitchen 
Growing up in Connecticut, Mallory Foster learned to handle a piping bag and temper chocolate at a young age, working at the side of her mother who ran a catering business specializing in gourmet cookies, cupcakes, and other sweets. 
But Foster, who had her heart set on being a veterinarian, initially opted out of the pastry chef path in favor of pursuing degrees in zoology and wildlife biology. But during college at University of Vermont, a job in the kitchen of an eclectic international street food eatery in Burlington had her cooking everything from falafel to bread to pineapple upside down cake, ultimately nudging her toward a life in the restaurant industry. 
Having learned the ropes of baking gluten-free breads and desserts at her post in Burlington, Foster shifted easily into a job as assistant pastry chef at downtown Asheville gluten-free restaurant Posana when she moved to the area after college. The experience of working in the Posana kitchen with pastry chef Renee Hill reconnected her to her science roots. 
"They make their own flour blends to make things like the breadsticks, the scones, the biscuits," she explains. "[Hill] even made crusty bread for a bahn mi there. You can't do that with the commercial flour blends on the market—you need a very specific ratio of tapioca starch to cornstarch to potato starch. It was an awesome experience, and that brought me back to the science I love." 
Today, in her role as pastry chef for Corner Kitchen and Chestnut, Foster continues to implement the specialized skills she honed at Posana, always keeping at least two gluten-free items on the dessert menu at each restaurant. She has also joyfully embraced the process of fermentation, adding it to her toolkit for creating unforgettably flavorful confections. 
Of course, she loves the science behind fermentation's tangy, umami magic. "I got to know what my variables were and why this mold is safe to eat," she explains. Working with koji, a rice-based cultivated mold, Foster ferments her own amazake, a tangy-sweet ferment that she adds to fruit to create depth and uses in many of her breads to give them a sourdough-like flavor profile. 
Like Sonoskus, she's not a huge fan of super-sweet desserts. "It's actually something I'm trying to work on to appeal to all clientele, because a lot of people want cloyingly sweet," she says. "But these fermentation applications help me stray away from cloyingly sweet; they build umami on top of the sugar." 
Western North Carolina's bounty of seasonal produce and the ever-shifting menus at Chestnut and Corner Kitchen give Foster plenty of latitude for experimentation. "I constantly have ideas spinning around in my head," she says. "We change the menu every single month, and it's always a struggle to pin down what's going to happen." 
For a dessert at Chestnut, Foster tops a chocolate zucchini cheesecake with a fresh ginger and zucchini mignonette. "Those are two traditionally savory items that add texture, some sweetness, and a little bit of curiosity to this dessert that typically would be very sweet," she notes. 
A sweet-corn tres leches, meanwhile, features sweet-corn cake and sweet-corn mousse with thyme oil and amazake-soured blueberries. But Foster always looks forward to autumn and the holidays. "I think October and November are some of the best produce months," she says. "Fall flavors are my favorite." 
A windfall of local grapes could result in a grape, rosemary and cornmeal or semolina basbousa, a type of Middle Eastern cake. She also muses about the possibility of a baked custard layered with phyllo dough then brûléed. "So it's almost like crème brûlée, but it's got more texture to it—I'd like to do that with candied local butternut squash." 
Sorbets are always on the menus, and she can't wait to churn those out in apple cider and mulled red wine flavors along with some cider-doughnut ice cream. Ultimately, Foster hopes that the desserts that she enjoys making will create memorable and meaningful experiences for her guests, whether they're indulging in a lifelong favorite flavor or tasting something new and unexpected. 
"Food keeps us alive, but it's also something that brings us joy, it's something that brings us memories; it connects us to one another and grounds us," she says. "There's nothing like your favorite food on a bad day." ◊◊
Save
Save
Save
Save
Save
Save
Save
Save
Save
Save
Hilary Lamont of Asheville Proper
Brian Sonoskus of Star Diner
Mallory Foster of Chestnut and Corner Kitchen