PERFECTING THE PIZZA
Modesto elevates pizza with grown-up ingredients and divine wood-fired flavors
WORDS BY TENNILLE T. LEGLER | PHOTOS BY JENNY TENNEY
***
In the bustling kitchen of the Italian trattoria Modesto, real estate is valuable. A narrow walkway winds around tall wire shelves and gleaming refrigerators, while chefs share limited counter space with baskets of colorful vegetables and freshly caught fish packed in ice. But set in the corner, tucked away from the traffic, there is an almost sacred space for the pizzaiolo and a large wood-fired oven known as "the dragon." It's here that Modesto's popular pizzas are created. 
On any given day, Modesto serves up well over three dozen pies, keeping pace with the steady crowd in this vibrant Grove Arcade cafe that gives off a European vibe. The pizzas deliver grown-up flavors and creative topping combinations that make me question whether the frozen disks I heat up for my kids can actually be called by the same name.
Modesto chef and owner Hector Diaz, a well-established Asheville restaurateur who owns two other properties in the city and opened his first eatery in 1993, borrows much of his inspiration from years in NewYork City, where he cut his teeth in the kitchens of the Lower East Side and picked up secrets for authentic Italian flavors.
"I learned my tomato sauce from a woman there, a Jewish-Italian woman, just a few years older than me," Diaz says. "I was washing dishes at the time, not even a cook, but she taught me. And that's still what we have today."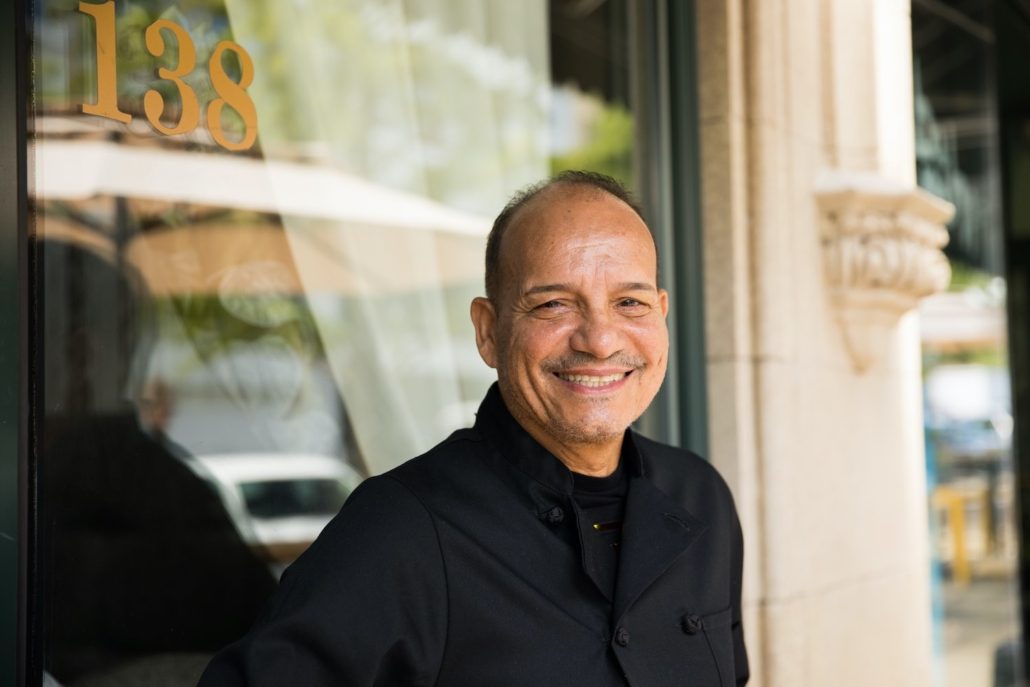 The Modesto menu, which changes seasonally, offers about a dozen pizza options. Let's start with a favorite: a beautiful pie dotted with fresh figs and slices of delicate prosciutto. A surprisingly mild foundation starts with a jalapeno pesto—made with the peppers, basil, lime zest, white peppercorns and pistachios—and then a layer of fontina lends that cheese's signature buttery flavor. Toppings include the aforementioned prosciutto, while the figs were picked fresh that day by one of Diaz's sons from the family's 10-acre farm in Asheville. Bits of chopped spinach add color and a nice earthiness to the bite, and the whole creation has a brilliant saltiness that's balanced with the honey-like sweetness of the figs.
Modesto's daily staples come from Asheville-based Mountain Food Products, which sources local produce and distributes them to several regional restaurants, while Diaz's own farm produces everything from radicchio and arugula to apples and pumpkins. But some ingredients arrive in the kitchen like an unexpected gift. During my visit, for example, Diaz introduces me to a server who forages for mushrooms in his spare time and had just delivered a batch of king oysters and some hen of the woods. And when I tell Diaz that I have an overwhelming bounty of tomatoes from my yard, he invites me to bring them into the restaurant and swap them for a meal.
Pizza, in its simplest form, is a basic construction; nothing more than dough, sauce and cheese. But, boy, it can generate a lot of debate. A bit of sparring over deep dish v. thin crust pies can dissolve friendships, as can arguments over whether you can properly eat a slice with fork and knife. And wow, if you happen to be someone who likes pineapple chunks on their pie, be prepared for a public mocking.
Personally, I steer clear of declaring absolutes when it comes to pizza—except, of course, if it involves the dough.Then I'm a bit of a snob. Whether baguettes, bagels or pizza crusts, I'm looking for that divine fresh bread flavor, along with beautiful air pockets and a perfect combination of soft, chewy and crunchy textures. And here, Modesto shows a pretty strict adherence to time-tested tradition. The foundation of Modesto's pizza dough is a high-protein flour from Vermont-based flour company King Arthur that creates structure and allows the dough to stretch. But while most pizza doughs include a standard mix of flour, salt, sugar, yeast, olive oil and water, Modesto adds a touch of onion powder for a nice flavor and two different types of yeast, including a 12-year-old mother.
Just an arm's length from the flour-dusted marble counter of the pizzaiolo is the gaping maw of "the dragon," a beautiful wood-fired oven from California-based Mugnaini. Lined with an arch of bricks, the oven burns mesquite charcoal to reach temperatures as high as 800°F, cooking a pie in less than two minutes and creating that desirable char known as leopard spotting.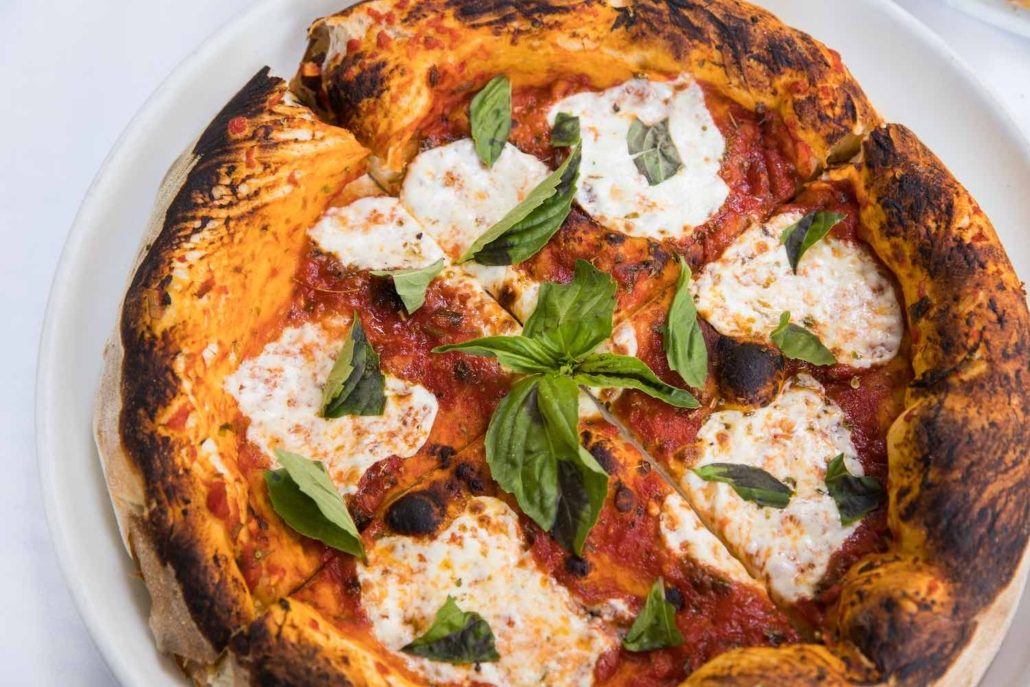 Minimalists among us will favor the margherita pizza, which is said to have been created in 1889 by Italian chef Raffaele Esposito and named after the then-queen of Italy, Margherita of Savoy. With a simple layering of tomato sauce, mozzarella and basil, the pizza was created in honor of Italy's unification, and the colors represent the red,white and green of the country's flag.
At Modesto, the margherita starts with the house-made tomato base. Whole-peeled plum tomatoes from Alta Cucina are cooked down with garlic, olive oil, parsley, sherry and spices. And unlike the sugary sweetness of mass-produced pies, the sauce boasts the bright flavor of fresh tomatoes. Slices of fresh BelGioioso mozzarella dot the top of the pie and sprigs of fresh basil deliver their sweet, peppery bite.
New on the menu for fall, and available through the end of October,are Diaz's "double pies," rich and hearty options that include a layer of seasonal yukon and sweet potatoes before being finished with more conventional toppings. If your skepticism is piqued more than your interest, don't let it interfere with the chance to try a tasty dish. The pizzas are hearty, that's for sure, and probably not for those looking to nibble, but the tubers blend delightfully well with the other ingredients.
One version, made with seasonal sweet potatoes, is layered with pecorino and mahon cheeses, arugula, and mortadella, while another version made with yukon potatoes is topped with goat cheese, caramelized onions, and a house-made luganega pork sausage that generates just the right amount of kick.
The unique flavor combinations work, and Diaz admits it's more art than science. But rather than point to a single source of inspiration, he says that after more than five decades of cooking, everything he does in the kitchen is a reflection of his experiences: people he's met, places he's gone, and recipes he's learned, tried, and tweaked. 
A native of Puerto Rico, Diaz learned the magnetic appeal of good food as a kid, selling the region's beloved bacalaitos codfish fritters to attendees of a nearby baseball field. By the time he made his way to Asheville in 1990, by way of New York and Miami, he had picked up a treasure chest of what he calls "secrets."
Plenty of those secrets show up in the pizzas, where beautiful cheeses and savory proteins blend with fresh produce to create a unique dining experience. "The only thing is, I have to tell my servers to tell the people,'You're going to get a pie, a whole pie,'" Diaz says. "When you finish my food, you're going to know that you ate. And you feel good."
Save
Save
Save
Save
Save
Save
Save
Save
Save
Save
Modesto serves up three dozen pizzas a day, keeping pace with the steady crowd at this Grove Arcade cafe.