DARING TO DREAM
A new shared-used commercial kitchen can help WNC food artisans turn their business blueprints into a reality
WORDS BY KAY WEST | PHOTOS BY ERIN ADAMS
***
Imagine being a barista without access to an espresso machine. Or a baker without a proofing cabinet. That's what life can be like for many food entrepreneurs in the Asheville area. Eager to launch a food truck, catering company or perhaps a business for packaged products like cookies or jams, they have great ideas and well-honed recipes, but they don't yet have access to the large-scale commercial kitchens to bring their plans to fruition. 
Enter WNC FoodWorks, a newly created joint operation being led by the WNC Farmers Market and Blue Ridge Food Ventures, a non-profit that operates a shared-use food processing center in Candler. Currently under construction and slated to open in early 2023, WNC FoodWorks will occupy a 5,000 square-foot building on the main level of the farmers market and offer a sprawling space for cutting, dicing, cooking and boiling, as well as training courses for the novice food entrepreneur. 
Still a few months from opening, the facility is already attracting an interested crowd. "People have heard about it and are coming into the market office to ask how and when they can rent space," says WNC Farmers Market Manager Phil Jacobus. "There is a real need for something like this in Asheville."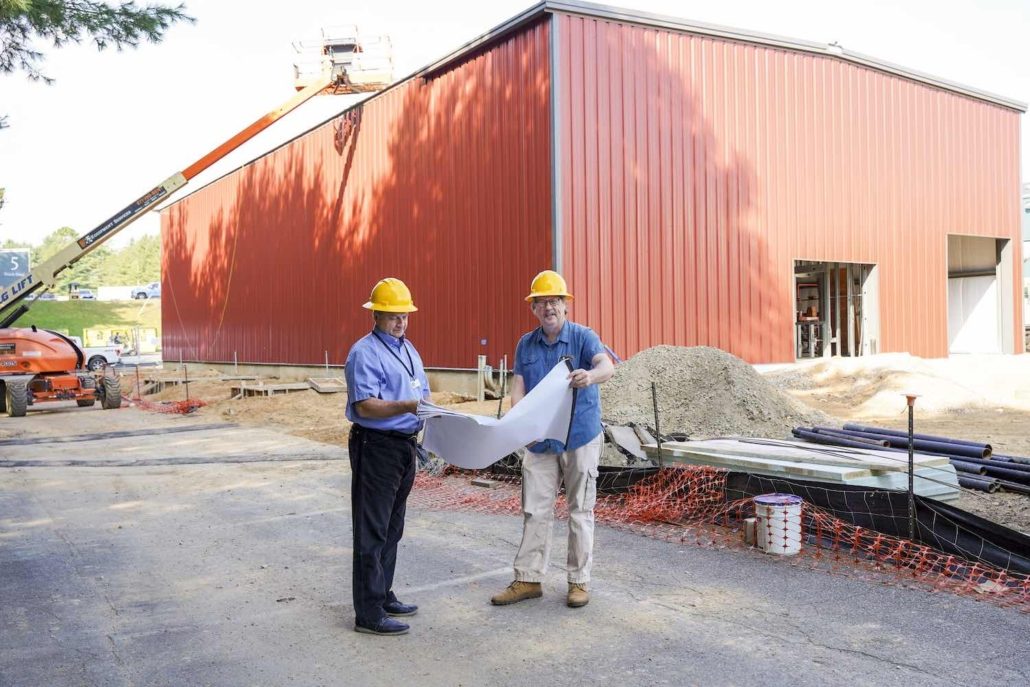 Few people know how to meet that need better than independent consultant and FoodWorks project developer Smithson Mills, who created Blue Ridge Food Ventures in 2005 while working for the NC Department of Agriculture. "Asheville has a vibrant food scene and tourism-driven economy for culinary experiences," Mills says. "But at the same time, real estate is at a premium and the cost of creating commercial kitchen space is astronomical."
BRFV has evolved from a launch pad for makers of value-added food products—the popular kombucha company Buchi is one of their many successful alumni—to bustling light manufacturing space not entirely cost effective for beginners. FoodWorks, by contrast, will focus on entry level training, education and production, as well as supporting the growing sector of food trucks. 
The building will house three food preparation areas. One will be a standard commercial kitchen with convection ovens, tilt skillets, kettles and mixers—a space Mills describes as the workhorse room for the production of food items.A smaller kitchen will be the place for caterers and food truck operators to do their slicing, dicing and other prep work that legally requires a certified commercial kitchen. 
The third area, meanwhile, will be a training and informational kitchen for novices to learn about regulatory compliance and labeling, and take ServSafe classes. There will also be a place for the market to promote seasonal produce with live cooking demonstrations and produce videos. As an added benefit for food trucks, the facility will host an easily accessible drive-through area to obtain potable water and dispose of gray water. 
Jacobus hopes some of those food trucks will decide to stay at the WNC Farmers Market and perhaps find an eager new fan base among the thousands of customers and local food lovers who shop there each year. "It's a real opportunity to diversify our food and dining options for visitors to the market," he says. 
To be sure, the location on the WNC Farmers Market campus presents a unique opportunity. With a year-round supply of fresh and local produce, the market can offer easy access to valuable ingredients sold in bulk. And with plenty of indoor and outdoor stalls for both wholesale and retail sales, the market also offers a venue for food entrepreneurs to sell their goods. 
"What is wonderful about the location at the market is that it creates a full link in the chain of taking food from the farm to the table," Mills says. "We have entrepreneurs who can come in, learn in our classroom, purchase produce from farmers and wholesale operators and come back into the kitchen to make their jams, jellies, hot sauces and salad dressings. It is truly hand in glove." 
Jacobus takes it one step further, pointing to the retailers in the market shops as another partner. "There is nothing like this anywhere else in the area," he says. "There is an incredible synergy in having farmers, production and retail all on one property. We can't wait to welcome people in." 
***
Kay West has been a freelance writer for four decades, with a primary focus on food, hospitality and the entertainment industry. She moved from New York City to Nashville, then Nashville to Asheville in 2019. She has authored five books, including 50 Things Every Young Lady Should Know, which has sold 500,000+ copies, and successfully launched two children.
Save
Save
Save
Save
Save
Save
Save
Save
Save
Save
Smithson Mills of Blue Ridge Food Ventures (left) and Phil Jacobus of WNC Farmers Market