PRESENTED BY THE INGLES TABLE
DAIRY-FREE HOT CHOCOLATE
By Angela Ramsey
Photos by Erin Adams
***
When my son was younger, he wanted to ride the Great Smoky Mountains Railroad Polar Express Train Ride. For those of you familiar with that local holiday tradition, you know that the hot chocolate served on board the train is a big part of the experience. However, with multiple food allergies, my son wouldn't be able to drink the hot chocolate offered on the train.
Determined to give him the same fun memories as other kids, a family friend and I brought along our own homemade hot chocolate and even ventured to make homemade marshmallows for all of our children. The Polar Express was wonderful to work with us to accomplish this sweet task. 
Now, when the weather turns cool, we look forward to "decorating" our hot chocolate as a fun family tradition. This homemade hot chocolate recipe is simple, yet easy enough to become your new family favorite.
HOT CHOCOLATE
2 cups sweetened vanilla almond milk (or dairy-free milk of your choice)*
2 tablespoons organic cocoa powder (or raw cacao powder)*
Dash of cinnamon
Warm milk until hot, but not boiling. Simmer for about 5 minutes. Add cocoa powder and cinnamon, then whisk to combine for about 2 minutes. Simmer another 5 minutes or so, then serve immediately (with garnish if desired). 
Garnish with:
– Whipped cream
– Chocolate syrup
– Grated chocolate or chocolate chips
– Crumbled cookies
– Mint leaves* 
If using a dairy-free milk without vanilla, add ¼ tsp pure vanilla or peppermint extract.* If using unsweetened dairy-free milk, you may want to add 1 Tbsp. raw honey or maple syrup.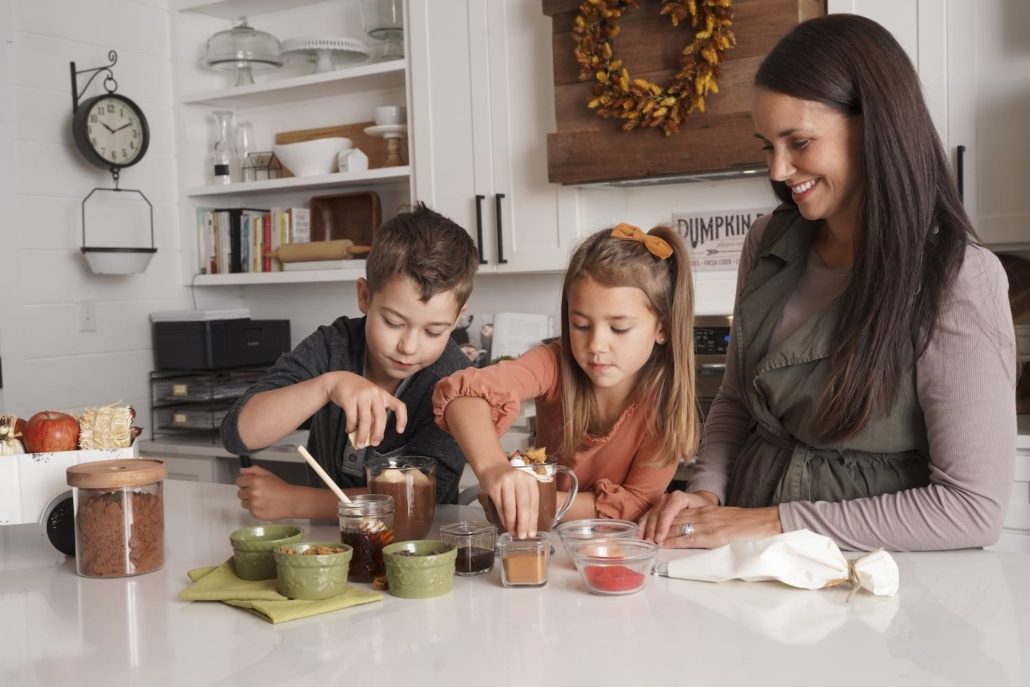 HOMEMADE WHIPPED CREAM
There are now some great dairy-free whipped topping alternatives, but we found it fun to load a bunch into a piping bag and squeeze it out through the top in fun shapes. The key to this homemade whipped cream is to start the day before by chilling your can of coconut milk. Also, "light" coconut milk doesn't work for this recipe, so make sure it is full in fat.
1 can full-fat coconut milk
1 teaspoon vanilla flavoring
Sweetener of choice (optional)
Place the can of coconut milk in the refrigerator (upside down) and store overnight. This method will separate the liquids from the solids. Place a medium bowl in the freezer and chill overnight as well. The next day, open the can from the bottom and scoop out the solid parts into the chilled bowl. Add vanilla. Using an electric or hand-held mixer, whip the solids on medium-high until combined and smooth. Use immediately
HOMEMADE MARSHMALLOWS
1 ½ cups honey (or maple syrup)
1 cup water, divided
⅛ teaspoon sea salt
4 tablespoons grass-fed beef gelatin
Coconut oil
Powdered sugar or cocoa for coating marshmallows
In a large saucepan, combine the honey, ½ cup water, and salt, and heat until it reaches 235°F. As it heats, place gelatin and remaining ½ cup water in a bowl. Mix with fork. Add 1 tablespoon more water if needed, until all gelatin is wet. Allow gelatin to set. 
When honey mixture has reached 235°F, slowly pour the hot mixture into the gelatin (preferably using a stand mixer) mixing on medium-low. Once incorporated, run mixer on high for 5-8 minutes or until cream forms soft peaks.
Line a 9×13 casserole dish with parchment paper, then coat paper and a spatula with coconut oil. Use spatula to scoop mixture into prepared pan. Smooth out and let sit in refrigerator overnight. 
When ready, coat a large knife with coconut oil. Slide parchment paper out of dish and place on a cutting board. Slice into 1 inch squares. Allow to dry for 1-2 hours then coat with powdered sugar or cocoa powder. Store in a container at room temperature for 5 days or refrigerator for up to 2 weeks (if they last that long)!
***
Angela Ramsey is a "home chef" who finds great joy in recreating and restoring family favorite recipes into versions her family can enjoy. She has learned to maneuver around many food and dietary restrictions, and looks at the food coming from her kitchen as an extension of her love—enriching the lives of those around her in health and in heart.
Save
Save
Save
Save
Save
Save
Save
Save
Save
Save
Dairy-free hot chocolate features homemade whipped cream and marshmallows.