PEACH MOUSSE
Recipe and Styling by Terri Terrell and Michele Gentille
Photos by Erin Adams
***
1 pound ripe peaches, peeled and roughly chopped 
2 tablespoons lemon juice 
¼ teaspoon salt 
¼ cup cold water 
1 tablespoon unflavored gelatin powder 
½ cup granulated sugar 
1 cup heavy whipping cream 
¼ teaspoon vanilla extract 
1 tablespoon orange blossom water 
⅛ teaspoon ground cardamom 
TOPPINGS: 
1 tablespoon lemon juice 
2 tablespoons granulated sugar 
1 large or 2 medium peaches, peeled and diced 
½ cup creme fraiche 
¼ cup toasted walnuts, whole or chopped 
4 sprigs fresh mint, basil, or thyme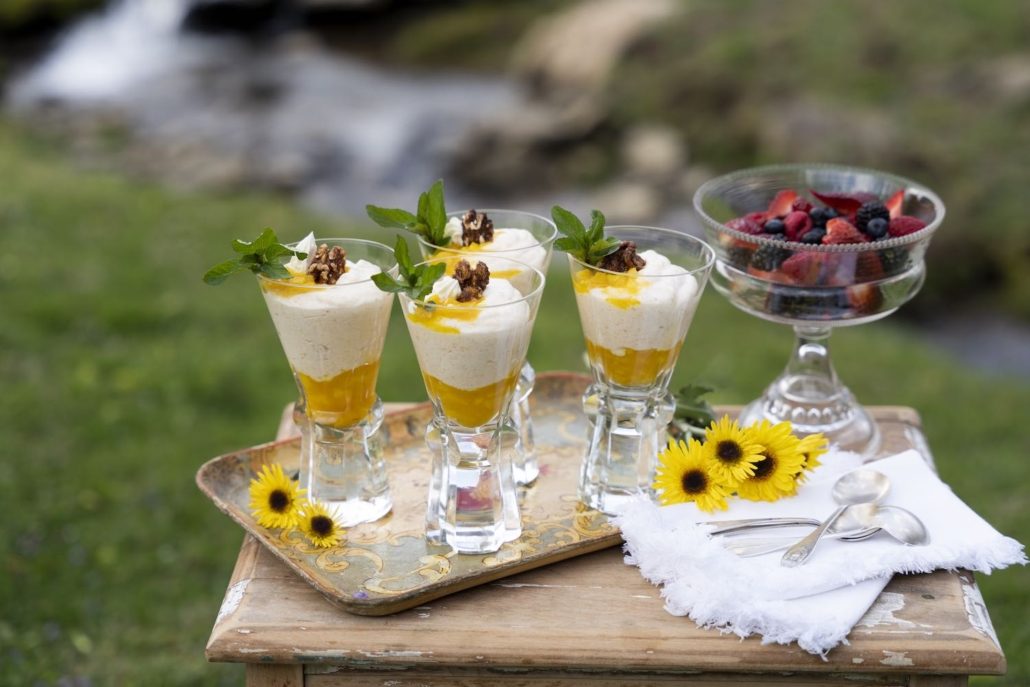 Transfer the chopped peaches to a food processor with the lemon juice and salt. Purée. You should have at least 2 cups. Leave the purée in the food processor. 
In a small saucepan, add the cold water and sprinkle the gelatin powder over top. Let it sit for 5 minutes and then add the sugar. Turn on the heat to medium and stir just until granules are all dissolved; immediately remove from heat. 
Add the gelatin mixture to the peach purée and blend again. Put in a bowl and refrigerate until it begins to thicken, up to 2 hours. At this point whip the heavy cream with the vanilla, orange blossom water and cardamom until stiff peaks form. Fold into the peach mixture until smooth; refrigerate. 
For the peach topping, heat the lemon juice and sugar together in a saucepan over medium heat until the sugar dissolves. Add the diced peaches, bring to a boil and remove from heat. Allow to cool completely. 
To assemble, place a spoonful of the peach topping in the bottom of 4 dessert glasses, then divide the mousse among them. Top with the remaining peach topping. Spoon or pipe a dollop of creme fraiche on top and add toasted walnuts and a sprig of herbs. 
Refrigerate until ready to serve.
Save
Save
Save
Save
Save
Save
Save
Save
Save
Save