THE ART OF FOOD
The aesthetics and mechanics of creating pretty plates
Words by Kay West | Photos by Nate Burrows
***
The act of eating a meal engages all five senses—from taste and texture to smell and sound—inviting diners to enjoy the food on multiple levels. But it's the sight of a dish that often makes the first impression. The char marks on a perfectly seared steak prepare the palate for a bite of tender meat, while the bold colors on a fresh salad portend bright and earthy flavors. 
The optics of a meal undoubtedly shape opinions, which is why many chefs have perfected the art of plating and presentation. 
"We tell [our students] that we eat with our eyes first, so presentation is extremely important," says Chris Bugher, a chef/instructor at A-B Tech Community College's culinary arts program. 
The ability to put together an aesthetically pleasing plate of food is nothing new; in fact, professional food stylists have been doing it for years for culinary-themed magazines and cookbooks. But today, the same eye-catching images also pop up in social media feeds, where food enthusiasts send their pics almost as soon as the servers remove their hand from the frame. That's raised the stakes for chefs looking for visibility, and beautiful plates are now a key part of the overall restaurant experience. 
To gain insight into the role of plating and presentation, and the evolution of food aesthetics, we talk with four local chefs who share their approach to creating a beautiful dish.
Joshua Widner* — Chef de Cuisine, Posana
Joshua Widner grew up in a visually rich environment—his mother is a painter whose work was displayed throughout the house—but his favorite medium for self-expression is food. "The plate is my canvas," he says. "I paint the food onto the plate." 
Widner's cooking career began as a server, but he quickly knew he wanted to be in the kitchen. "I thought I had to go to culinary school to be a chef, and I loved France, so I went to Cordon Bleu," he says. "I've also lived in Australia and Denmark and traveled through Brazil and Russia." 
Coming back home 14 years ago, he worked at several restaurants before landing at Posana as chef de cuisine in late 2022. When he puts his dishes on the Posana menu, he explains, "I start with the components of a dish and then figure out how I want to present it. I love color, there has to be color. You can make an entire dish one color as long as you have different hues, texture and balance." 
For a recent wine dinner, Widner made a nettle raviolo course showcasing nettles, one of spring's most forageable arrivals. With a blend of fava leaves and pea shoots, "it was all green and a celebration of spring," he says. "For the same dinner, we cooked a rabbit hind quarter that I didn't sear because I wanted it to be white and provide the contrast for the bright orange carrot purée and deep purple beet purée. It was a dramatic plate." 
When he creates a dish and finalizes how he wants it to look, he shows the chef who will be making it how to cook and plate it. "But I also tell the chef they can play with it and try something different," he says. "It's teamwork." 
Widner likes to use chopsticks rather than tweezers and believes in the rule of threes—that an odd number of items on a plate is more visually appealing than an even number. And while his garnishes are lovely to look at, they are also intended to be eaten. "So many plates come back to the kitchen with all the food gone but the garnish is pushed off to the side," he says. "I'm not putting garnish on there just to be pretty or interesting. Eat your garnish!" 
Widner's scallop crudo starter is evocative of a botanical print and illustrates his affection for negative space. The main focus, he emphasizes, is the scallop. "You want to enhance it, not overwhelm it," he says of the popular dish. "We slice it as thinly as possible, season it and layer it out. We add Ruby Red grapefruit sections and Fresno peppers. The three types of herbs are soft herbs—celery leaf, parsley leaf and fennel fronds. The sauce that frames the dish is yuzu and we sprinkle on redbuds. I love that this dish is so open."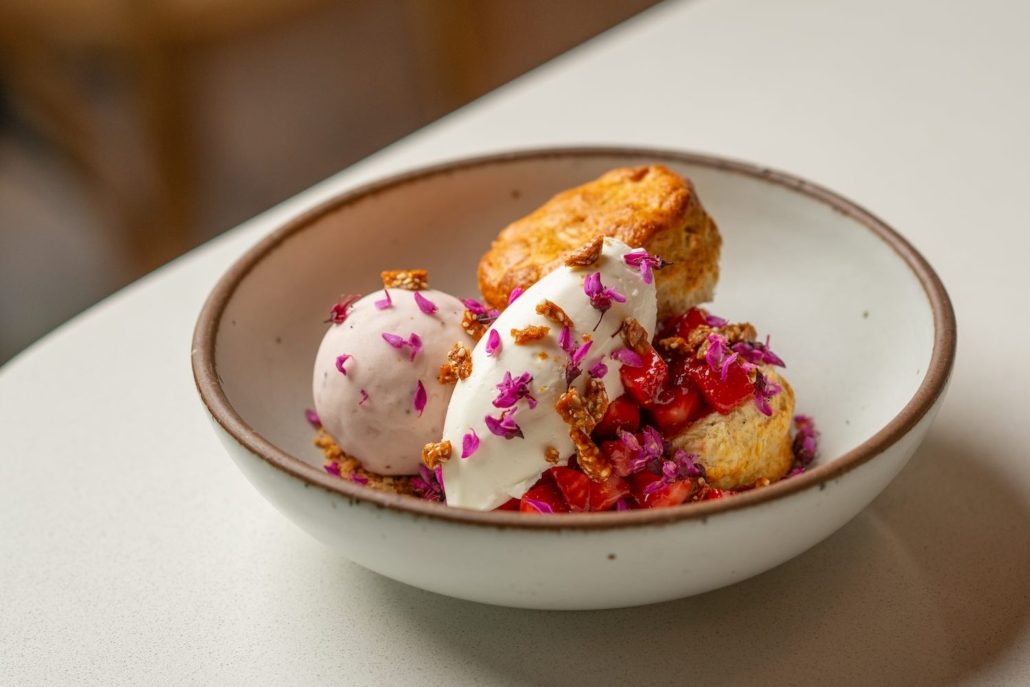 Faith Hall — Chef de Cuisine, Little D's 
Faith Hall was just 15 when Sheehan's Irish Pub, a popular restaurant in Augusta, GA, needed some help in the kitchen during Masters Week. He went right into the dish pit and he loved the pace and environment, so when the chef/owner offered to teach him to cook, he said yes. "He taught me to cook but also a lot about presentation, about plate height and being dynamic," Hall says. "My mother is an artist, and my father is an electrical engineer, so both things relate to the way I approach plating." 
In 2016, he moved to Asheville and started at the bottom as a line cook at Corner Kitchen. From that vantage point and during his ascension to executive sous chef he was exposed to daily sourcing of fresh, regional products, rapidly changing menus and pivoting on the fly. "After eight years at Sheehan's I pretty much knew how to cook, but didn't understand the more culinary side of things," he recalls. "The Corner Kitchen chef, Jason Sweeney, taught me so much about presentation."
Hall followed Sweeney to Asheville Proper shortly after it opened and expanded his experience in plating in a kitchen where open-fire cooking informs every dish, and the spotlight is on significantly sized cuts of meat. "At Corner Kitchen, with that clientele, we leaned more to pretty plates. At Proper, I was able to try new things, like suction cup sauce onto a plate." 
In early 2023, when Proper's chef/owner Owen McGlynn and his wife, Mindi, opened Little D's, they named Hall that restaurant's chef de cuisine, and there he creates an aesthetic appropriate to that restaurant. Before opening, he and McGlynn collaborated not just on the menu, but how the dishes would be presented; now Hall works closely with his small staff to tweak dishes and achieve the vision. 
"I don't want a plate with too much going on," he says. "It can be a distraction. I like to use molds—or even cookie cutters—so things aren't lying flat on a plate. I am intrigued by the splatter—when you take a spoon of sauce and flick it onto the plate to create an abstract design. It adds a lot of color and drama, but is also simple." 
For Little D's grilled mahi mahi entrée, he likes to incorporate the tropical flavor of coconut with something acidic and builds from there. The finalized plate is a simply grilled piece of fish atop a round of coconut risotto, strewn with a colorful carrot and daikon slaw tossed in lime vinaigrette, a scatter of spiced cashews and a splatter of bright red pepper purée. 
"It's gratifying to see photos of our food on our guests' social media posts," Hall says. "It's a good feeling to see your work out there."
Austin Inselmann — Head Chef, Leo's House of Thirst 
Not long after getting his economics degree from Texas A&M University, Inselmann realized he didn't want to work in an office. So he embraced his love of cooking and traded his suit for a cook's coat. Working in San Antonio, he put his head down, learned the basics at one place and moved on to fine-dining establishments to learn more. A gift of the Le Pigeon cookbook lured Inselmann to chef/owner Gabriel Rucker's Portland restaurant in 2016 and he got a kitchen position there before becoming sous chef at sister restaurant Little Bird. When he and his fiancée (now wife) decided they were ready for a change, they went on a cross-country road trip, and a couple of days in Asheville turned into a move. 
His first stop was at Curate, but looking for something more intimate, he discovered that restaurateur Drew Wallace (Admiral, Bull & Beggar, Baby Bull) was opening a small wine bar/restaurant in West Asheville. Inselmann interviewed and started work there in February 2020, just before the shutdown. Since fully reopening, Leo's has become as well-regarded for its hyperseasonal, locally sourced, sophisticated menu as for its extensive wine list. Inselmann's colorful, clean and vibrant plate work is widely shared and touted. 
"I love looking at cookbooks from restaurants like Manresa, French Laundry and Noma, where the food is art, and realized it could be done," says Inselmann. "I look at the aesthetics and the mechanics. When I'm creating dishes, we do a lot of testers for everyone to sit down and make sure it not only looks good, but allows an ease of eating." 
Leo's is limited on space and equipment, so making efficient use of what they have is key to creating that wow factor. Downstairs, they work on four induction burners, a panini press and an oven, so finishing hot dishes and cold plates is done upstairs. The orecchiette, for example, is cooked downstairs, placed atop a circle of whipped feta in an East Fork bowl, then taken upstairs where Inselmann and his sous chef add color with English peas, parsley and mint and texture with pine nut crunch. 
Inselmann also makes desserts and takes advice from Leo's first pastry chef: his wife, Erin Hughes. "I was hesitant at first, but I get a lot of guidance from her and she pushes me along," he says.
Though desserts change frequently, fresh berries will be a foundational component into summer; the strawberry shortcake was introduced as soon as that spring fruit came into season. "I developed a biscuit recipe several years ago when I was doing bread and pastry, so it was fun to bring that back and build this dish into something both basic and refined," says Inselmann. 
The biscuit is sliced in half and briefly toasted; the bottom is placed on the plate, piled with glistening macerated strawberry wedges and some housemade strawberry jam. A benne seed brittle adds a salty element and provides a base for the scoop of strawberry ice cream, so it doesn't slide in the bowl. 
An ivory quenelle of crème fraiche nestles up alongside the composition, the top half of the biscuit is shingled atop the strawberries and all of it gets a handful of brittle and sprinkle of redbuds for color. "I don't like to use flowers unless they add to the dish," he says. "Redbuds are seasonal, local and have a lovely floral flavor, so they work." 
Chris Bugher — Chef-Instructor at A-B Tech Community College 
Knowing how to artfully present a dish is a skill taught at the four-semester culinary arts program at A-B Tech. "The first semester is basic culinary skills," says Bugher. "We don't do much plating, though we do start talking about composition, and how to avoid the basic American home-plating style of the TV dinner." 
In the second semester, students try their hands at plate composition and Bugher demonstrates different plating methods: the center plate method, linear plating and crescent moon. He asks students to create plate sketches using colored pencils and suggests ways to add more color. "Is there a seasonal vegetable that can be used, an herb?" he asks. "At the same time, we don't want color added for no purpose but color. Oils are a good way to put color on a plate and add flavor." 
He encourages students to look at images on Instagram, not to replicate but to inspire. "I suggest they look at the image and try to figure out how a professional accomplished that plate," Bugher says. "I encourage them to follow chefs in other countries and expand their vision." 
Between their first and second year, students intern in a restaurant. That, Bugher says, gives students a front-row seat on how an empty plate moves down the line to the last scrupulous eye before it leaves the pass and is delivered to the diner. 
Ultimately, he says, the goal is for the dish to be beautiful and accessible, achieving what he describes as "eatability." "You don't want guests to have to fight the food or be unsure how to approach it," says Bugher. "You want to plate a dish so your guests eat it the way you want it to be tasted, and appreciate what you're trying to convey."
---
As of September 2023, chef Joshua Widner is no longer at Posana.
Save
Save
Save
Save
Save
Save
Save
Save
Save
Save
Faith Hall, chef de cuisine at Little D's
Austin Inselmann, head chef at Leo's House of Thirst