STARTING THE CONVERSATION
Questions that ignite discussion in the local food and beverage scene 
WRITTEN BY MADELEINE O'TOOLE
***
As the weather gets warm in the Blue Ridge Mountains, the buzz of conversation can be heard in restaurant patios, backyard barbecues, and breweries. For many, the onset of summer brings a reinvigorated need for human connection and discussion over food and drinks. To celebrate this season, we asked a few of our most beloved folks in the food and beverage scene which questions they ask to ignite interesting conversations.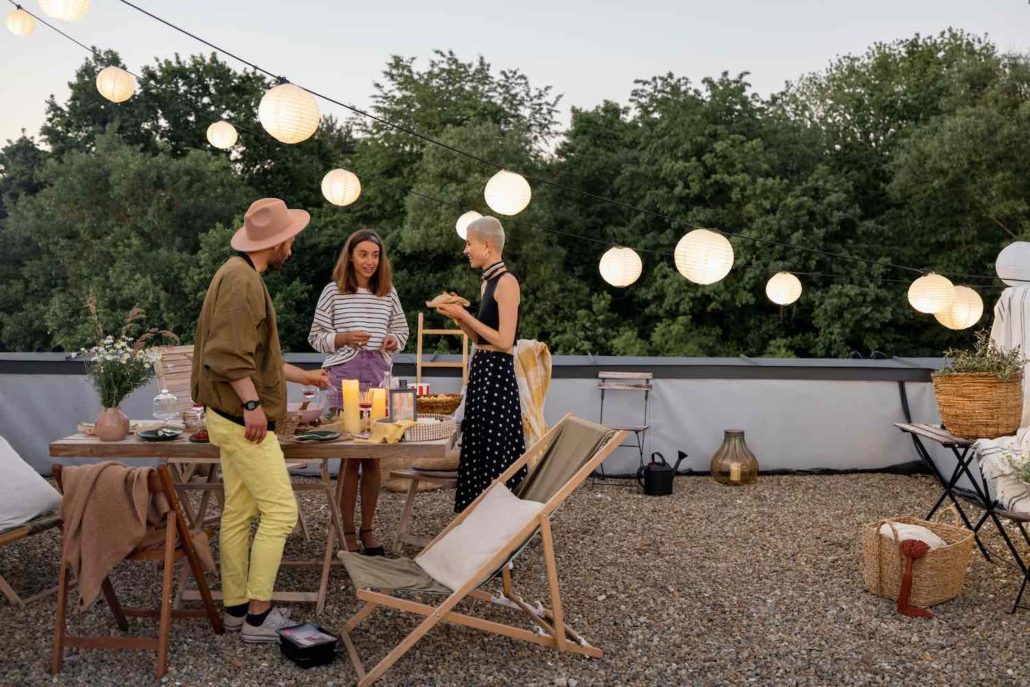 Native Plant Knowledge 
Morgan Owle-Crisp, owner of Seven Clans Brewing, usually asks people if they are familiar with native plants in the area. This question stems from her Cherokee heritage, as many of the beers she serves are made with indigenous ingredients. "I've always been interested in plants and a lot of people don't understand the things that Native people cultivate," says Morgan. "This is such a horticulturally diverse area and just knowing where things come from in this land is so important." 
Morgan is the one of the first Native brewery owners in North Carolina and believes that these conversations are crucial, as many herbs and plants that grow in the area are underused. 
.
Food History 
Chuck Cutler-Gutiérrez, a food entrepreneur, caterer and chef, also enjoys taking a deeper conversational dive into what we consume. Their usual go-to conversation starter is asking folks if they know the history of the food they are eating. "I talk about Peruvian food history," says Cutler-Gutiérrez. "I am a big dork and really like food history in general." 
As a former professor and current chef, Cutler-Gutiérrez loves lengthy conversations about how the foods we eat today came to be, and what historical events may have impacted cuisine. "Food brings people from different cultures together. For me, being from Peru, I have the knowledge and privilege of knowing more about this cuisine's history and enjoy discussing it with others." 
.
Local Flavors 
Other local entrepreneurs, like Shanti Volpe of Shanti's Elixirs, prefer launching conversations by connecting people to her product. Shanti says that her typical conversation starter is simply: "What is your favorite flavor?" She loves trying to figure out which flavor of her fermented tea product, Jun, her customers and friends may like best. 
"For me, my favorite flavors depend on my mood," she says. "Sometimes I am in the mood for a little creative fun and a dynamic fruity and herbaceous flavor and I choose a Blueberry Basil Jun. Other times I'm in the mood for something more earthy and grounding and I might choose our Kudzu Dandelion Jun infused with chicory. If I am looking to open my heart, I often choose a floral Jun such as Tulsi Rose with hibiscus." Shanti believes that connecting her flavors with personalities or moods allows people to think more deeply about themselves. 
.
Kick It Off With a Compliment 
For Chaunie Ceaser of Chaunie's Coffee, conversations at her coffee truck typically begin with a compliment. "I am always observing people as they come up to grab their coffee or tea, and in this observation, I try to notice a bit more about what each of my customers is unique," she says. "I love making customers feel seen and understood a bit more, and typically this compliment ignites a greater conversation." 
For Ceaser, understanding people and the community of her coffee truck is the most important part of her business. "Coffee will always be the last thing I talk about. My priority is getting to know the people I am serving." 
.
Sharing is Caring
Sometimes, a conversation-starter is something that is said during nearly every transaction, yet still ignites a new conversation from customer to customer. For CJ White, the owner of Smallcakes Arcadia, the question he often asks customers who grab larger orders is "Who are you sharing these with today?" 
According to CJ, this question always initiates further conversation of the other people who may get to experience these cupcakes. "It's so cool to see how our baked goods are able to bring people together," he says. Be sure to have a chat with each of these amazing folks in the food scene when you visit their businesses or see them around town. What conversations will you be starting? 
***
Madeleine is a local food and farm enthusiast in Asheville, NC. She has previously written for Edible Memphis and runs a food-centered Instagram account called Granola Grrl.
Save
Save
Save
Save
Save
Save
Save
Save
Save
Save