NOURISHING CONNECTIONS
Cultura's popular Cultivated Community Dinner Series enriches Asheville's food scene through collaboration and cross-pollination 
***
BY GINA SMITH
PHOTOS BY ERIN ADAMS
***
The first course is deceptively simple. A molote de plátano served with queso fresco, crema, and bright pops of pumpkin escabeche; it's scrumptious and satisfying. But digging into the savory rolls of fried mashed plantain while listening to chef Luis Martinez describe his inspiration for making them, we discover that the dish conceals some delightful surprises. 
Our forks uncover the first hidden treat—tucked neatly inside the plantain rolls like little gifts are generous chunks of delectable smoked trout, the perfect contrast in both flavor and texture to their mellow plantain wrappings. The second sweet surprise is hearing the story behind the dish: The concept emerged from Martinez's memories of his mother making traditional molotes de plátano in his native Oaxaca, Mexico, with the secret trout inside representative of his new home in Western North Carolina. 
This dish, followed by four others with similarly impressive flavors, are served to a packed crowd one evening in February as part of the Cultivated Community Dinner Series. The goal of the dinner series, which is hosted by the award-winning local restaurant Cultura, is to showcase the talent of local chefs who are considered up-and-coming stars—the chefs who have already made a name for themselves in the kitchens of Asheville's popular eateries and are advancing to the next stage of their careers, often with plans for their own brick-and-mortar restaurants. Cultura encourages a laid-back atmosphere, giving diners the opportunity to interact with the chefs who are likely to be making tomorrow's headlines. 
Cultura opened in 2019 as part of the group of restaurants owned by the celebrated local brewery Wicked Weed and, in early 2020, it was named a James Beard Award semifinalist for Best New Restaurant. Just days after the announcement, the COVID-19 pandemic shut down the entire industry. With the dining room closed, Cultura executive chef Eric Morris looked for ways to continue to put his restaurant to use. In the early days of the pandemic, that included working with local nonprofits to cook free meals for people in need—as many as 5,000 per week at the program's peak.
As the pandemic moved into its second year, Morris began formulating plans for the Cultivated Community Dinner Series, hoping to welcome people back to Cultura's one-of-a-kind dining room and foster stronger connections between and among talented local chefs. 
"We can be more than just a restaurant," Morris says. "We can be a space that's welcoming, inclusive, that inspires people, gives people a platform to show off what they can do and also have it be a vehicle that benefits the community."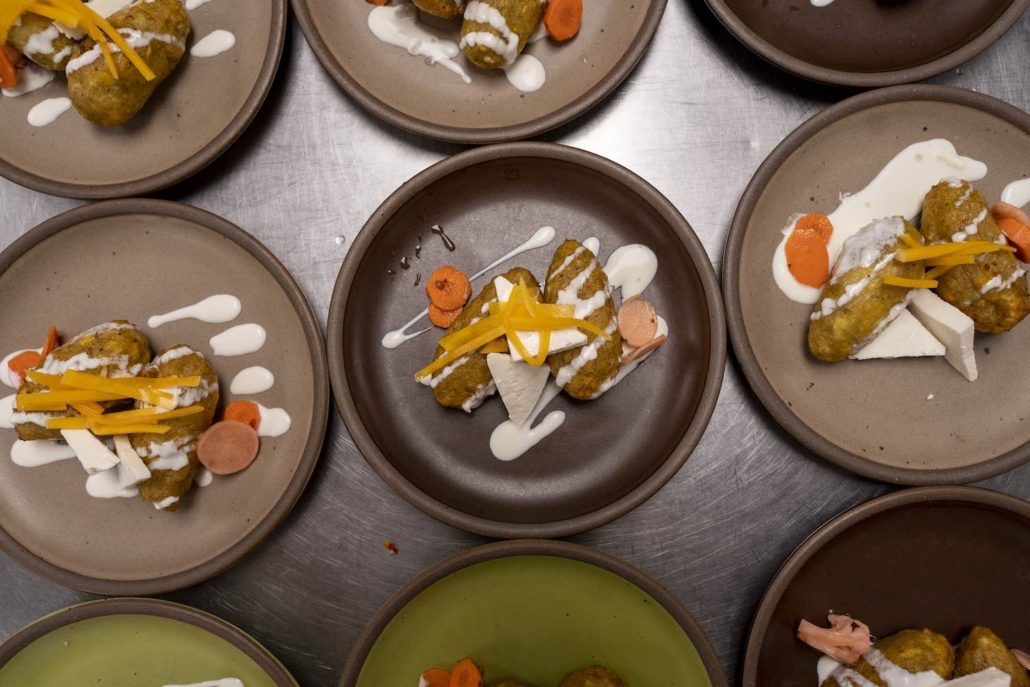 After launching the Cultivated Community Dinner Series in September 2021 with a sold-out event, tonight's dinner is a reunion of the chefs who starred in the series' four previous installments— J Chong, Silver Cousler, Jonathan Pridgen, and Martinez. A fifth dish is complements of Morris himself, who was formerly at Katie Button's Nightbell. 
One of the series' most tangible gifts to the Asheville community is financial support of local nonprofits. For each dinner, the featured chef selects an organization to receive a $1,000 donation from Cultura. Tonight's charity is Morris' choice, and he has picked BeLoved Asheville, a group that supports and advocates for the city's unhoused population. 
Enhancing the collective creative power of Asheville's restaurant community is a less tangible result of the series, Morris tells me. An impressive cross-pollination of culinary knowledge and skills occurs naturally in the Cultura kitchen as talented chefs with varied backgrounds and cooking approaches work together to tell their personal stories through food. 
"It's really cool to see that sharing of knowledge and tradition getting passed along in our community and making each of us better chefs," he says. "We're definitely putting ideas in each other's heads all the time and learning from each other. Everyone's being uplifted by it." 
The second dish is served by Pridgen, who is head of charcuterie at the popular Spanish tapas restaurant Cúrate. Pridgen tells his story of growth through the delicious medium of tender roasted sunchokes glazed with malted buckwheat and served with brown butter and pea shoots. To develop the recipe for the nutty, crunchy, deeply flavorsome dish, the chef learned new skills around the malting process. 
The third course, from Morris, includes smoked medallions of poached quail stuffed with hazelnuts and mushrooms and accented with foraged chickweed, black garlic soubise, and sweet potato. The umami-packed dish, which is paired with a nimble viognier from Vīdl Winery, marries some of Morris' own techniques with components of the four other chef's previous dinners. 
The hint of black garlic, in fact, forms an apt segue to the next course—Chong's rice congee with char siu pork belly, soy-cured egg, and cilantro. Glowing with complex undertones of cinnamon, star anise, and Szechuan peppercorn, the dish is at once comforting and intriguing, deftly transmitting the chef's passion for the Cantonese cuisine she grew up with in Toronto along with her love for WNC through the use of rice grown at Lee's One Fortune Farm in Marion. The offering also nods to the progression of Chong's culinary career, which shifted in 2020 from the role of Cúrate executive sous to entrepreneur when she fully embraced her passion for Cantonese cooking to produce and market her beloved dumplings and sauces at local tailgate markets. 
Cousler's dessert course is a dish called Keso Sunset, combining the classic Filipino treat of cheddar cheese-flavored ice cream with gamay wine, sumac, and pine nuts—an unusual confection full of fun surprises in texture, taste, and contrast. Cousler (they/he) has worked in the kitchens of some of Asheville's finest restaurants, including Buxton Hall Barbecue and The Admiral, as well as stints farther afield, such as a run in New York City with star chef Angela Dimayuga of Mission Chinese. Now they're set to open a West Asheville restaurant, Neng Jr.'s, that reflects the chef's devotion to the cuisine of their mother's homeland, the Philippines. 
Cousler shares with diners that Keso Sunset represents their Filipino roots and their current life in Asheville. The individual ingredients added to the keso ice cream paint a uniquely Asheville romantic vignette from the chef's life: a hike with their fiance to popular local lookout point The Cut, a shared bottle of wine, and a mountain sunset viewed through the sumac and pines. 
Cultura, which has remained closed throughout the pandemic, will reopen to the public by early summer after build-out of a brand-new kitchen. But the Cultivated Community series will continue, says Morris, perhaps expanding the concept to highlight area winemakers, brewers, cheesemakers, ceramics makers, and more. "We love this community," says Morris. "There's a lot to celebrate here." ◊◊
Save
Save
Save
Save
Save
Save
Save
Save
Save
Save
Chef Eric Morris of Cultura and the Cultivated Community Dinner Series