COMFORT FOOD COOKBOOKS
By Erin Cummings, Sous Chef at Copper Crown
***
The turn toward cooler weather brings comfort food back on the menu. Get ready for the season with the following cookbooks—recommended by Copper Crown sous chef Erin Cummings—that take comfort food to a new level with belly-warming flavors.
A NEW TURN IN THE SOUTH
By Hugh Acheson
Acheson has a great take on eclectic regional food—and Southern food, in particular. Originally from Canada, he opened up a restaurant in the relatively small town of Athens, Georgia, and started getting noticed. I would describe his recipes as comfort food with a cool spin. This book is fun to read and his recipe for artichoke and spinach Gratin is always a hit at any dinner party. 
Favorite Recipe: Artichoke and Spinach Gratin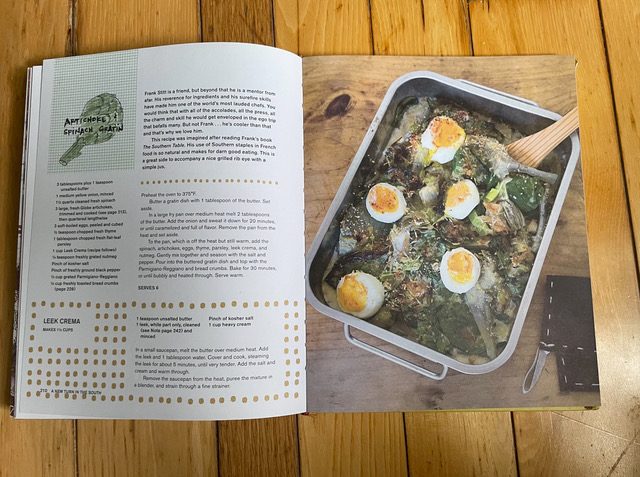 PATRICK O'CONNELL'S REFINED AMERICAN CUISINE: THE INN AT LITTLE WASHINGTON
By Patrick O'Connell
I love this book because it takes standard recipes you see across America, especially the comfort foods of the south, and elevates them. From bourbon pecan waffles to little yellow grits soufflés and swanky chicken and dumplings, it's all comfort, but elevated food and has easy-to-execute recipes. Not a single recipe is a flop.
Favorite Recipe: Fricasse of Maine Lobster with Potato Gnocchi and Curried Walnuts (FYI, I don't usually buy lobster at home and so I substitute chicken for the lobster)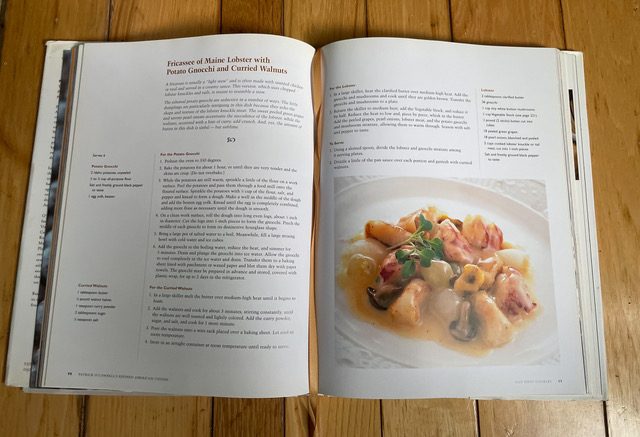 ATELIER CRENN: METAMORPHOSIS OF TASTE
By Dominique Crenn
I absolutely love Dominique Crenn; she is my hero. Her poetry interwoven in her style of cooking is unmatched. Her recipes are complicated, yet simple in many ways. She uses many components and this is really nothing you would make at home, but you can pick and choose in her book, and I always wanted to do her "Walk in the Forest." I was able to muddle through some of it and present it as a mushroom dish at Copper Crown. 
This book has some beautiful components for pastry, as well as breads, some simple broths, and accompaniments. She takes fish and chips and makes it soar to almost unrecognizable heights, and then writes a poem about it. I was lucky enough to dine at her restaurant Atelier Crenn. It was during Covid and so they only did takeaways, but I was able to support that business. It was a highlight of my culinary experience. The jars of prepared food were so elegant, just as this book is. When this book came out, I was on the waiting list. I slept with it under my pillow. This book makes it possible to do what she does; puts it within reach. I'm hoping she writes another. 
Favorite Recipe: A Walk in the Forest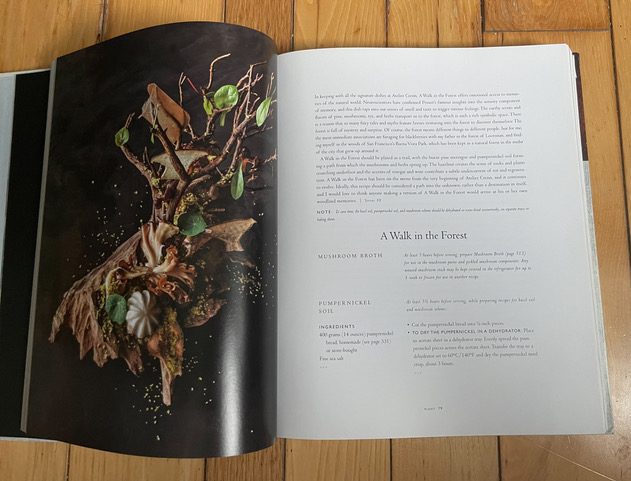 ***
Originally from Omaha, Erin Cummings has spent time cooking and studying cusine in her hometown, as well as Northern California, Portland and now Asheville, which she calls home. She focuses on farm-to-table North American comfort food, South American dishes, and cuisines of the UK married with French and Italian techniques.
Save
Save
Save
Save
Save
Save
Save
Save
Save
Save