KITCHEN CRASH COURSE
Local cooking classes cultivate wholesome eating
BY ANNE FITTEN GLENN | PHOTOS BY ERIN ADAMS
Health professionals have long touted home cooking as a way to improve wellness, combat obesity, and address a variety of other health issues. By taking control of the process—from meal planning and shopping to food prep and presentation—home cooks can minimize the use of unhealthy and processed foods and take full advantage of the bounty of fresh and local ingredients, prepared in a way that heightens their flavors and health benefits.
Over the past year, as the pandemic forced restaurants to restrict their in-person dining options, there was a parallel surge in home cooking and a revived interest in the tools and techniques that make that possible. Stores saw a noteworthy increase in the sales of kitchen appliances, specialty food items, and cookbooks. And at one point, baking became so popular that dried yeast could be just as tough to find at grocery stores as toilet paper.
At the same time, cooking schools and instructors found an eager new audience. Novice home cooks sought out instruction as they looked for ways to feed themselves and their families—ideally with food that strengthened their immune systems and promoted healthy living. With in-person classes facing the same restrictions as restaurants, cooking schools often went online and discovered they could expand their reach to all corners of the globe.
The trend spread quickly in Western North Carolina, where there is an abundance of both talented chefs and knowledgeable health experts, and now cooking schools—both online and in-person—have become a popular way to brush up on skills and expand a home cook's repertoire of wholesome dishes.
Here's how three Asheville-based cooking schools adjusted to the pandemic and continue to offer new products and services to cater to the ongoing demand for cooking instruction.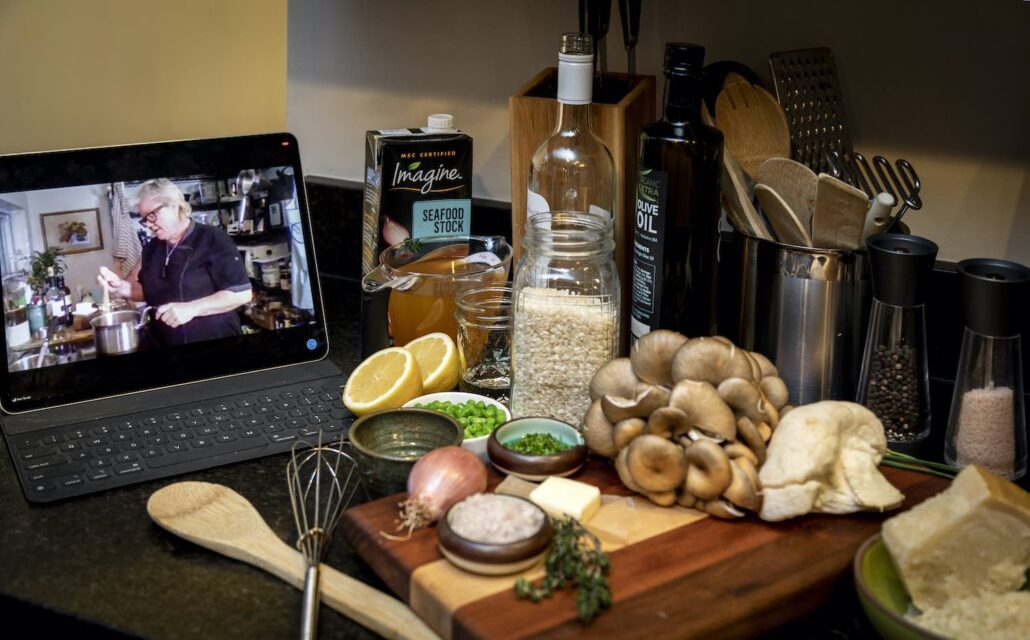 ASHEVILLE WELLNESS TOURS
Asheville Wellness Tours' online cooking class offerings have exploded in popularity since the pandemic hit, says operations manager Caitlin Van Hecke. The business cancelled all in-per- son classes for a few months in early 2020, but on reopening, decided to experiment with virtual cooking courses. "While people had to adjust, they were still wanting to do things for their mental health, and this seemed like a viable option," says Van Hecke.
Asheville Wellness has offered downtown yoga walks and other wellness-based group adventures since 2018 and launched culinary offerings in 2019, including food tours, cooking classes, and private chef events. In-person classes were three hours long pre-pandemic, but the organizers soon realized online lessons work better in a one-hour format.
"That was our 'aha' moment—realizing we needed to shorten the experience," Van Hecke says. "It's more appealing to be on a screen for an hour instead of three for most people."
The business connects interested students with one of several chef partners, most of whom are based in Asheville. "They all have been doing this on their own and have their own businesses, often as private chefs," Van Hecke points out. "But we can do the marketing and outreach and bring people to them."
Clients buy and prep ingredients beforehand as directed, then work with the chef via Zoom.
Asheville Wellness Tours still offers in-person cooking lessons, as well, but it's up to the chef and students to decide what arrangements they are comfortable with in terms of social distancing and masking.
"I think people are aware of Asheville's food scene and strong farm-to-table vibe, and people are drawn to our company literally because of the word 'wellness,''' she says.
Terri Terrell, a private chef and cooking instructor, teaches virtually for Asheville Wellness. A long-time chef and former operations manager for Asheville's HomeGrown restaurant, Terrell says she enjoys the challenge of online teaching. "It's like with anything: You adapt," she says. "It's hard not really being able to see people touch the fish or use a knife, and doing this in my own kitchen has been a little rough, but the students all seem to really enjoy it."
Working with mostly local ingredients, Terrell has created numerous wellness dishes for her classes, all with a farm-to-table aesthetic, including an Ayurvedic menu. She says her most
popular Ayurvedic dish is kitchari, a dish of legumes, rice, and spices cooked into a porridge. "While kitchari is a relatively simple dish, it's not simple in its healing powers," she says. She also touts the benefits and history of medicinal mushrooms and loves incorporating them into her classes.
Terrell points out that many of her clients are out-of-town visitors eager to experience the Asheville food scene any way they can. "People actually are coming to Asheville, sitting in an AirBnB and taking a virtual Asheville class," she says.
But the wellness implications of her recipes are always a focus, and she makes sure to take time to discuss those with clients before the classes. "Our relationship with food is one of, if not the most important, relationships we have," she says. "People hire me to learn not only about cooking, but about how what they are cooking directly benefits their bodies."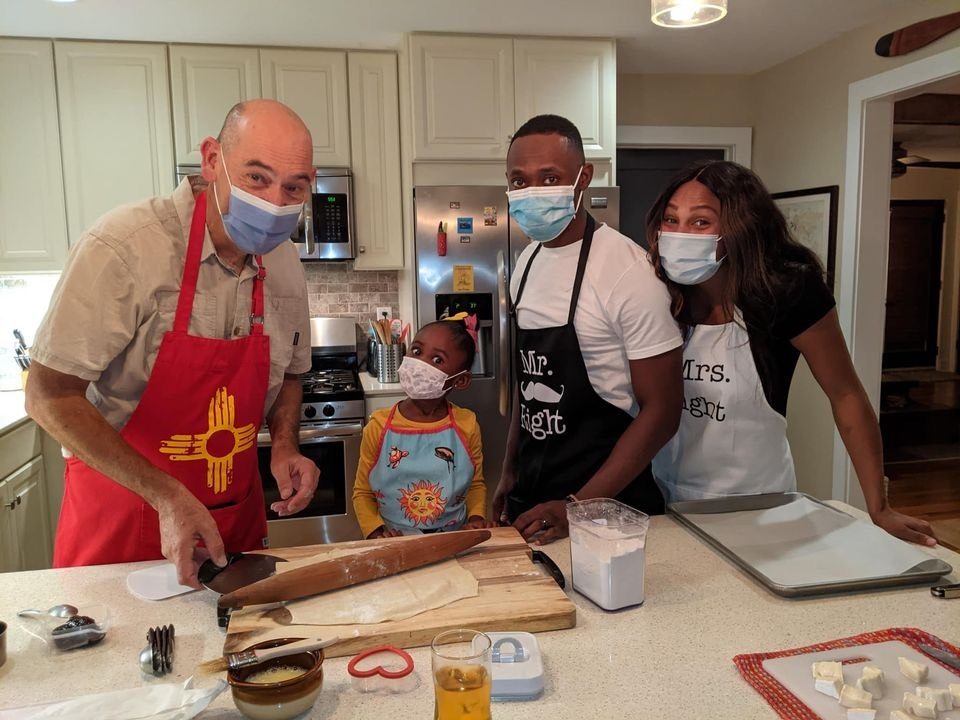 COTTAGE COOKING
Husband and wife team Liisa Andreassen and John Godts started Cottage Cooking soon after they met in 2015. Andreassen had a catering business at the time, and Godts had a lifelong interest in cooking. After the pair threw a sushi-themed dinner party, the friends lucky enough to be invited raved about the couple's cook- ing, and thus, a school was born.
Both have day jobs—Andreassen as a freelance writer (including work with this publication) and Godts as a physical therapist at Mission Hospital. Pre-Covid, the couple hosted groups of up to six students in their Asheville home kitchen. But after the pandemic started, they cancelled all classes for several months.
"I work at the hospital with Covid patients, and believe me, you don't want to get it," Godts says. "So we eventually changed to doing classes with only two people who know each other. We are all masked the entire time until they eat, and they eat in a separate room." 
Andreassen and Godts lean toward teaching recipes that can provide something of a restaurant experience with simple preparation. Class offerings range from making pasta and empanadas to cooking with lo- cal beer. They also put together vegan and gluten-free menus, and have created customized classes for diabetics and customers who are on the Ornish Diet.
Although they enjoy the format of working with only two people at a time, they both look forward to once again being able to bring together strangers with similar interests. "For us, it's not just about the cooking but about connecting people to each other," says Andreassen. "We've had some crazy connections: Someone who was looking for a job happened to be in a class with a local recruiter. We had one class where a woman who is a shaman was in a class with a woman who is an executive at Walmart. I wondered how it was going to go, but it was fabulous. It's nice to see how different people come together over cooking."
She adds that students sometimes get so relaxed with each other that they want to hang out at the house after the meal. "That's when John gets out the vacuum cleaner," she says.
ASHEVILLE MOUNTAIN KITCHEN
Formerly an architect, Ofri Gilan started Asheville Mountain Kitchen as a side business, but it quickly became her full-time gig. Initially, most of Gilan's business consisted of culinary team-building programs for businesses and corporations, but that revenue stream dried up when the pandemic hit. Like Andreassen and Godts, she closed the business for several months in 2020, but then started back with small, in-person cooking classes and personal chef services.
"I think food is one of the most inclusive ways of bringing people together," she says. "This is what we did in the old days before corona, and now maybe it's what we do again."
Ofri's specialty is wellness cooking. She was laid off in the 2008 recession while living in Boston, and then started a business cooking for people with special dietary needs. Her Principles of the Mediterranean Diet class is one of her most popular health-focused offerings. She also enjoys cooking foods she's encountered on her travels, particularly from the Mediterranean region, North Africa, and Southeast Asia.
As a personal chef, Gilan goes to people's homes or vacation rentals and cooks a meal that she plans with them in advance. She tried teaching cooking classes online but found it difficult. "You can't charge very much, and it's a lot of work. And I like to work directly with people," she says. "I want to create a space that brings people together with food in a happy way."
So she continued to offer in-person lessons, but with Covid-safe adjustments, including mask-wearing, safe distancing, and open doors for increased air flow. While her teaching kitchen in East Asheville has room for 30 people, she's transitioned to hosting groups of six or fewer students and is teach- ing shorter classes (one hour rather than three) to families with different age groups.
"I get calls daily, but I'm very discerning. It's quite a contrast to the past," she says. "I interview people and ask if they've been sick or not already, and if they have been tested. If they are coming from out of town, I ask if they are driving or flying." Gilan has planned a full calendar of in-per- son classes for up to 20 people with gloves and masks starting this spring, but says she will reschedule those, if necessary. ◊◊
Anne Fitten Glenn's cookbook collection now rivals her beer book collection, as her two college- aged offspring moved home for several months during the pandemic. That said, she needs to take some cooking classes to learn how to use the recipes lining her bookshelves. In addition to many articles about small business, food, parenting, and entertainment, she's written two beer history books: Asheville Beer and Western North Carolina Beer.
Save
Save
Save
Save
Save
Save
Save
Save
Save
Save
Ofri Gilan of Asheville Mountain Kitchen