THE HOME GARDENER
A Healthy Relationship With Gardening
BY CHRIS SMITH | PHOTOS BY ERIN ADAMS
The ranks of home gardeners swelled last year. Stay-at-home orders coupled with concerns over the fragility of our food system sent millions of people into their yards, looking to plunge their hands into the dirt and grow an array of beautiful fruits and vegetables that later graced their tables. It didn't hurt that the practice of tending to a garden, listening to birds chirp and feeling the warmth of the sun, also relieves stress and reduces anxiety. 
If early seed sales are any indication, it looks like 2021 will be another outstanding year for home gardening. And this, despite the devastating and challenging nature of the pandemic, is exciting. 
On the surface, gardening is the act of growing and tending plants—whether vegetables, herbs, or flowers. The process of digging, weeding, planting, watering, pruning, and harvesting are all simple, though sometimes laborious, tasks. 
Yet this work is balanced with obvious rewards: relishing the sweet crunch of spring peas, biting into that first vine-ripened tomato in early summer, harvesting more okra than you could ever eat in late summer, or having countertops covered with winter squash at the onset of fall. But the joys of gardening go beyond the satisfaction of growing your own food. Gardening is a relationship formed with the land, with the power to nurture and nourish all facets of life.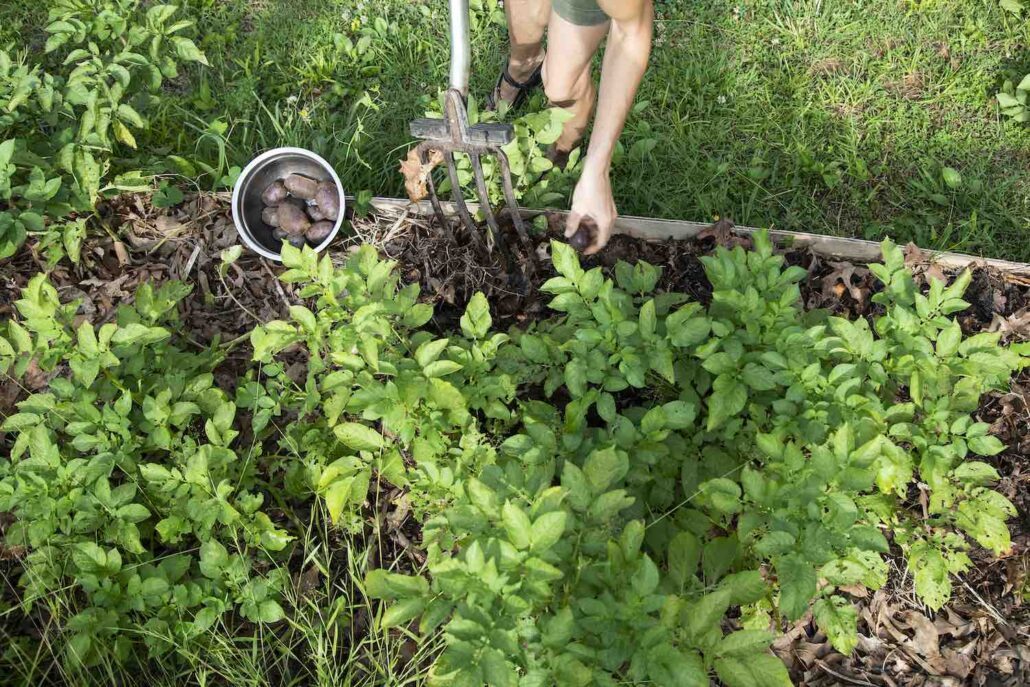 Spring gardening often starts with a seed. "My favorite part of gardening is when indoor planted seed germinates," says Craig LeHouillier, the Hendersonville-based author of Epic Tomatoes: How to Select and Grow the Best Varieties of All Time. "It provides a daily reason to leap out of bed to check the trays." 
LeHouillier grows hundreds of tomato varieties every year, among other things, and asserts that gardening "is one of the few hobbies that exudes hope and provides joy all year long." 
There is a common saying that asserts that gardening is cheaper than therapy, and you get tomatoes. While depression is no laughing matter, gardening for mental wellbeing is well supported by science. The serotonin-boosting effect of some soil bacteria has been reported in scientific literature, and the release of dopamine has been linked to harvesting and gathering food. As researchers continue to explore the complexity of soil biology—and our relationship with it—many gardeners intuitively know the joy of having dirty hands. 
Janice Brewer, manager of Root Cause Farm, a hunger-fighting nonprofit in Fairview, says, "My favorite part of growing is hand-preparing a garden bed. This is when I have my hands in the soil the most, daydreaming of all that will be planted, grown, and harvested." 
Gardening offers a well-rounded workout, with every task seeming to target a different muscle in the body: pruning for the forearms, shoveling for thighs and back, pushing a wheelbarrow for triceps, and hauling around watering cans for biceps. There is also a mental acuity that comes with learning to garden successfully, including a long list of amateur specialties, from botany and entomology to biology and soil science. Don't believe anyone who tells you they know all there is to know about gardening. 
Along with the physical and mental benefits, gardening offers a spiritual connection, if we choose to embrace it. "Working in the garden just makes me feel amazing," says Angie Lavezzo, education director at Sow True Seed. "If I'm sad or frustrated, spending time weeding or watering makes me feel as peaceful as if I'd spent the same amount of time meditating." 
A healthy gardening relationship can also teach us about history and culture, not to mention the breadth of culinary options from our local foods. The Roots Foundation is a local nonprofit founded on the belief that every aspect of the school curriculum can be taught through the lens of gardening and growing food. The Appalachian Sustainable Agriculture Project's Growing Minds program offers a great curriculum for school gardens, and Georgia Organics runs a Farm to School program with the aim of educating through food and farming. 
These are powerful ideas. If gardening in education (let alone gardening as education) is broadly accepted and adopted, then perhaps we won't need a pandemic to get more people benefiting from having their hands in the soil. ◊◊
Chris Smith is a seed saver and permaculturist who loves to write. He is executive director of the Utopian Seed Project, a crop-trialing nonprofit working to celebrate food and farming. His book, The Whole Okra, won a James Beard Foundation Award in 2020. He also co-hosts "The Okra Pod Cast." More info at blueandyellomakes.com and utopianseed.org.
Save
Save
Save
Save
Save
Save
Save
Save
Save
Save