Heirloom Secrets
The mysterious magic of fried chicken conjures the past
By C.A. Carlson | Photos by Erin Adams
"Oh, no. I can't tell you that."
"Nobody knows what it's in it. And it's going to stay that way."
"Is there anything I'd like to say about how we prepare it? Mmmm, probably not."
When you talk to folks about fried chicken, you spend a lot of time not talking about fried chicken. Ask for details about brines and breading from the Asheville-area chefs and restaurateurs who serve it, as I did during a month-long drumstick binge on behalf of this magazine, and you'll find that the secret to great fried chicken really is a secret, guarded closely by those who have mastered the balance of crunch and savor that has made the dish one of the most craved in the Southern canon and one of the most popular menu items at local restaurants.
Asheville isn't the only hot spot for fried chicken, of course. It's bobbing up out of fryers all over the country. Fried chicken could be considered the New Bacon, an old-school, cholesterol-boosting indulgence that twenty-somethings with creative facial hair love to celebrate. And yet it's also the golden-brown, crispy-skinned stuff of memory, especially for those who grew up below the Mason-Dixon line. I didn't move to the South until my early thirties, but over the last decade, fried chicken has become my reliable pleasure, my bad-day/good-day/any-day treat in a town that offers a family-sized bucket of options.
The origins of fried chicken are surrounded by just as much mystery as the recipes of the individual cooks who make it. Food scholars have traced its heritage to both Scottish and West African traditions that met and merged in the American South.
John T. Edge, director of the Southern Foodways Alliance and author of Fried Chicken: An American Story, has said, "So many people want to find the [original] fried chicken cook, and I think that's an exercise in folly. There are a number of things we can surmise about the roots of fried chicken…. It's a dish of farm cooks who had ready, easy access to birds clucking around the backyard. It is a working class dish, and as the institution of slavery spread across the United States, it became a dish of black expertise."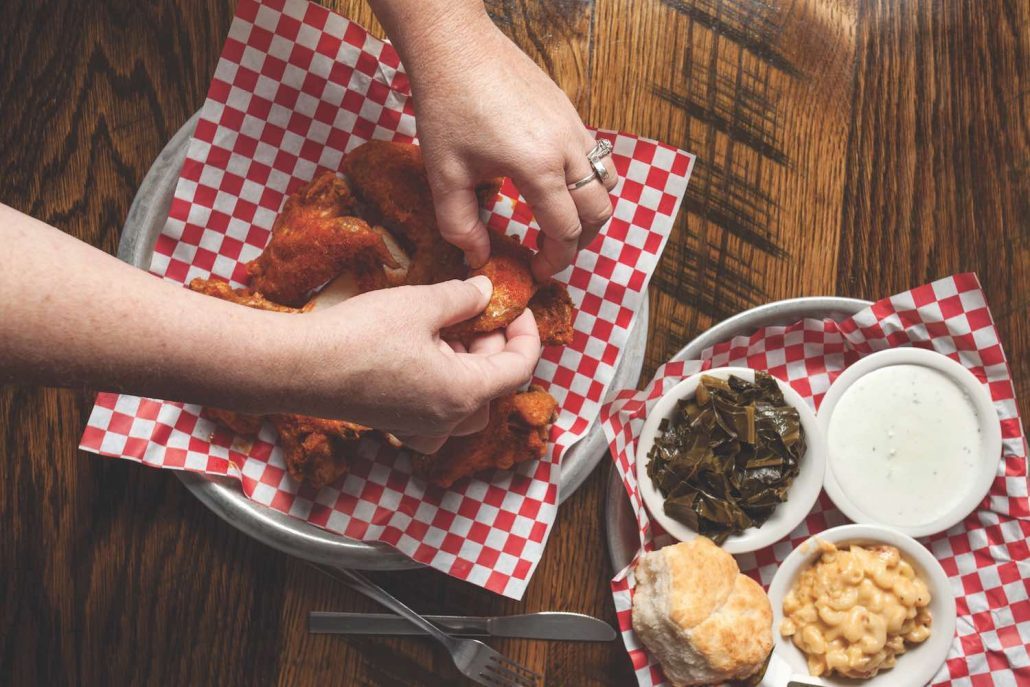 Over the years, fried chicken also became a celebratory dish for families of every background in the South, and that's how John Stehling, chef and co-owner of King Daddy's Chicken and Waffle in West Asheville, remembers it: as the center of the plate on his childhood Sundays near Winston-Salem. "Fried chicken, for me, connects a lot with family," he says. "I love it when someone tells me that our chicken reminds them of their grandmother's."
Stehling offers an "heirloom" fried chicken like the kind traditionally served up in many Southern homes: a heritage-breed bird that's lightly floured and then fried slowly in a cast-iron skillet. The menu warns that it will take a minimum of 30 minutes, but the results—a crust that's crisp but yielding, meat that's tender and tastes truly of chicken—are worth the wait. My own favorite among the five styles that Stehling serves, though, is just his basic fried dark with a substantial crust that's exactly what I want when I'm craving fried chicken.
Stehling offered up one tip for home cooks wanting the same crunch: swap 30 percent rice flour into whatever breading you use. He says, "I'm sure that your grandma didn't use it, but it's one of the little things that does the trick."
At Circle B Ranch BBQ in Fletcher, just across the road from the Asheville airport, William "Bubba" Johnson has perfected his own variation on the fried chicken he grew up eating just down the road in rural Fletcher. "Back in the day, everybody had a few chickens running around," he remembers. "We'd use pure lard and big skillets to fry, but now I'm trying to make it turn out the same without those things."
He won't say how he does it, but the crisp golden crust on his birds almost shatters when you bite into it. My dining companion and I were both covered in crumbs when we staggered out after a Saturday lunch. And yet the meat beneath that crust is perfectly moist.
"You've got to have crunch, but you've got to have juice, too," he says. And you've got to have patience: there are signs all over Circle B warning you that if you want fried chicken, instead of the barbecue or roast beef which are also customer favorites, you're going to wait at least 30 minutes for it. Get some mac and cheese and hang out.
If Johnson isn't at the fryer himself, you'll have his company to help you pass the time. He works the room with cheerful warmth, chatting up the loyal regulars who have been coming to Circle B since he opened it 15 years ago.
"I love it when people say that the chicken was just as good as the last time they were in," says Johnson. "That's hard, getting fried chicken right every time."
Consistency is an "obsession" for Rich Cundiff, owner of Rocky's Hot Chicken Shack. And no wonder: if you're a fan of Rocky's, you're expecting the same burn you got with your last serving of the Tennessee-style, cayenne-coated bird, and Cundiff wants the teams at his Patton Avenue and Sweeten Creek Road locations to deliver.
It's a customer-service mindset that Cundiff honed during years as an entrepreneur and executive in the grocery industry, but his love of fried chicken dates back to a childhood in Austin, Texas, eating at the local chicken shack.
When he moved to Asheville in 2008 to become the chief operating officer of the Earth Fare grocery chain, he stumbled across a little joint, run by indie musician Rocky Lindsley as a side gig, that reminded him of those days.
Cundiff went from regular to owner in 2010, and with his wife, Lauren, has turned Rocky's into a phenomenon that made it onto Garden & Gun magazine's Fried Chicken Bucket List this year. Rocky's follows in the footsteps of Prince's in Nashville, which is credited as the birthplace of hot chicken.
Rocky's starts out with plain fried chicken that's painted with a spice-infused ("the mix is proprietary") oil; the degree of burn, from mild to extra-hot, depends upon how much is brushed onto the crispy crust. My own preference is for the Rocky's Hot, on days when I'm feeling strong, and the Medium, on days when I'm not. Customers who like some sweet with their heat can try the Honey Mild, which honors the Patton Avenue location's original life as a Yogi Bear's Honey-Fried Chicken stand in the 1960s.
"The heat is interesting, and it's what we're known for, but it's insufficient," says Cundiff. "It's about the chicken. We source from three farms near Charlotte that will grow chickens to the size we require. I like a big bird because you get more meat behind the crust and the heat." Cundiff puts as much emphasis on his sides as his chicken.
"Old-timers tell us that our collards are how they're supposed to be," he says. "That's what I want to hear."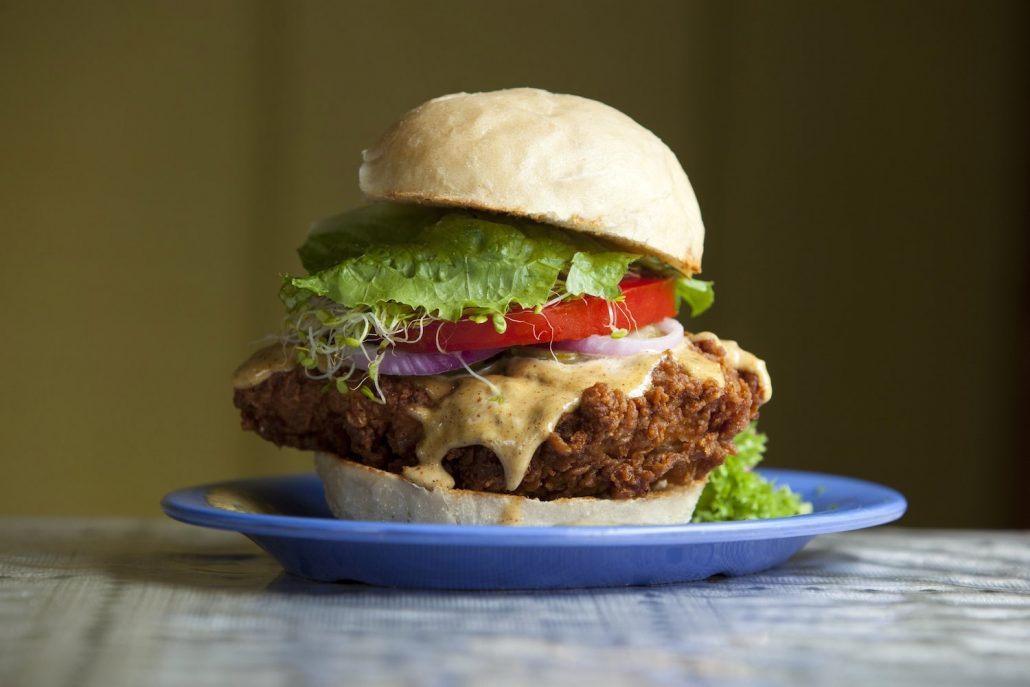 Miki Loomis wanted to offer her customers that same sense of homecoming when she opened HomeGrown in 2010. The restaurant feels like a cross between a diner and a farmhouse kitchen, and its most popular items—a fried chicken sandwich and a fried chicken plate that together constitute 60 percent of the restaurant's sales—reflect Loomis' own heritage growing up in nearby Madison County.
"Momma used to make hers with cornflakes in a cast iron skillet," Loomis reminisces, but HomeGrown follows a different method ("No, sorry."). And it uses a cut that many connoisseurs consider heretical: the boneless, skinless breast.
In Fried Chicken: An American Story, Edge declares, "The presence of a bone in a piece of fried chicken is functionally and formally elemental."
Loomis has found, though, that using the breasts of Joyce Farms birds gives her both quality and control, letting her kitchen meet the lunch and dinner rush quickly and consistently. It also allows Loomis and crew to serve up about 700 pounds of chicken at the LEAF Festival each fall, where concert-goers can get a sandwich at the end of the day that's just as good as the sandwich they had at noon.
And when I eat a HomeGrown fried chicken sandwich, as I did at least weekly when I lived just around the corner during a lonely first year in Asheville, it sure tastes like home. As does the plate of thighs, collards, and mashed potatoes at Sunny Point Cafe, my new neighborhood joint.
As does the dark-meat basket at Tastee Diner just down the street, and the fried chicken specials at too many other spots around town to mention. Buxton Hall's smoked fried chicken sandwich has gotten plenty of welldeserved coverage from the national press, and I've been told that the fried chicken at Luella's Bar-B-Q (offered only on Thursday mornings, and sold out before noon) is worth skipping breakfast for.
Fried chicken may be having a moment, but I'm betting that Asheville's hunger for it, and my own, will endure. ◊◊
C.A. Carlson has become very good at removing grease stains during the course of this story. She is also the copy editor of this magazine.
Save
Save
Save
Save
Save
Save
Save
Save
Save
Save
The secret to great fried chicken really is a secret, guarded closely by those who have mastered the balance of crunch and savor that has made the dish one of the most craved in the Southern canon.