Appalachian Craft Spirits
Distilleries are the next boom in craft beverages
By Anne Fitten Glenn
Folks around here no longer need to buy illicit liquor from their plumber, although I don't judge them for doing so. Some of the best moonshine I've tasted was distilled by friends, and, for some reason, a number of them have day jobs wrenching water pipes. But these days, I have a few friends who are making legal distilling their day jobs.
Now, in Western North Carolina, folks can legally purchase Appalachian craft spirits at their nearest liquor store or directly from the distilleries that are popping up like forest mushrooms. Increased interest in drinking local plus recent revisions in state laws controlling the production and sales of alcoholic beverages has paved the way for a boom in licensed distilleries, with at least four opening in the past six months in the region.
Two of those, Oak and Grist Distilling Company and Eda Rhyne Distillery, have deep roots in these mountains and are following the path set down by their predecessors of producing liquors using local ingredients.
Drinking local harks back to the settlers who first carved out homesteads in the Blue Ridge Mountains. From those early days, through Prohibition and beyond, homemade moonshine and mountains went together like, well, corn and sugar. The deeply ingrained moonshining tradition helped set the stage for the craft beer boom here. In turn, the culture of making and supporting local beer is giving rise to a craft cocktail renaissance today.
"The innovation that brewers have brought to their craft has transformed the American palate for alcohol, and the amount of experimentation has transformed the mind of the American alcohol consumer," says Chris Bower, co-founder of Eda Rhyne Distillery. "People who are interested in craft beverages—their ideas and tastes are expanding with spirits as well as with beer."
The first legal moonshine businesses in WNC opened their doors about 10 years ago. Asheville Distilling Company was one of the first. Their moonshine, sold under their Troy & Sons brand, springs from research on traditional North Carolina recipes, equipment, and ingredients, including corn varieties grown by the McEntire family in McDowell County for more than 200 years.
Other Asheville-based distilleries, including Howling Moon Distillery and Climax Moonshine, also focus on producing traditional mountain white lightning.
"There's a crazy boom in brewing. Now there's a crazy boom in distilling. It's great that many of these distilleries are committed to the traditional ways of making whiskey and gin, as I am," says William Goldberg, president and distiller at Oak and Grist Distillery.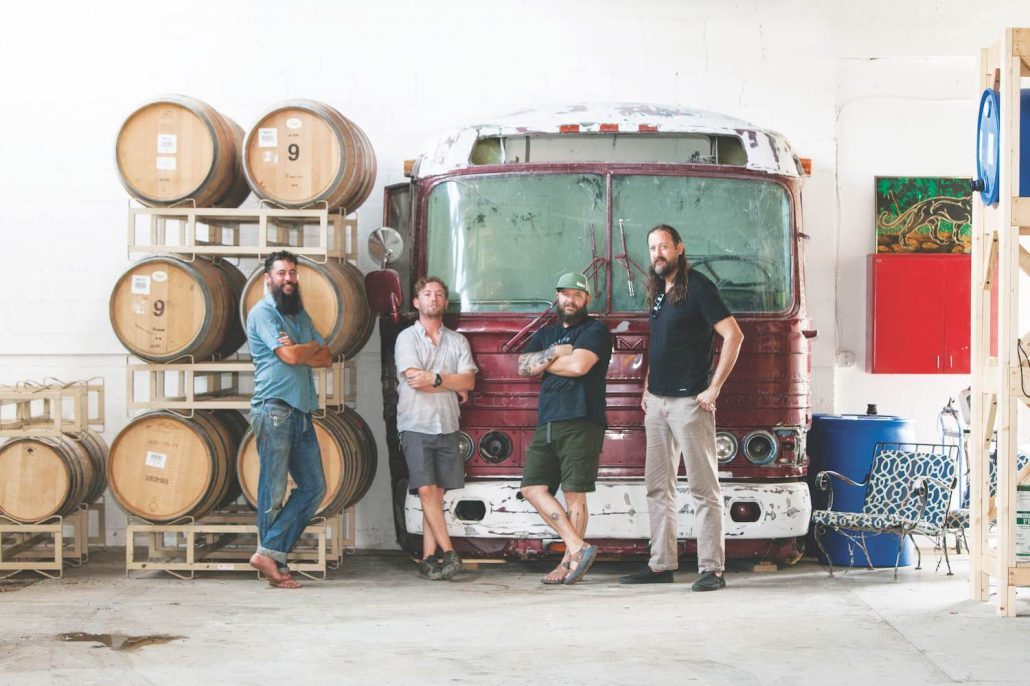 Goldberg started selling his all-grain botanical gin at the end of June 2017 from the Oak and Grist warehouse in Black Mountain. His partners are his father and one of his best friends, whose own father was a professional whisky maker in Scotland. Needless to say, that's been a big help to Goldberg with the distillation side of the business.
Just a few weeks after Oak and Grist opened, the North Carolina state legislature approved the so-called "Brunch Bill," which allows alcohol to be served on Sunday mornings and includes the provision that distilleries can directly sell up to five bottles of liquor per person annually. The previous law, passed in 2015, only allowed one bottle per person per year, but it was significant because, before that, distilleries weren't allowed to sell their products directly to the public at all.
The new law also allows distilleries to provide tastings at state regulated liquor stores, festivals, and other events. Of course, local option is still the norm, so each municipality has the right to approve or disapprove the new law within their boundaries.
Although Goldberg says he founded the distillery to craft traditional Americanstyle single malt whiskey, he's currently selling only his Dark Rhythm Gin. Whiskey takes a minimum of two to three years to age, and new distilleries need a product to sustain sales while the single malt mellows in its oak barrels. Gin, like moonshine, can be produced in as little as two weeks, and is a mainstay for new distilleries.
Goldberg uses barley malted at Asheville's Riverbend Malt House, which sources grain grown within a 200-mile radius. The seven botanicals in the gin don't yet come from the region, but Goldberg says that's his goal.
"Ultimately, I want to be able to contract grow with local farmers. I want to be able to approach a farmer, and say I need 1,000 pounds of juniper for the year, or I need 150 pounds of lemon verbena," he says. "That's part of the story I want to tell."
Bower, who co-owns Asheville bars Double Crown and Lazy Diamond, co-founded Eda Rhyne Distillery with Rett Murphy, Andy Berthone, and Pierce Harmon. Bower has a deep Appalachian family history, and moonshining is in his blood. Harmon has ancestors who were both coastal blockade-runners and bootleggers. Bower describes two of his recipes for the new distillery, Appalachian Fernet and Forest Floor Amaro, as WNC interpretations of traditional European herbal liquors.
"It's part of my family history, and it's definitely inspired me," Bower says. "What I'm bringing to the table is the more medicinal side of things. Corn liquor is a great way to preserve medicinal plants. Historically, part of the runs would go to grandma or grandpa or whoever was creating folk medicine for the family or community, and they would add foraged plants to make that medicine."
Murphy, who co-owns Aardvark Farm in Burnsville with Kathryn Skelley-Watts, was looking for something new to grow on the farm, and after the 2015 bill allowing direct bottle sales passed, he started researching the liquor business.
As Bower was already making Fernet in his kitchen, a mutual friend introduced them. Apparently, that meeting ended with the two going to Bower's house to imbibe his homemade liquor. Like Oak and Grist, Eda Rhyne also produces a gin, Pinnix Gin, containing a mix of botanicals grown on Aardvark Farm and wildcrafted (harvested from their natural habitat) in the mountains.
Bower has been collecting plants and herbs from Appalachian forests since he learned as a boy with his Pappy. Goldberg wants to collaborate with the brewing community, noting he'd love to make a whiskey out of a local beer someday.
"We've seen how the beer community has amazing support by our local community," Murphy says. "If we weren't in Asheville, for a number of reasons, including the beer community, we probably wouldn't be trying this." ◊◊
Anne Fitten Glenn, author of Asheville Beer: An Intoxicating Guide to Mountain Brewing, works as a consultant to breweries, and her primary local client is Asheville Brewing Company. She is a member of Edible Asheville's board of advisors.
Save
Save
Save
Save
Save
Save
Save
Save
Save
Save
Increased interest in drinking local plus recent revisions in state laws controlling the production and sales of alcoholic beverages has paved the way for a boom in licensed distilleries.