Into The Wild
Making holiday memories in Burnsville and Little Switzerland
By Beth Lassiter | Photos by Erin Adams
One of Western North Carolina's sweetest traditions is visiting a local farm to pick out your own Christmas tree. My husband, young son, and I pile into the car early one frosty morning with warm coats and hot coffee. We are headed to Burnsville and Little Switzerland to find our family's tree and marvel at the mountains along the way.
We make the trip north in under an hour. As we go, we approach the highest peak on the East Coast: Mount Mitchell at 6,684 feet. It pierces through low wispy clouds, surrounded by crisp bluebird skies to the north as we approach Burnsville.
Yancey County, where we are headed, is one of the only seven counties that produce 98 percent of North Carolina's Christmas trees. And North Carolina, in turn, is second only to Oregon for top-producing states, accounting for almost 40 percent of the nation's trees. According to North Carolina Cooperative Extension, that's five to six million trees harvested each year, at a total retail value of at least $250 million.
Yeater's Christmas Tree Farm, where we are headed, will sell upwards of 300 of these trees to its "choose and cut" customers this season. Nearly all are Fraser firs, prized for their beauty, branch strength, and ability to hold their needles.
David Yeater greets us in his yard, high atop a hill. A fire pit crackles nearby, and the sharp aroma of pine needles and sap fills the air. A chainsaw purrs on and off. In the distance, blue ridges rise around us in a 300-degree arc, while below us, Christmas trees up to 22 feet tall dot the slopes.
After a chat about what we want, he guides us toward the six-foot loosely sheared trees and sends us down with a handsaw. Employees are ready to help and will also cut the trees for guests, if they prefer.
As Mr. Yeater tells us, "These trees like to be grown on a hillside—on a little slope. Because if they're grown in a bottom area and we get too much rain, they'll get root rot. So that's why most are grown on the side of a hill." It also certainly makes a postcard-perfect winter scene.
I have the nerve to ask how these trees differ from the ones in stores. "What we offer is a fresh tree and our service," he says. "Your big box stores start cutting in October. But that's not the same as cutting it immediately. It makes a big difference; our trees last a long time. When they go out to the curb, they're still green. So some people stake them up in their yard and put peanut butter on the limbs and let the birds eat."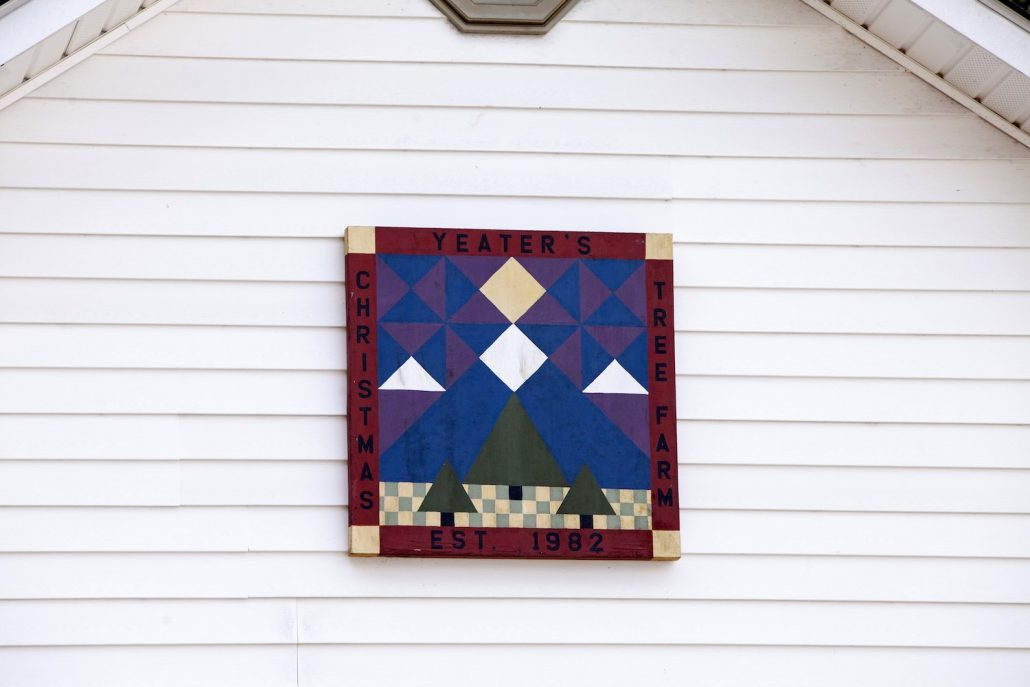 At 6 to 18 feet tall, these trees have been growing for between 10 and 22 years. And it's not easy work. During its lifetime, the average tree harvested in North Carolina is visited roughly 100 times to be shaped, fertilized, or otherwise cared for. Tree farmers also face the dangers of drought, rot, disease, and fire.
Yeater says he is able to rest through January and February, but come March, he is back out in his trees. It's a year-round endeavor.
While this year's trees have flourished, the business has seen its fair share of challenges. For 34 years, the Yeater family sold their North Carolina trees in Florida, requiring a lot of long-distance driving that made it tough for them to celebrate the holidays themselves. Then, in 2008, there was a lack of rain, and all 2,000 new trees died.
"But this has been a good year," he says, smiling, as he gestures at the four-year-old, foot-tall trees that he set out this year. "These little trees have done well."
When we have cut our tree, it's hauled back up to the garage at the top of the hill, where the bottom branches are trimmed and the trunk is prepared for the stand. We warm ourselves around the fire pit with hot chocolate while our boy works on his craft—painting an ornament made from a slice of Christmas tree trunk.
After Yeater helps get our tree on the car, we head to lunch at the Mountain View Restaurant near the town of Little Switzerland, about 13 miles away. It's a small building that seems to hang on the mountainside, tin roof glinting in the sun.
A sign at the door warns us that conditions may be chilly on the deck, but we are hardy, and so we bundle. The menu offers fare that is sure to keep you warm, even on the mountainside. We tuck into stuffed mushrooms and Greek salad with crispy pickled okra.
Friends who join us order the fried trout and burger. Beer and hot coffee help warm us. It's a lovely spot to rest after a morning at the farm.
As we are warmed by our meal, we have a commanding view of all the peaks to the southwest: Graybeard and Grassy Mountains, the Pinnacle and Woods Mountains, Silver Knob, Chestnut, Hickorynut, plus too many others to list.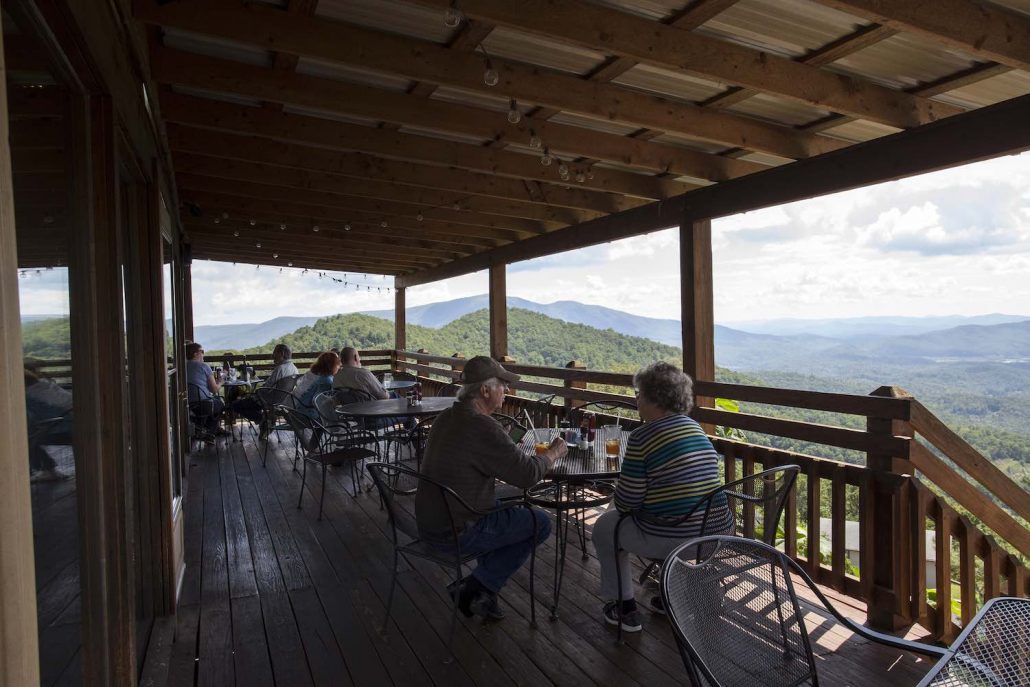 We head home as we came, stopping for an afternoon stroll in Burnsville for a bit of holiday shopping. Downtown is a large square with a tree-lined lawn at its center. Bright awnings beckon. Businesses include antique and clothing stores, craft galleries, two bookstores, restaurants, a deli, a toy store, and a bakery, to name but a few. Mount Mitchell—our constant companion today—rises over town. A garland of clouds still rings the mountain, and the Baptist church's thin steeple pierces through. If you visit in the first weekend of December, you might catch the town's holiday parade and studio tour. On December 8, there will be caroling in the town square.
Of course, the Blue Ridge Parkway is also a lovely way to get to or from the Burnsville area. But do check the Park Service site as they post winter closings in real time.
Back home that evening, we rearrange the furniture to showcase our stout little Burnsville tree. The multicolored lights go on, then the ornaments, including one made today. We step back and admire. In it, we see rising mountains, and bracing mountain air. We know the years of work and love it has received, and we are happy to be ever more a part of our mountain home. ◊◊
Save
Save
Save
Save
Save
Save
Save
Save
Save
Save
North Carolina produces almost 40 percent of the country's Christmas trees—and Yancey County is one of seven counties in the state where the growing takes place.