A GUIDE TO CURRIES
A journey through popular curries with
Blue Dream Curry House
***
Curries are associated with Indian cuisine, but can be found throughout the world, including many parts of South and Southeast Asia, as well as the U.S and U.K. Featuring an impressive variety of flavors and ingredients—and often reflecting regional, cultural and religious traditions— curries are dishes in which a sauce has been flavored with spices and aromatics and served over proteins, vegetables or lentils, often with rice. 
As we look forward to a season of nourishing curries, we turned to the experts at Blue Dream Curry House to explain the ingredients and flavors behind the region's more popular dishes. 
"I was raised as a vegetarian and my Mom often made curries when she was looking for flavor," says James Sutherland, a co-owner of the downtown Asheville restaurant. "It's a form of Asian comfort food that goes back thousands of years."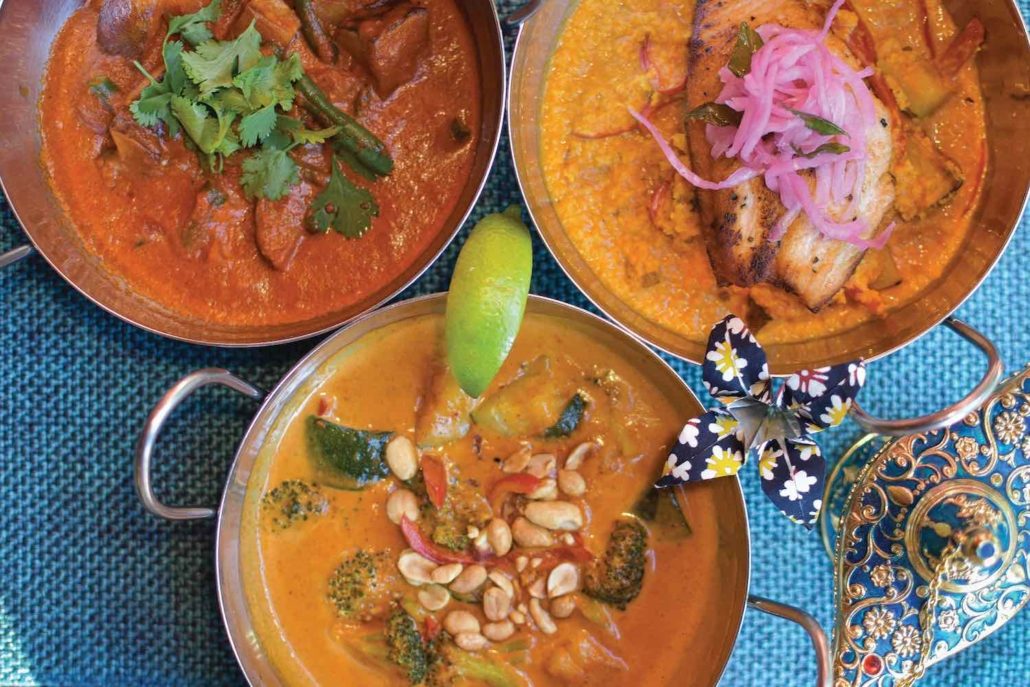 TIKKA MASALA often features chunks of chicken in a creamy tomato sauce served over rice. The flavors are mild, and the dish is one of the most popular curry dishes among fans in the U.S. and U.K. 
With roots in India, tikka masala is often associated with Britain, where the community of South Asian immigrants living in the U.K. are thought to have transformed the dish to appeal to British palates. 
At Blue Dream Curry House, the masala is made with garlic and ginger cooked in butter, along with dry spices, including cumin, coriander, paprika and a garam masala spice blend. After that, tomatoes are added with cream and a bit of salt. "This dish has a broad appeal, and is similar to butter chicken," Sutherland says. 
 ***
PANANG is one of the most popular curries in Thailand, with some of the others being red, yellow, green and massaman curry. Thai curries often start with a paste— incorporating ingredients like lemongrass, galangal (a rhizome in the ginger family, with a citrus flavor), shrimp paste and other aromatics. 
The ingredients and flavors added to this paste are often what distinguish one Thai curry from another. Panang curry paste features red chilis, although not as many chilis as red curries. But the dish also gets its flavors from coconut milk and peanuts, which help give the dish a flavor that Sutherland describes as "spicy and tangy, with an earthy side." 
Sutherland recommends incorporating roasted broccoli and squash, along with thin slices of fresh red pepper. It also goes well with chicken and braised beef. 
 ***
VINDALOO is a spicy dish originating from Goa, a state in western India, and is thought to have been influenced by a Portuguese dish known as "carne de vinha d'alhos," which means a dish made with meat (usually pork) and cooked with wine. The residents of Goa replaced the wine with vinegar and added chili peppers and their own spices. 
Restaurants in the U.S. often serve vindaloo with lamb, beef, chicken or shellfish. Unlike the tikka masala, which presents a mild flavor, vindaloo packs a fiery punch and is often the hottest curry on a menu. 
"It has a vinegar bite to it that balances out the butter and creaminess of it," says Sutherland. "It goes well with onions and potatoes; also braised beef or lamb with mint."
Save
Save
Save
Save
Save
Save
Save
Save
Save
Save