FROM MALABAR TO THE PUNJAB
The Diverse World of Indian Cuisine in Asheville
***
BY ANNE FITTEN GLENN
PHOTOS BY ERIN ADAMS
Creamy, spicy Indian curries are the ideal comfort food for dreary winter days, and Asheville's ever-expanding restaurant scene offers ample opportunity for exploring the diversity of this exciting cuisine.
Downtown Asheville's Indian street food hotspot Chai Pani is a regional favorite and was recently named to The New York Times' list of top 50 restaurants in America. But other notables include India Garden, which has produced traditional dishes from a humble East Asheville strip mall location for almost 20 years, and the city's newest Indian restaurant, Andaaz, offering upscale Punjabi-style fare in Biltmore Village.
TRIPLE CROWN
India Garden, along with Cinnamon Kitchen and Mela, are three restaurants that Baljit Singh and his family own and operate in Asheville. The family opened its first India Garden restaurant in Blacksburg, Virginia, then discovered Asheville when scouting for a second location in the early 2000s—a time when the city was still a veritable food desert in terms of Indian cuisine.
Singh moved to Asheville to run India Garden, then got married, had kids, and began slowly and thoughtfully expanding the business, launching Cinnamon Kitchen in 2010 and then purchasing Mela in 2017 from founder Anoop Krishnan. "This is a beautiful place, and a great place to live and raise kids. We love Asheville, so I didn't want to go anywhere else," he says.
Singh offers diversity at his trio of restaurants. "I want my friends to be able to go to the three restaurants and try different dishes—not just the same thing at each one," he says.
India Garden specializes in Northern Indian and Punjabi-style dishes, while Cinnamon Kitchen offers an extensive menu of foods from across the subcontinent, often adding new items. Mela features flavors from both South and North India, from the coast of Malabar to the plains of the Punjab. Coastal dishes are usually mildly flavored and gently cooked, including rice as well as a variety of meats and seafood. Cuisine in the largely agricultural Punjab region tends to be highly and aromatically spiced, with some foods prepared in a clay oven, or tandoor, and some dishes loaded with dairy, including ghee (clarified butter), cream, yogurt, and paneer (unaged cheese).
The menu at Mela, launched by Krishnan in downtown Asheville in 2003, has remained unchanged since its transfer of ownership, Singh says. Guests still vie to sit near the large, red-framed windows overlooking Lexington Avenue, and the traditional lunch buffet has been a staple for down- town workers and visitors since 2005 (although it was COVID- canceled for more than a year). Some of Mela's most popular dishes are the fairly mildly spiced chicken tikka masala (always on the lunch buffet) as well as the spicy madras and even spicier vindaloo curries. All three restaurants feature a variety of vegetarian and vegan options.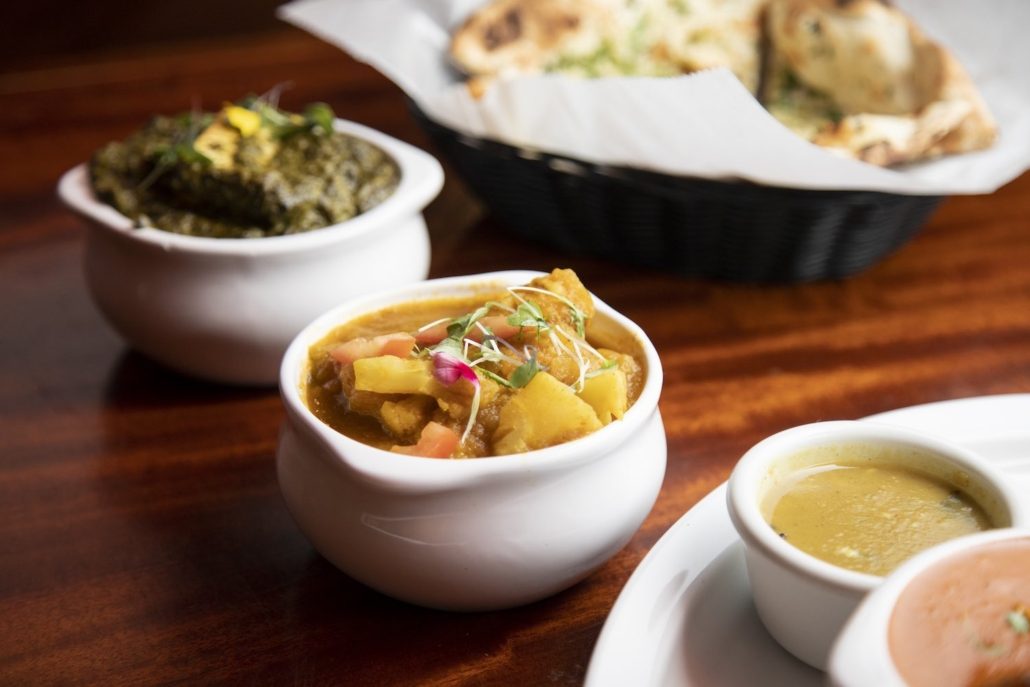 FROM NEAR AND FAR
Asheville's community of Indian immigrants is relatively small, especially compared to the nearby Greenville and Spartanburg areas in South Carolina, but it's growing. Local entrepreneur Al Singh (no relation to Baljit Singh), who opened Andaaz in May 2021, guesstimates that about 90-100 Indian families live in the greater Asheville area.
Like Baljit Singh, Al Singh is a native of Northern India's Punjabi region. He has lived in the U.S. for more than three decades and moved with his family to Asheville in 2014. He runs 20 Citistop stores in the region but says, "I've wanted to open a fine-dining Indian restaurant in Asheville with dishes that remind me of what I ate growing up."
Long-time chef Bobby Chhikara, who owns several restaurants in New York state, developed the flavor profiles and menu for Andaaz. Singh had been following the chef's career in the U.S. for years, and when the space that once housed Rezaz Mediterranean Cuisine became available in late 2020, Singh jumped on it. He contacted Chhikara and told him, "I'm opening a restaurant, and I'm com- ing to New York to meet you." Singh spent about five months renovating the space to his exacting specifications and working with Chhikara on the menu.
NEW KID IN THE VILLAGE
While Andaaz offers a few Southern coastal dishes, such as Goa fish curry, the flavors of the Punjab region are predominant. Some of the most popular dishes at Andaaz include the badham korma (chicken, lamb or veggies simmered in a creamy saffron and cashew curry sauce) and the many tandoori offerings, such as mango shrimp and a baked fish with caraway.
The goat dishes are rare finds—including a highly spiced, long-cooked house special goat curry. Vegetarian entrées, such as the dal Andaaz yellow curry and baingan bharta (grilled and curried eggplant, onions, and tomatoes) are popular as well. For dessert, ras malai (cottage cheese dumplings in flavored milk) is a satisfying but not overly sweet comfort food.
"We tried to make the menu as authentic as possible. We want you to feel as if you are eating in Punjab," Singh says. While some ingredients are sourced locally, many specialty items must be brought in from regional distribution hubs in Georgia and Florida. Like Mela, Andaaz offers a traditional Indian-style lunch buffet. (If you're planning a visit, note that most Indian restaurants close for a few hours between their lunch buffet/menu and dinner service.)
The atmosphere at Andaaz is cozy yet upscale, with subtle lighting and richly colored fabrics. Singh chose paintings and statues that, he says, give glimpses of Indian life as he knows it, such as photos of goat herders and hand-ground spices as well as golden statues of Hindu gods and goddesses.
The bar area, a focal point at the restaurant's entry, has become a popular Biltmore Village hangout. Head bartender Joe Nicol designed the drink menu and creates the restaurant's signature cocktails. His favorites are The Manali Trance No. 2, his variation on the classic Arsenic and Old Lace drink (two types of gin, vermouth, lemon bitters, and a spritz of absinthe), and Bengals and Bananas, his rendition of a Dark and Stormy, featuring a house rum blend infused with the house curry spices plus banana liqueur, lime juice, sugar syrup, and Indian ginger beer.
Other local restaurants offering Indian dishes include Blue Dream Curry House and Kathmandu Café, which are across the street from each other in downtown Asheville. Newcomer Biryani Express, which specializes in some hard-to-find Halal Pakistani dishes, in addition to its Indian fare, has become a hit locally, especially for its takeout menu.
Regardless of where you choose to go, don't wait to snuggle up in a warmly lit local Indian restaurant and taste a variety of vibrant dishes on a cold winter's day. ◊◊
Save
Save
Save
Save
Save
Save
Save
Save
Save
Save
Baljit Singh, owner of Mela, India Garden, and Cinnamon Kitchen
Joe Nicol, head bartender at Andaaz