FREE SPIRITS
Alcohol-Free Cocktail Recipes to Welcome Summer
***
BY Kay West | Photos by Erin Adams
Katey Ryder, who built her reputation as a master mixologist at several well-known Asheville bars before opening The Golden Pineapple in West Asheville, laughs when asked about one of the most traditional booze-free cocktails, the Virgin Mary. "Even the name is kind of sad," she says. "It's like, 'Here's a glass of cold soup. Cheers!'"
While nonalcoholic cocktails—or "mocktails," as they are often called—used to take a back seat to their alcoholic cousins, they have started to evolve and mature in recent years, becoming significantly more sophisticated than the Virgin Mary and generating more interest from a wide range of imbibers. 
"People are way more conscious about what they put in their bodies, especially after COVID," Ryder observes. "People want to pace themselves and are looking for ways to do that beyond a club soda. Maybe they start out with a nonalcoholic drink and move onto one with alcohol, or vice versa. We also see a lot of pregnant women who want to feel like they're part of their group, minus the alcohol." 
The popular bar Little Jumbo in Asheville has been offering spirit-free cocktails since shortly after it opened in 2017. "Bars are not just about alcohol; they're a gathering place for community and a nexus point for people to meet up and see each other," says co-owner Chall Gray. "Not everyone drinks, but we have always wanted to have something delicious for everybody who comes in."
FIRST BLOOM
Provided by The Golden Pineapple 
1 ounce almond orgeat* 
1 ounce tepache* 
0.5 ounce lime juice 
A few fresh mint leaves plus a full sprig for garnish 
Splash of soda water 
Add orgeat, tepache, lime, and a few fresh mint leaves to a shaking tin. Shake with ice. Pour into a Collins glass. Add about 2-3 ounces of soda water and top off with ice to fill the glass. Garnish with fresh mint sprigs. 
*Golden Pineapple makes its own orgeat and tepache, but premade orgeat is available online or at local stores like Appalachian Vintner, and pineapple juice can be substituted for the tepache.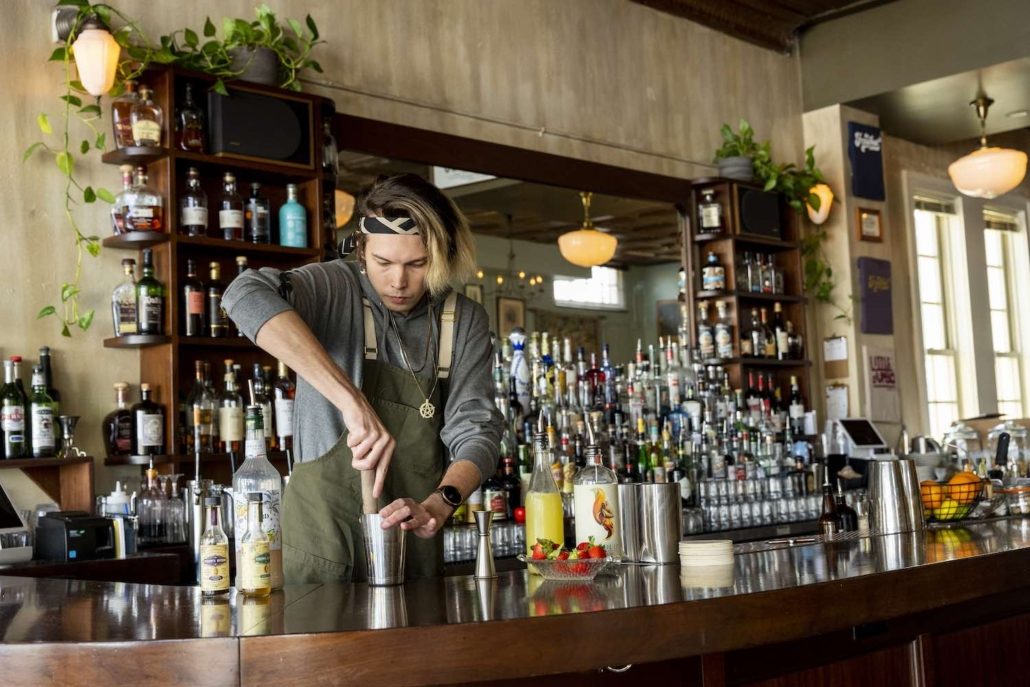 JAZZHANDS 
Created by August Henson, Lead Bartender of Little Jumbo 
2 ounces Seedlip Grove 42 
0.75 ounce lemon juice 
0.5 ounce orgeat 
1 dash cardamom bitters 
1 dash lavender bitters 
1 strawberry for drink, 
1 for garnish 
Add all ingredients to a shaker (including 1 strawberry) and muddle. Add ice, shake, strain into a Champagne flute, and garnish with a strawberry.
Save
Save
Save
Save
Save
Save
Save
Save
Save
Save