AlWAYS TIME FOR PIE
***
PHOTOS BY ERIN ADAMS
Summer celebrations are just around the corner! So we consulted with Baked Pie Co. founder Kirsten Fuchs to find out how to mark these warm-weather occasions with pie. With two locations—in Woodfin and Arden—Baked Pie often keeps these popular pies on hand, but Fuchs told us it's always best to reserve them in advance! 
BACKYARD BBQ 
Recommended: Banana Pudding Pie 
With a homemade vanilla custard piled into a vanilla cookie crust, and then loaded with fresh bananas and topped with homemade whipped cream, the pie ends a successful barbeque with sweet and soothing flavors. 
DATE NIGHT DESSERT 
Recommended: Honey Pecan 
Made with Georgia pecans, caramelized honey, and brown sugar, this trio of charming flavors produces Baked Pie's best-selling pie and the ideal dessert for a special date night. Each pie contains two-and-a-half cups of pecans and gives you another reason to fall in love. 
SUMMER BRUNCH 
Recommended: Strawberry Shortcake 
With the delightful flavors of fresh, local strawberries, the Strawberry Shortcake Pie features ladyfingers soaked in strawberry juice and then layered with homemade whipped cream. "It's nice for cooling off during the hot summer months," Fuchs says.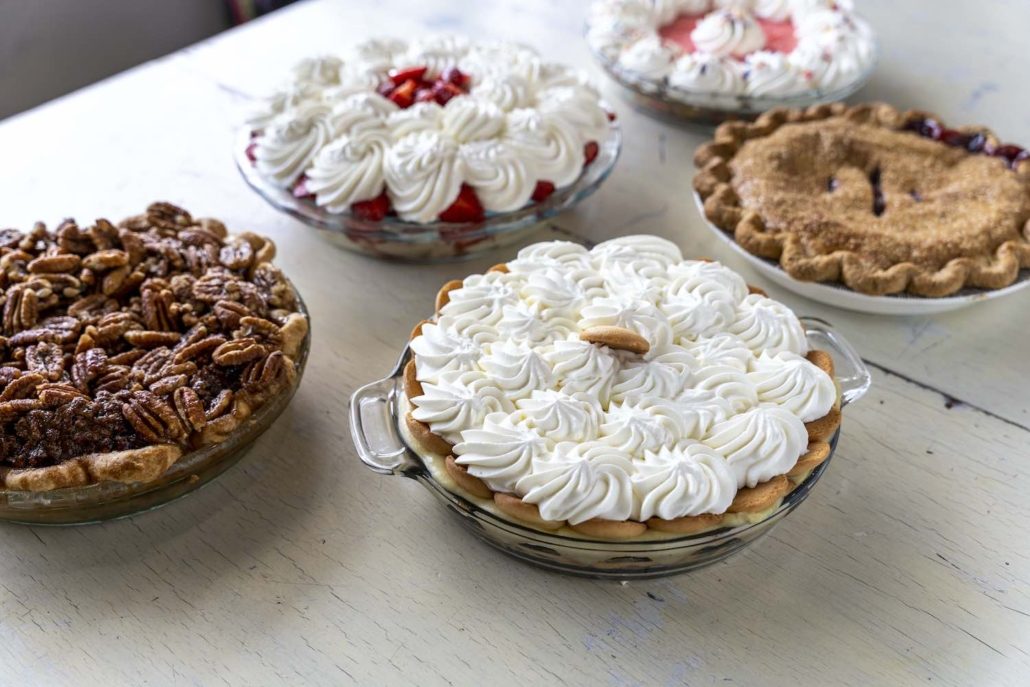 CHILDREN'S BIRTHDAY PARTY 
Recommended: Unicorn Pie 
The crust of this popular pie is made with colorful Fruity Pebbles cereal and then filled with fresh vanilla custard (tinted pink) and topped with mounds of homemade whipped cream and sprinkles. "Children's faces are always pressed against the glass to get a look at this one," Fuchs says. 
CELEBRATION DINNER PARTY 
Recommended: Spicy Cherry Bourbon 
A boozy treat created with adults in mind, this pie features tart cherries blended with Bourbon and a touch of cayenne pepper, all loaded in a flaky pie crust. Best when heated just a bit before eating and served with a side of vanilla bean ice cream. ◊◊
Save
Save
Save
Save
Save
Save
Save
Save
Save
Save
Shayne Hollifield (left) and Mary Noble Braden of Noble & Co Realty