Brothers In Beer
Farmer and brewer drink the fruits of their labor
BY Jen Nathan Orris
Purple sweet potatoes are having a moment, and not just on trendy food blogs. The vegetable's brilliant hue and slightly fruity flavor are becoming increasingly popular in pies, cakes, and even ice cream. In Asheville, this coveted ingredient shines in beer, thanks to a longtime friendship between farmer and brewer.
Green Hill Urban Farm, with locations in West Asheville and Mars Hill, started growing purple sweet potatoes for Bhramari Brewing Company last year. Although the crop turned out smaller than anticipated, the 160 pounds that Green Hill harvested formed the basis of Bhramari's Native Violet saison, bearing the complex flavors that make purple sweet potatoes so desirable.
The relationship between Green Hill and Bhramari Brewing Company, on Asheville's South Slope, goes beyond sweet potatoes. Bhramari head brewer Gary Sernack and Green Hill founder Mike Fortune say they find themselves collaborating quite often, using Fortune's produce as inspiration for unique new brews.
A wet-hopped pale ale, for example, features six of Fortune's ingredients—persimmons, figs, goumi berries, quince, honeysuckle, and plums— and is appropriately named Fortune 6. Fortune is also looking to grow corn specifically for the brewery's Carolina Common ale.
Sernack and Fortune's friendship began when Sernack (a former chef who attended culinary school at Johnson & Wales University-Denver) joined the Community Supported Agriculture program at Green Hill Urban Farm. Soon the friends started foraging and home brewing together, often kicking back with a beer and talking late into the night.
Sernack recalls the conversation about Fortune's fruit trees that inspired one of their first collaborations. "We were hanging out, and I just said, 'What do you have coming? What's in the works?' to get my juices flowing," Sernack remembers.
Fortune has planted over 400 fruit trees at his West Asheville farm, a project that has taken over eight years. Growing fruit for the brewery is a personal passion, as well as a business endeavor.
"I want to taste every apple and fruit there is and have a sustainable model for myself," Fortune says.
He is expanding production as Bhramari grows, tailoring his crops to the needs of the brewery. This lets him grow produce that is too delicate or specialized to sell at farmers markets or grocery stores, such as muskmelons (a more perishable cousin of cantaloupe).
"The harvest window is so short on those specific melons, but knowing they can go right into the beer makes it worth growing large-scale," Fortune says.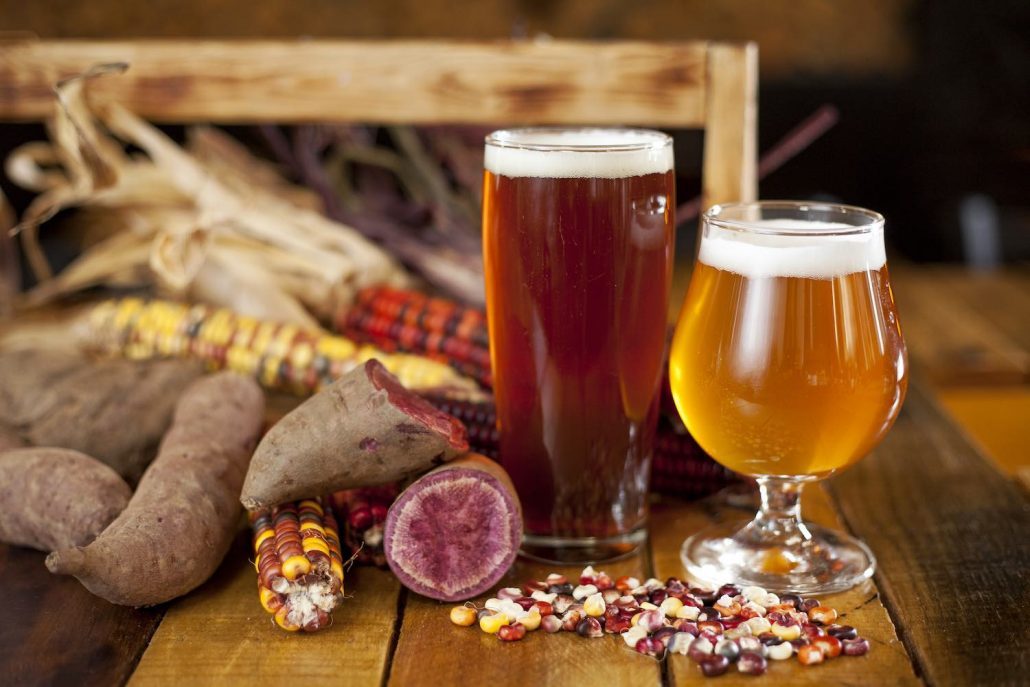 Fortune started as a small-scale farmer in 2005, growing on three West Asheville lots stitched together into a small haven for fruit trees and produce. He continues to farm there, but has expanded to 3.5 acres of fertile bottomland in Mars Hill. That's where he grows the majority of the ingredients for Bhramari, including purple sweet potatoes.
It took some creative thinking to turn Fortune's sweet potatoes into beer. First, they were cleaned, roasted whole, and cut into quarter-inch rounds. Then the potatoes were added directly to the mash, along with wheat, barley, rye, and oats.
After separating the spent grain and sweet potatoes from the sugary liquid known as wort, the beer followed the typical process on the brewhouse's experimental one-barrel pilot system. (Bhramari also has a 15-barrel system for its five main brands.) It was then fermented with saison yeast for three weeks, which added a slightly spiced flavor characteristic of saison-style beers.
Sernack says the sweet potato mash was especially gummy and difficult to work with. "It's kind of a nightmare," he quips.
Growing the sweet potatoes wasn't exactly a dream for Fortune, either. He planned to produce 400 pounds for the brewhouse last season, but after drought and significant deer damage, he could only provide Bhramari with less than half that amount.
Sernack took the unexpected sweet potato deficit in stride, adjusting the recipe to fit the ingredients on hand. "We just rolled with it," he says. "It affected us, but not in a way that we couldn't still make something awesome."
This growing season, Fortune says he will plant two to three times more sweet potatoes than last year to anticipate the needs of the brewhouse. He notes that the "feast or famine" nature of farming doesn't lend itself to formal contracts between friends.
It's difficult for both Fortune and Sernack to anticipate if a crop will thrive or how much of a specific fruit or vegetable the brewhouse will need, so they simply adjust their plans based on what's available.
"Everything is done on a handshake," Sernack says. "We trust each other, and if it works out, it works out. There's no need to sign any papers."
Yet Fortune is looking far into the future with their informal partnership. He has embarked on a long-term breeding project to grow corn specifically for the brewery's Carolina Common ale.
Unsatisfied with established varieties of corn, Fortune is breeding what he and Sernack call "Painted Fortune." It's a cross between Painted Mountain (a genetically diverse genome descended from over 70 native corns) and Maiz Morado (a purple Peruvian corn high in antioxidants). It's a multi-year effort to create an entirely new breed of purple corn suited to Western North Carolina growing conditions.
Fortune says he's committing half of the Mars Hill farm to growing corn for Bhramari this season, plus plenty of extra for his own dinner table. Sernack is looking forward to adding both the flavor and color of the new corn to Carolina Common ale, saying, "I'm on this eternal quest to make the perfect purple beer."
Together, these drinking-buddies-turned-collaborators are pushing the craft beer industry forward through unexpected fruit and vegetables, alongside other local farms that fuel the plow-to-pint movement, including Rayburn Farm in Barnardsville.
These beer-fueled collaborations echo the emphasis on local sourcing that defines the Asheville culinary scene, and create longtime alliances between farmers and brewers. Fortune describes that alchemy as "the next step in flavor and ingredients that give a unique, signature, local flavor to these beers." ◊◊
Jen Nathan Orris is the managing editor of Edible Asheville, as well as a public radio producer. A stickler for thorough research, she knocked back several fruit-forward beers while writing this story.
Save
Save
Save
Save
Save
Save
Save
Save
Save
Save
Save
Gary Sernack, head brewer at Bhramari Brewing Company.

Mike Fortune, founder of Green Hill Urban Farm.