Footloose In Hot Springs
A mineral hot spring anchors this historic hamlet in Madison County
By Nan K. Chase
Hot Springs is a mysterious little town, and part of the mystery is how it remains so undiscovered so close to Asheville. Think of the 36-mile drive as a trip back in time.
The town's outdoorsy appeal comes from the juxtaposition of two disparate facts: it is quite remote—surrounded by vast expanses of the Pisgah National Forest—yet because the Appalachian Trail runs up the main street of Hot Springs, a casual visitor is likely to encounter rugged thru-hikers from anywhere in the world.
Of course, there are the springs themselves, colossal unseen founts of warm, crystal-clear, mineral-rich water that really does relieve aches and pains. How does 104° sound? Hot Springs Resort and Spa, like most everything else in Hot Springs these days, is rustic, and bathers "take the waters" in private whirlpool hot tubs situated discreetly in the woods along the French Broad River and its tributary Spring Creek.
Once upon a time, though, Hot Springs (or Warm Springs, as the town was known before a hotter spring was discovered in 1886) boasted one of the grandest resort hotels of the late 1800s. It was a huge colonnaded affair with hundreds of guest rooms and elegant appointments on a similar scale. Guests would stay for weeks at a time to enjoy mineral baths, massage, and fine dining.
Those were the passenger rail days, although today freight trains still rumble through the middle of town at all hours. The spa resort suffered indignities through much of the 20th century and has come back as a much smaller, more laid-back proposition. Only the foundations of earlier buildings remain, like ghostly footprints.
Nowadays guests either stay for an hour or two of bathing and then move on, or they get a room in town and stay for a few days.
Hot Springs also makes for a perfect day trip, if you know how to do it right. First, call ahead to book an hour at one of the spa tubs, sometime in the middle of the day. Asheville residents get a midweek discount at least part of the year; just ask.
Pack hiking boots and a bath towel for the spa. Leave Asheville in mid-morning, driving the quickest way to Hot Springs, via I-26 and US 25-70. Park at the spa and take off on foot to the main road, called Bridge Street. Congratulations! You've just arrived at the Appalachian Trail.
Look for the Lover's Leap trailhead nearby. Follow this trail along the river as it muscles through the mountains, then zigzag up, up, up to a series of rocky promontories. It's an exhilarating hike, about 40 minutes long, and in spring the wildflowers are poking through the forest floor.
Sit a while and take in the amazing view of the river, the town, and the mountains beyond. Return to town by the same trail or on a looping spur called Silvermine Trail; both are well marked.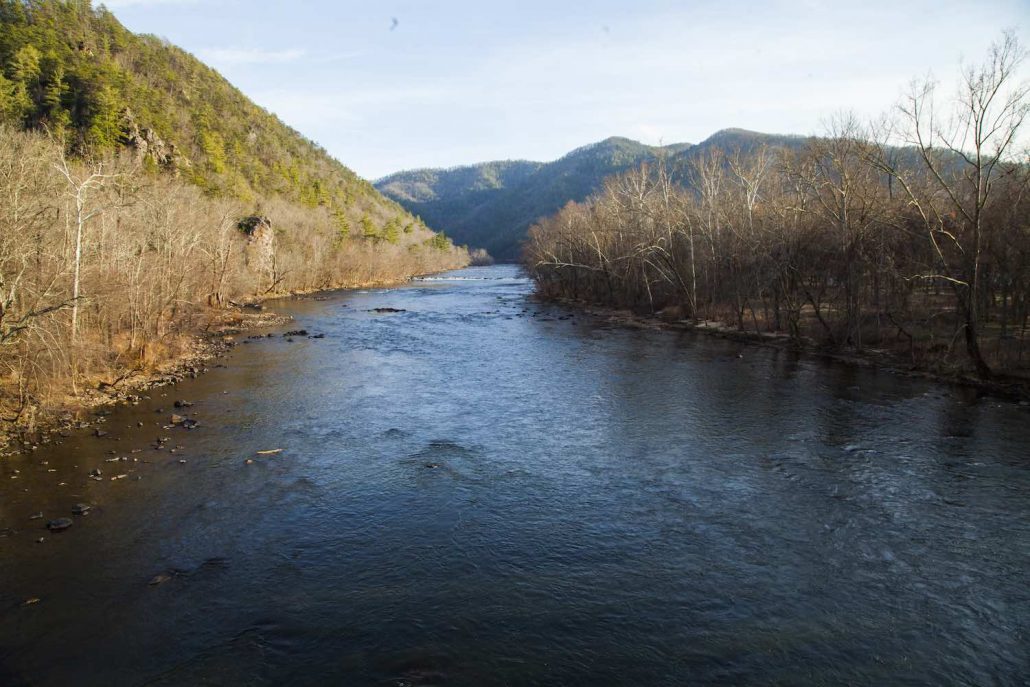 In town, continue along Bridge Street, past the railroad tracks, past Spring Creek and the little shopping district and get straight to the food. Eat an early lunch or late breakfast at Smoky Mountain Diner and meet the friendly staff, including owner Genia Hayes-Peterson who has run the dinner since 1993.
The diner is a local institution (open 365 days a year!) where hungry AT hikers are welcomed and neighbors come to visit as they dine. The food isn't fancy or trendy; it's simply authentic mountain fare cooked with love and served in large portions. Make sure to order some cornbread, baked each morning in cast iron skillets. Slathered with butter, it is as light, moist, and flavorful as cake with a delicate crust on top and bottom.
After you get your fill, mosey around town and be sure to visit Gentry Hardware, an old-fashioned hardware store with tools, garden implements, and kitchen wares. Bluff Mountain Outfitters is another good stop, with all kinds of hiking gear and trail maps. Then return to the spa and soak for an hour of blissful relaxation at your reserved time.
Return to Asheville on the slow road, heading through downtown Marshall and all the way to Asheville along the French Broad River on NC 251. This narrow, winding road traces the early stock route that once carried livestock on hoof through downtown Asheville. By staying near the river all the way from Marshall, travelers can feel the French Broad's power and enjoy its beauty up close. ◊◊
Nan K. Chase is the author of Asheville: A History and other books. Nan and her husband, Saul, have visited Hot Springs about 40 times in the last 32 years.
Visit Hot Springs
Hot Springs Resort and Spa is open Sunday–Thursday, 10 a.m.–10 p.m., and Friday–Saturday, 10 a.m.–midnight. Towels available to rent for $1.50, or bring your own. Discounts for Buncombe County residents on Wednesdays. Hot tub fees: $20–$68. Facials and massage available. 315 Bridge Street. Call 828-622-7676 for reservations. nchotsprings.com
Smoky Mountain Diner is located at 70 Lance Avenue and open daily. Homemade cobblers, pancakes, and breakfast skillets, plus classic Southern sides like hush puppies and coleslaw, draw visitors and locals alike. Entrees around $10. Call for spring/summer hours. (828) 622-7571
Soak up some music at French Broad River Festival, held at Hot Springs Resort and Spa May 5–7, 2017. Highlights include folk and bluegrass performances by Keller Williams, Cabinet, and Larry Keel. Pick up outdoor gear at the live auction and get adventurous with mountain biking and raft races. Weekend pass (includes camping): $95. Frenchbroadriverfestival.com
The Bluff Mountain Festival comes alive on June 10, 2017, at Hot Springs Resort and Spa. The outdoor festival combines old-time, traditional, and bluegrass music, plus clogging and ballad singing. Bring a folding chair or blanket and make a day of it. Free. madisoncountyarts.com/bluff-mountain-festival
Save
Save
Save
Save
Save
Save
Save
Save
Save
Save
Save
The town of Hot Springs welcomes day trippers, AT hikers, and local residents.

Visitors to Hot Springs will often mingle with AT thru-hikers, who are looking for a hot meal and necessary equipment.