Bringing Spice To The Mountains
Ginger and turmeric thrive in WNC
By Kristina Mercedes Urquhart and Jen Nathan Orris | Photos by Erin Adams
At first glance, ginger and turmeric—two prized plants native to Southeast Asia—may seem out of place in Western North Carolina, where family farms typically grow more squash than spices. But local farmers are learning to grow these flavorful rhizomes, known around the world as the building blocks of Indian and Middle Eastern cuisine, and revered by many cultures for their anti-inflammatory and immune-boosting effects.
Local chefs, home cooks, and herbalists seek out these spices as autumn turns to winter, eager to harness their culinary and medicinal properties. Fresh ginger and turmeric are quite different from the dried and ground versions found in typical spice racks.
"Baby ginger" is a lovely shade of pink, requires no peeling, and is remarkably juicy and mild compared to the mature ginger found in grocery stores, though they can be used interchangeably in many recipes.
Fresh turmeric is a vibrant orange color, tastes sweeter when eaten fresh, and can be juiced or diced into coleslaw and salads. Most home cooks and many chefs would not have access to these fresh flavors if not for local farmers.
Demand for these crops is growing, and some farms that once grew traditional local produce like berries are shifting to turmeric and ginger production.
Southwest from Asheville, through and beyond Nantahala National Forest, lies Qualla Berry Farm, an organic farm whose name is a misnomer, now that they grow turmeric and ginger almost exclusively.
For farmers Karen Hurtubise and John Clarke, growing turmeric required some trial and error and a huge leap of faith. They weren't sure what to expect the first year they planted them.
"We didn't really know what we had—we were just growing," says Clarke. "We got into November, and I said, 'We gotta harvest this stuff and see what's in the ground!'"
"I started digging it, and there were these beautiful orange rhizomes that had developed," Clarke remembers. "It was something special," Hurtubise adds. "It was like sunshine out of the ground."
Their journey from berry farming to growing turmeric and ginger began with every farmer's worst nightmare. Qualla was once a thriving U-pick raspberry farm; then, in 2009, the Spotted Wing drosiphila, a Japanese fruit fly, spread across the continental United States, wreaking havoc on organic berry farms in particular. Nearly all of their berries were destroyed.
"It was so devastating to lose the raspberries," Hurtubise remembers. "I really wanted to give up."
They were determined to find a new crop that wouldn't be as susceptible to pests, and like many WNC farmers, they noticed an uptick in locals who were interested in the medicinal and culinary properties of ginger and turmeric. They were encouraged by Susan Anderson of East Branch Ginger in Pittsboro, who mentored the couple through their transition to growing the tropical plants.
"Susan was preaching the gospel of ginger and turmeric and making it possible for people in this climate to grow it," Clarke remembers. "She was bringing in starts from Hawaii and teaching people in this area to grow."
The former berry farmers knew very little about these two crops, except for a few of their more popular culinary uses, but decided to give it a go. Qualla Berry Farm received a high tunnel hoop house as part of a grant program through the Natural Resources Conservation Service, part of the United States Department of Agriculture.
"The idea behind the program is to extend the season and make it possible for people to grow more food in temperate climates," says Clarke.
But not everyone they encountered knew that ginger and turmeric could be grown in WNC, or how to apply them culinarily or medicinally. Thankfully, their loyal berry customers were their first turmeric and ginger customers, and their client base grew from there. "We seemed to just ride the wave of people learning about the properties of turmeric," he remembers.
How Ginger and Turmeric Became the New Hot Crops
These tropical plants are popping up at farms throughout the region, including Jah Works Farm in Asheville and Rayburn Farm in Barnardsville. The plants and their growers have become Instagram darlings, as farmers post photos of their greenhouses filled with tidy rows of ginger, and pics of their kids hiding in turmeric leaves as the plants grow taller each week. Watching the progress of turmeric varieties with names like Hawaiian Red and White Mango has become a social media mainstay, and a way to mark the season.
Clarke explains that successfully growing tropical perennials in the deciduous rainforest of WNC, where temperatures regularly drop below freezing, is a matter of changing the way you view the plants and adjusting your expectations of what the crop is supposed to be, essentially growing them as annuals.
Farmers get their rhizomes in March and begin sprouting indoors in early spring. Qualla sourced its seed rhizomes from Hawaii, and Clarke says they try to replicate the natural rainy and dry seasons of the native conditions in which these plants grow best. The plants must be kept damp in a warm room until foliage develops, and can only go outside after the last frost date.
In warmer climates, ginger and turmeric grow year-round, with the former developing a firm, hard skin, the kind we're used to seeing in grocery stores. In WNC, both crops are harvested before the soil gets cold. That means harvesting as late as October, when the leaves turn yellow and the rhizomes are ready to be eaten fresh.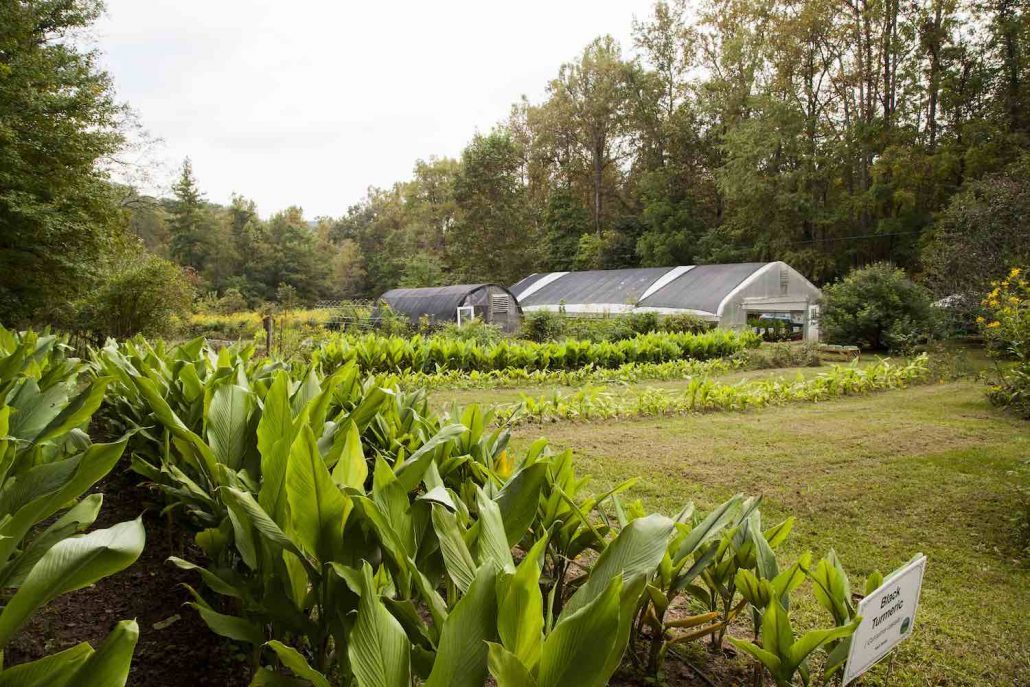 Now that Hurtubise and Clarke are in their fourth year of growing ginger and turmeric, they've worked out many of the kinks, and they're ready and willing to share their knowledge—and extra plants—with home gardeners.
The couple grows quite a bit of ginger in pots each year, and brings it indoors through the winter to mature. The turmeric develops a central core with crowns, which can be divided, supported through spring growth, and then overwintered in damp coconut coir (coarse fibers extracted from coconut husks) for planting the following year.
Hurtubise and Clarke sell some of their overwintered stock and their container plants, as well as freshly harvested rhizomes for consuming directly.
"We're growing more this year, but we sell out," Hurtubise says. "So there's room for more people to grow it themselves. That's what John and I want to be doing more—teaching other people to grow their own."
Turning Food into Medicine
As hundreds of pounds of fresh ginger and turmeric make their way to farmers markets and restaurants during these final days of fall, they also arrive in the hands of herbalists who turn them into medicinal extracts and and vinegar tonics.
"A diverse array of foods in our diet is important," says Jeannie Dunn, director and owner of Red Moon Herbs in Asheville. "Plants like turmeric and ginger add to the variety without changing our diet. They have medicinal actions and are perfect examples of food as medicine."
Dunn sources ginger and turmeric from several farms in Western North Carolina. "When we access those plants, we create a more sustainable future that supports our local economy and assists in plants thriving with less of a carbon footprint than purchasing herbs from thousands of miles away."
Red Moon Herbs processes both ginger and turmeric the same or next day after harvest and transforms them into organic alcohol extracts of both plants.
"Since Red Moon handcrafts in small batches without delay between harvest and crafting of the extracts, we prefer to work with local farmers who hand-harvest so all processes are extremely in tune with the plants and the medicine," says Dunn.
Ginger and turmeric are believed to be particularly potent when used medicinally. "The turmeric is supportive of healthy immune system function, joint, and digestive health. Ginger has a lot of the same actions as turmeric, but it is my personal favorite for assisting with upset stomach, nausea, or digestive issues," Dunn says. She also crafts a vinegar-infused turmeric and ginger extract which is blended into Red Moon Cider. It's their version of fire cider, a circulatory tonic and old remedy which provides immune support during cold and flu season.
The unique conditions of the North Carolina mountains paired with both the determination of local farmers and simple technology to extend the growing season mean that herbalists can source locally grown Southeast Asian plants to meet customer demand.
"I wanted to make a few products that incorporated these two plants to support our dear farmers while meeting the requests of our customers who ask for certain plants that grow evermore popular in the dietary supplements industry," Dunn shares. "Since we mostly wild-harvest or grow things naturalized in Appalachia, it's a leap to tropical plants, but we remain true to our mission by choosing locally grown."
Whether the region's fresh ginger and turmeric end up in the kitchen or the medicine cabinet, it's clear that local demand is growing as quickly as the plants themselves.
"I think it's exciting that these two foods consumed around the world can be grown and purchased right here in Appalachia," Dunn says. "I don't want to dismiss any of our native plants that bring culinary or medicinal benefits to our lives, but until they grow in popularity as ginger and turmeric have in our culture, I'm just so grateful we can source high-quality roots from local sources." ◊◊
Kristina Mercedes Urquhart is the author of The Suburban Chicken: The Guide to Keeping Healthy, Thriving Chickens in Your Backyard, and a freelance writer for several publications. She's a full-time mother to two and homesteader living in Barnardsville, North Carolina.
Save
Save
Save
Save
Save
Save
Save
Save
Save
Save
Local farmers are learning to grow ginger, a flavorful rhizome known around the world as the building block of Indian and Middle Eastern cuisine.

Jeannie Dunn is the director and owner of Red Moon Herbs, which uses local ginger and turmeric in medicinal extracts.