WINTER WONDER
Three emerging chefs share their most inventive dishes
BY SHAWNDRA RUSSELL | PHOTOS BY ERIN ADAMS
Asheville's reputation as a food destination—complete with the nickname Foodtopia—means the city offers almost every kind of cuisine imaginable. Celebrated chefs, like James Beard Foundation Award-nominated Katie Button of Cúrate, John Fleer of Rhubarb, and Meherwan Irani of Chai Pani, have set a high bar for ingenuity in the kitchen. But a host of up-and-coming local culinary stars are also making marks with their own distinctively imaginative fare.  
WARM CARROT SALAD 
Austin Inselmann, Leo's House of Thirst 
One of the area's newest eateries, Leo's House of Thirst, occupies a big wine garden and tiny building next to The Odditorium in West Asheville. Drew Wallace, the restaurateur mastermind behind The Admiral and The Bull & Beggar, launched the venture in September with chef Austin Inselmann, who transplanted from Portland, Oregon. There, he gained experience under the tutelage of James Beard Award winner Gabriel Rucker at Little Bird Bistro with mentorship from another James Beard alum, Katy Millard of Coquine. 
Many dishes at Leo's stand out for their creativity. Recent offerings include a warm squid salad with bacon, fennel, daikon, cress, and benne seed, as well as a tartine made with pastrami-smoked trout, ricotta, dill, nigella, and quail egg. But Inselmann is especially fond of his warm carrot salad, which anchors flavors of spice and smoke with local ingredients, such as carrots from The Culinary Gardener and Gaining Ground Farm, fromage blanc from Looking Glass Creamery, and farro from Farm and Sparrow.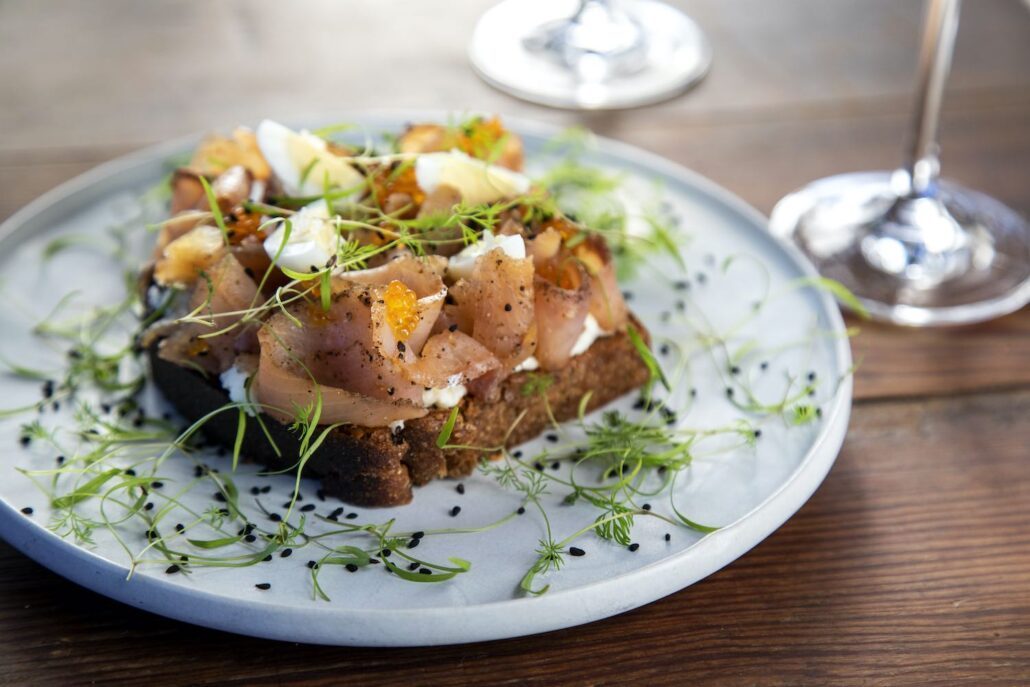 Seasonality is important to Inselmann, as is working with small local farms to keep his menu rooted in Western North Carolina. "I pull flavor profiles from a variety of places to highlight what is in season rather than focusing on one particular region or cuisine," he explains. "Getting high-quality local produce, dairy, and sustainable proteins that are delicious and can stand alone allows me to not have to over-manipulate the ingredients and just present simple and elegant food with small twists." 
But don't forget about the "Thirst" part of the name. Leo's is a wine-forward restaurant, ideal for sharing small plates paired with recommended wines from an inventory of more than 150, with prices ranging from $7 a glass to $300 a bottle. 
This winter, Inselmann is indulging his love of crafting fresh pasta dishes, including one he's especially excited about: smoked squash agnolotti. "I roast and smoke tetsukabuto squash from Full Sun Farm [in Leicester], then fold it into house-made ricotta made from Mills River Creamery whole milk for the filling, and garnish with roasted pepitas and brown sugar crumb," he explains. 
Another winter showstopper? A vegan tartine made with Asheville-based Hominy Farm's gan de mie (a take on pain de mie sweetened with blackstrap molasses) topped with a cauliflower cashew spread, fermented broccoli, roasted brassicas and a cashew-pepper flake crumb. 
"Getting high-quality local produce, dairy, and sustainable proteins that are delicious and can stand alone allows me to not have to over-manipulate the ingredients and just present simple and elegant food with small twists." 
SPAM MUSUBI 
—Christopher "Cookie" Hadley, RosaBees
RosaBees is another relatively new kid on the foodie block. Cakes by Gray owner Melissa Gray partnered with chef Christopher "Cookie" Hadley to open the River Arts District spot in late 2019. Surviving the COVID-19 pandemic hasn't been easy for any restaurant, but RosaBees' authentic Hawaiian offerings have helped it stand out and build a following. One of the differentiating highlights of the menu is the house-made version of Spam Hadley created for two dishes: Spam musubi and the Big Kahuna burger. 
"It's a relatively simple procedure," says Hadley of the Spam musubi, a popular Hawaiian snack that riffs on Japanese sushi and onigiri. "We make a pressed ham slow-cooked in loaf pans in a water bath using North Carolina heritage-breed pork shoulder. From there, we glaze it with a house-made teriyaki sauce, place it over formed coconut sticky rice, and wrap it with nori." RosaBees presents this appetizer on a small dish with teriyaki sauce and garnished with local wasabi microgreens.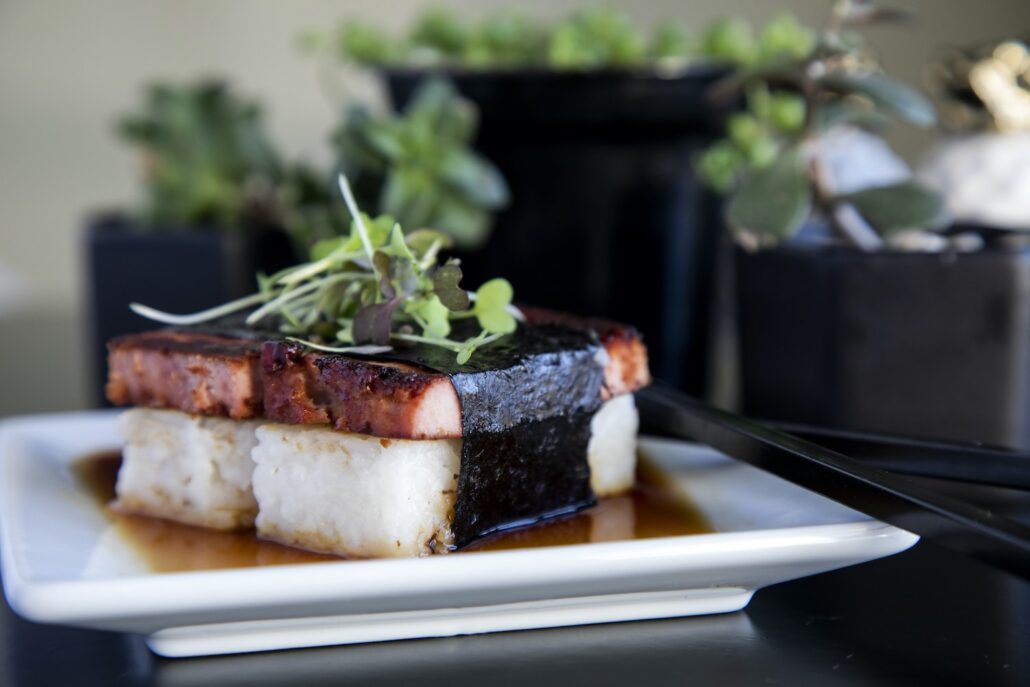 Hadley's connection to the RosaBees menu is personal. Although the chef grew up in Kansas City, his stepfather is of Japanese descent and was born and raised in Hawaii. Many RosaBees dishes, he says, are foods he grew up eating. And he and Gray knew right from the beginning, he adds, that the restaurant would feature Spam musubi, partially because of the meat product's importance to Hawaiian culture. 
"It became a staple form of protein during World War II in Hawaii because of its long shelf life and ability to be stored without refrigeration," he explains. "The Hormel corporation would actually ship over 15 million cans a week to the islands for the troops." Spam is still so popular in the state, he adds, that McDonald's restaurants in Hawaii serve the meat product grilled with eggs and rice. 
"I think, at first, many of our guests were suspicious—but also curious—about seeing Spam on a menu at a nice restaurant in Asheville," Hadley says. "Most people that take the leap and try our Spam musubi instantly love it." 
NORDIC DEVILED EGGS 
Josiah McGaughey, Vivian 
Tucked into the Pink Dog Creative complex in the River Arts District, Vivian has received quite a bit of praise since it opened at the end of 2018. High-end but with a casual vibe, the restaurant pulls inspiration from numerous sources, especially Old World European cuisine. Although its menu constantly changes, co-owner and general manager Shannon McGaughey, who operates Vivian with her husband, executive chef Josiah McGaughey, says one special dish—Nordic deviled eggs—has stayed on the menu since day one, in part because it's so beloved by diners. 
"The inspiration comes from a Swedish dish called Gubbröra, which hilariously translates to 'old man mix' and is a Nordic hangover cure-all," Shannon explains. Traditionally, chopped hard-boiled eggs are mixed with anchovies and smeared on toast, but at Vivian, Josiah fuses the Scandanavian flavors with a Southern comfort classic of his youth: deviled eggs.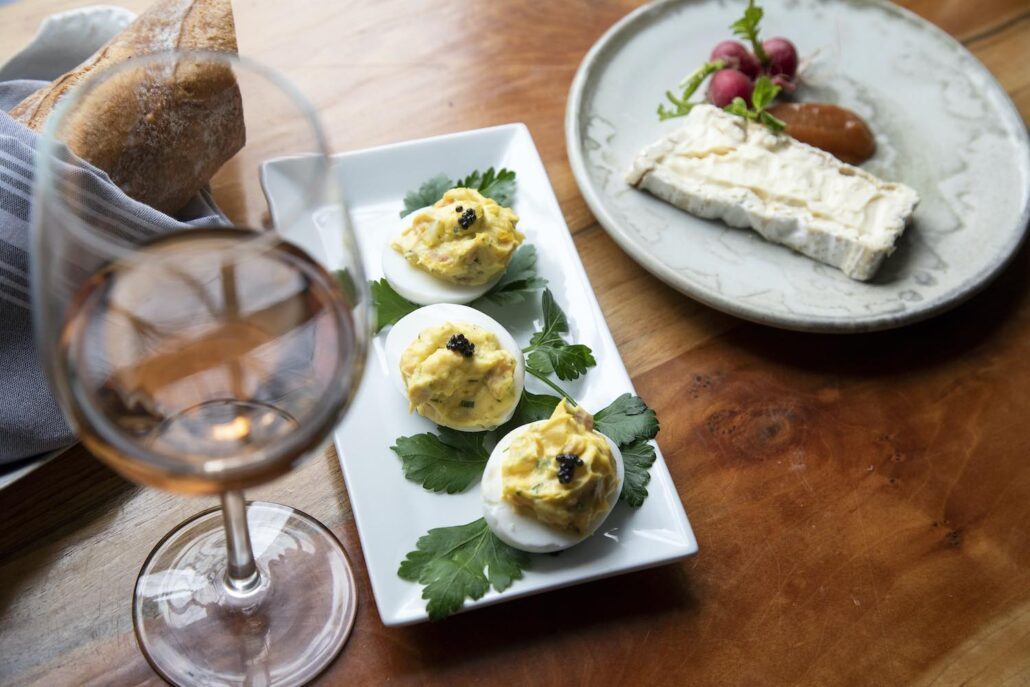 Another influence, Shannon continues, was the book Smorgasbord: The Art of Swedish Breads and Savory Treats by Johanna Kindvall. "Chef is constantly reading cookbooks, both new and super-vintage," she says. "His love for culinary history drives his ambition to constantly be thinking of new menu items." 
To bring this dish to life, Josiah makes the classic deviled egg filling with hard-boiled yolks, but adds in cornichons, potatoes, shallots, and whatever smoked or cured fish the restaurant has made for the week. He then scoops the mixture into the halved egg whites and tops each with hackleback caviar to add a salty touch. "You would think that deviled eggs don't seem that exciting, but one bite tells you otherwise," says Shannon. "They are truly addictive—so packed with flavor." 
Like Inselmann, Josiah credits the local and regional farmers he partners with for guiding the direction of Vivian's ever-changing menu. "If the team gets some delicious, seasonal veggies or a specific type of fish in, they're going to build a dish that specifically highlights that specialty ingredient," he says. 
He also notes that operating a zero-waste kitchen—an effort that's very important to him—greatly impacts the menu, because the culinary team often works with whole animals. "We aren't afraid to use offal," he says, referring to the entrails and internal organs of animals used as food. 
Josiah, who describes himself as "an instinctual or inspired chef," is careful to add that his focus isn't always on invention. "We're not trying to constantly push the envelope on making crazy dishes just for the point of doing so," he explains. "We just follow our hearts in the kitchen and hope that guests are as excited about the dishes we formulate as we are as a team." ◊◊ 
Shawndra Russell has been writing about North Carolina food, drinks, makers, and businesses for six years, with a previous stint in Savannah, Georgia doing the same. She also owns Mad Genius Studios, a small retreat center
15 minutes from downtown Asheville and is the co-host for The Great Reset, a podcast dedicated to conversations about how we can make a better world for all post-COVID. You can read her blog at thegreatresetmovement.com/blog. 
Save
Save
Save
Save
Save
Save
Save
Save
Save
Save
Chef Austin Inselmann, Leo's House of Thirst
Christopher "Cookie" Hadley, RosaBees