What's In A Name
Beer branding, from label design to legal hurdles
By Anne Fitten Glenn
A tall, shaggy man-beast holding a staff topped with a giant gemstone peers out of a cave on top of a mountain in the Smokies. He's a Boojum, the legendary Bigfoot of North Carolina's Haywood County. The intricate, colorful drawing of this creature isn't on a book or on the wall of a gift shop; instead, the portrait is wrapped around a can of beer.
Waynesville's Boojum Brewing Company takes its name from the eponymous myth, and its beer cans tell bits of the Boojum's tale. "When we were trying to find a name for the brewery, our dad showed us the story of the Boojum," says Kelsie Baker, co-owner of the brewery with her brother Ben Baker. "It was hyper-local to Waynesville and about this interesting, fun, creative legend, and we knew it was perfect for us."
There are more than 5,000 breweries operating in the United States, producing tens of thousands of beers each year. While a grocery store or bottle shop may offer only a fraction of those, perusing today's beer aisles has become a dazzling meander through an adult candy store. Many customers will purchase a beer just because it sports a cool name, eye-catching label, or interesting artwork.
The naming of beer can be a complex matter—as is the process of creating and producing each beer's brand and label. There's a team of people behind every beer you buy, from the brewers to the attorneys to the creative team to, yes, the government. Every beer that makes it to the shelf or onto the draft line requires a surprising number of steps and a considerable amount of time and brainstorming to get there.
With so many breweries producing so many new beers, finding a unique name for a new beer can be a big challenge. Nearly every hop pun you can imagine has been used. Asheville Brewing Company has a white board on the brewery wall where anyone can contribute new name ideas. Even so, every new beer, even if it will only be sold in-house from a brewpub or taproom, requires a brainstorming meeting that involves lots of Internet research and checking multiple websites, including that of the United States Patent and Trademark Office.
"Nine times out of ten, a name that we think is cool and creative has already been used by another brewery," says Mike Rangel, Asheville Brewing president. "We will throw out all kinds of outrageous names and be surprised when we learn another brewery has beaten us to them."
For example, Asheville Brewing recently came up with the name "Say You, Say Me Saison," in homage to singer Lionel Richie, only to learn that nearby Highland Brewing Company already had used the same name for a saison-style brew. Even though it wasn't trademarked, and both beers were small batches, Asheville Brewing decided to look for another name.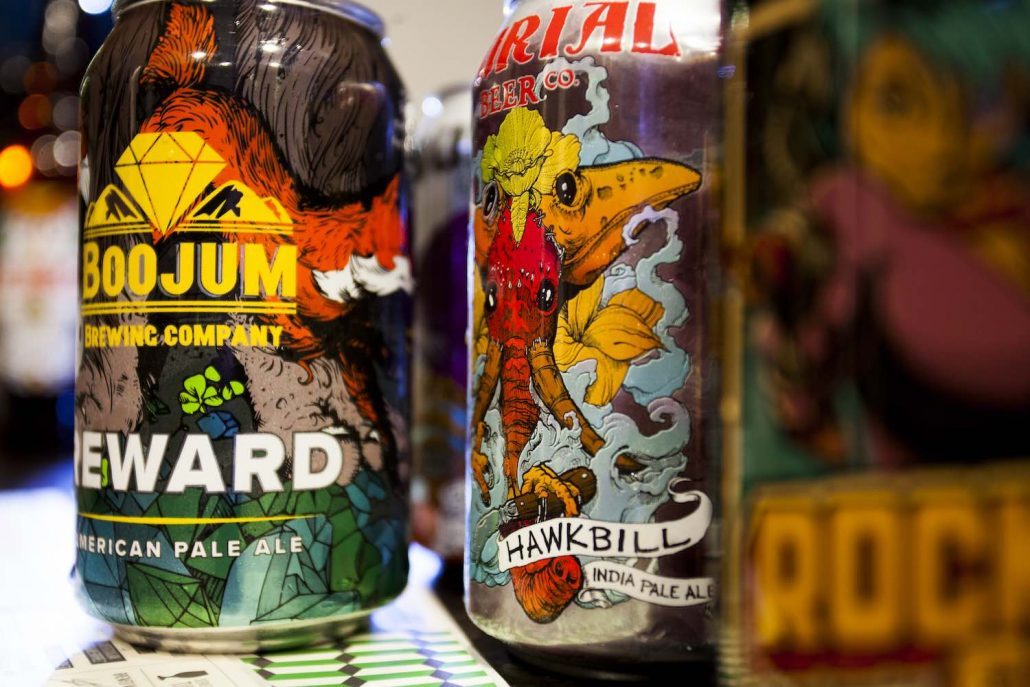 If a beer will be sold outside of the brewery, and especially if it will be distributed outside of the state in which the brewery resides, it's smart to bring in attorneys for a final name and trademark search before starting to create a brand and label.
Rebecca Crandall of McGuire, Wood & Bissette, an attorney specializing in intellectual property, notes that a brewery should make sure  all of its beer and service trademarks, like the name of the brewery or its flagship beers, are registrable and should obtain federal registrations on them as early as possible. Many breweries have received cease-and-desist letters over beer names, but if they can prove they registered names first or have been using the name for longer, they will likely get rights to it.
Crandall warns that conflicting or confusing names can impact everyone from bartenders to drinkers.
"Imagine that both Brewery A's 'Golden Girl' and Brewery B's 'Golden Girl' are on tap at a restaurant," she says. "The customer orders a 'Golden Girl.' How does the server know which one to bring?  How does the consumer know which one she receives?"
Even ratings on beer social media apps like Untappd can be affected. "What if Brewery A's 'Golden Girl' beer is terrific and Brewery B's beer of the same name is not, and some Untappd users check in Brewery B's beer as Brewery A's?  Then the average rating for Brewery A's 'Golden Girl' beer will be negatively impacted, and people will be less likely to give it a try."
After the naming of a beer, it's time to create the label, which includes both copy and artwork. The label design typically adorns whatever the beer is packaged in, such as bottles, cans, and six-pack carriers, as well as its tap handles and marketing materials.
Some breweries have in-house graphic designers; some have a marketing person who occasionally doubles as a designer; others use outside artists or illustrators consistently. Asheville's Big Bridge Design now works with around 30 regional breweries to support their design and marketing efforts, including connecting them with local artists.
"We first started working with Green Man Brewery around seven years ago," says Stephen Becker, Big Bridge co-owner. "We inherited that logo but we saw some great opportunities, such as adding seasonal variations." The iconic
Green Man logo now has spring, summer, fall, and winter versions that identify the corresponding seasonal brews.
Since then, the Big Bridge team has developed logos and brands from scratch (Hi-Wire Brewing Company), been the middle person between breweries and illustrators (Boojum, Twin Leaf Brewery), and even worked with printers to revamp how they print sleeves for cans to make them look like the design is printed directly on the metal (Burial Beer Co.).
"Sometimes we start with a napkin sketch on our end or bring in an illustrator or tattoo artist," Becker says. "The local market is getting much more sophisticated. Breweries are adding lots of illustration to labels, and we've learned how to utilize the silver metal of the cans themselves as part of the design as well as working with different package shapes, such as unique wine-shaped bottles."
When the Boojum team was looking for designs for their beer cans, Big Bridge solicited sketches from three different artists. They chose the artwork of illustrator and tattoo artist Becka Schoedel of Asheville's Thistle & Pearl Tattoo.
"Becka's first sketch for King of the Mountain Double IPA really spoke to us," Baker says. "It looked like something out of a dark children's book. The Boojum looks powerful and in control up there sitting on a wild, wooden throne. You get to see where he lives and what his status is in the wild with the eyes of the woodland animals watching. Her drawing made me want to know more about this character."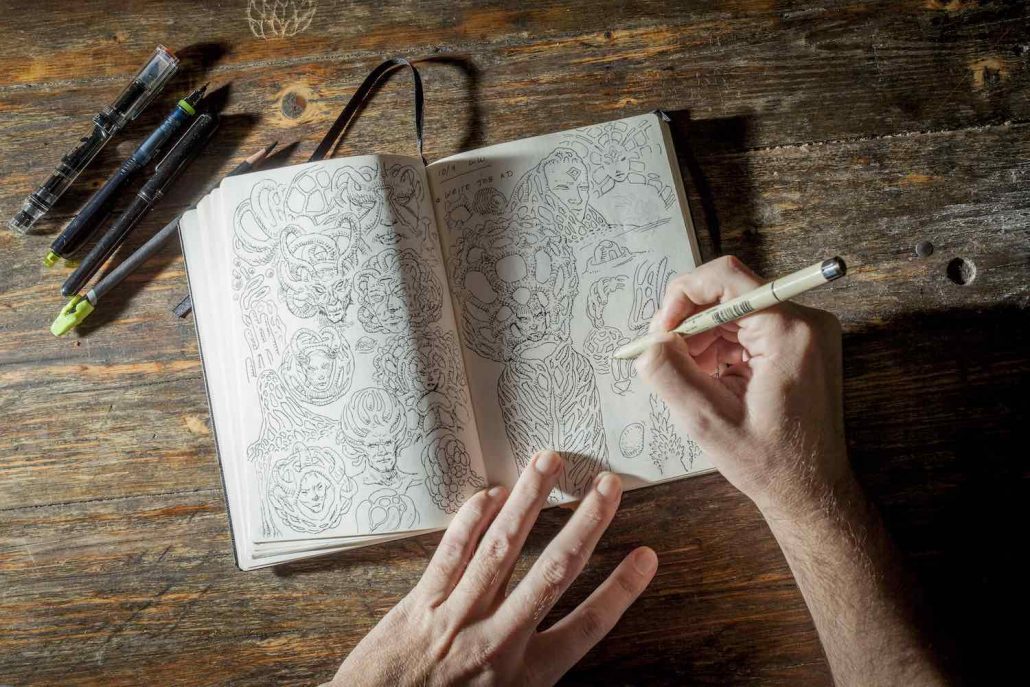 Other regional artists who have designed local beer labels include Howell Golson, the resident artist and label designer for Wicked Weed Brewing. His many projects include the label for Wicked Weed's White Angel sour ale. Inspired by the European legacy of the beer, he created an Art Nouveau illustration featuring a white wolf with violet eyes. He considers the style of beer, its ingredients, and its name as he works with Wicked Weed.
Becker and Big Bridge designer Jacob Voigt also work closely with their brewery clients throughout the entire process of label production and printing. "Usually the name of the beer or the brewery's branding dictates whether we go with a simple typographic design or something illustrated and more complex," Becker says. "We always want the personality of the brewers and the ownership to come through."
Big Bridge makes sure label art is compliant with Alcohol and Tobacco Tax and Trade Bureau regulations, but labels still can get shot down. North Carolina's Alcoholic Beverage Control Commission must approve all malt beverages offered for sale in the state, and if the beer will be sold in a state other than where it is manufactured, it further requires a Certificate of Label Approval.
There are extensive labeling guidelines, on both the state and federal levels, although North Carolina requirements typically track the U.S. ones. All of these requirements take time and cost money.
The entire process needs to be carefully planned so the beer can be released when it's freshest and doesn't get stuck sitting in a fermentation tank waiting for approvals. It takes a minimum of 16 days for the Alcohol and Tobacco Tax and Trade Bureau to approve the formula, and two weeks for the North Carolina Alcoholic Beverage Control Commission to approve the label. The process of obtaining a federal trademark can take between 6 and 18 months.
However, once the breweries jump through the name, design, legal, and regulatory hoops, the beer lover gets not only a delicious beverage but also, often, a work of art.
"The one thing I want is to have someone pick up the product. I want them to pick that can or bottle up off the shelf because they want to look more closely at it," Becker says. "There's nothing cooler for us than seeing the actual products we've helped produce on the shelf and watch as people react to them." ◊◊
Anne Fitten Glenn, author of Asheville Beer: An Intoxicating Guide to Mountain Brewing, has been writing about craft beer for more than 10 years (and drinking it for much longer). She also works as a consultant to breweries, and her primary local client is Asheville Brewing Company. She is a member of Edible Asheville's board of advisors.
Save
Save
Save
Save
Save
Save
Save
Save
Save
Save
Howell Golson, a resident artist at Wicked Weed Brewing, designs labels for the brewery. Photos by Erin Adams.