Keeping the Faith
Chefs measure the price of staying local year-round
BY C.A. Carlson
"Eating is an agricultural act," wrote Wendell Berry, the Kentucky writer and farmer whose work has helped to drive the farm-to-table movement across the country. As more Asheville restaurants source their ingredients locally, though, how do they keep food on the table during a time of year when there's less of it on the farm?
Three pioneers of the area's thriving food scene share their strategies for getting through the winter, avoiding tuber fatigue, and helping customers see the pleasure in eating with the seasons.
'Our mission is to respond to what's available'
John Fleer, chef and owner of Rhubarb, The Rhu
"I don't think that being farm-to-table in the winter months is a challenge," says John Fleer. "It's what we do. Our mission is to respond to what's available. And that's the same in March and August and December." It's a mission Fleer pursued during his years at Blackberry Farm, the celebrated resort in the foothills of the Smoky Mountains in Tennessee. There, he could draw upon the resort's own gardens and orchards, as well as its livestock operations and dairy. Since opening Rhubarb in Asheville's Pack Square in 2013, Fleer has found both inspiration and satisfaction in "engaging in the entire food economy of the area, instead of just one farm."
The produce at Rhubarb and The Rhu, the casual bakery and café downstairs from Fleer's fine-dining flagship, comes from a growing number of sources that sustain the menus' local focus throughout the year. Gaining Ground Farm, one of his first partners, is still his main supplier, but he now works with others, like Second Spring Market Garden, that can provide hoop-house lettuce and radishes for salads during the winter. A bumper crop of mushrooms last summer ("the foragers have learned that we don't say no," Fleer says with a laugh) was preserved as confit that will appear in Rhubarb dishes until it runs out.
Fleer admits that there are times during the winter when it may feel to both chefs and diners that "everything is a root or a green," but that's when his commitment to farm-to-table is strongest. "The best source of creativity is limitation," Fleer says. A bavette steak from Brasstown Beef is offered on the menu year-round, but the salsa verde accompanying it changes based on the herbs that are available. The grilled half-chicken now comes with a parsnip sauce, to make use of the roots Fleer can source locally. If customers want tomato on their lunchtime burger, though, they'll have to wait until next summer.
"I always try to respond to requests from our guests, but there just aren't tomatoes in our kitchen right now," Fleer says.
Rhubarb: rhubarbasheville.com; 828-785-1503; 7 SW Pack Square, Asheville. Entrees $18–$32. The Rhu: the-rhu.com; 828-785-1799;10 South Lexington Avenue, Asheville. Entrees $4–$11.
'You have to make hard choices'
John Stehling, co-owner and chef of Early Girl Eatery, King Daddy's Chicken & Waffle
Growing up near Winston-Salem, John Stehling saw the rhythm of the seasons in his family's garden and in his family's kitchen. "'Farm-to-table' wasn't known in the 1970s and 1980s," he says. "It was just our way of life." He went on to work at Hominy Grill, his brother's restaurant in Charleston, South Carolina, where he met his wife Julie. Together, the couple opened downtown Asheville's Early Girl Eatery in 2001. From the beginning, they knew that they wanted their menu to reflect and respond to the offerings of nearby farmers and suppliers.
"We wanted to give back to the community, but we knew that we weren't going to get rich in this business," Stehling says. "Building relationships with other local businesses—not just farms, but the people who provide things like paper products—is how we try to give back." And those relationships benefit both Early Girl Eatery and the Stehlings' other venture, King Daddy's Chicken & Waffle in West Asheville, especially during the winter. An apple grower in Hendersonville reserves much of his crop for the restaurants, and Stehling and his crew preserve what they can, putting up the collards and lima beans they can get in abundance from local farmers during the growing season.
With the increasing number of farm-to-table restaurants in the area, though, it's more expensive now than when Stehling started to get the limited local produce available during the winter. "To keep prices low for customers, you have to make hard choices about your sources and your menu," he says. Some of his most popular menu items, like an egg dish made with sweet potatoes and sausages, originally evolved to take advantage of more affordable winter options. The dish might taste a little different on any given day, though, depending upon the farm that supplied the sweet potatoes.
"With farm-to-table, it's not that cookie-cutter experience you're getting in a large chain," Stehling says. "Sometimes people are disappointed that a dish isn't exactly the same as their last visit, but mostly they're excited. A lot of our food is reminiscent of customers' childhood memories, like mine. They don't think about how fancy it was, just how good it tasted to eat something out of your own garden."
Early Girl Eatery: earlygirleatery.com; 828-259-9292; 8 Wall Street, Asheville. Entrees $7–$16. King Daddy's Chicken & Waffle: www.ashevillekingdaddy.com; 828-785-1690; 444 Haywood Road, Asheville. Entrees $4–$10.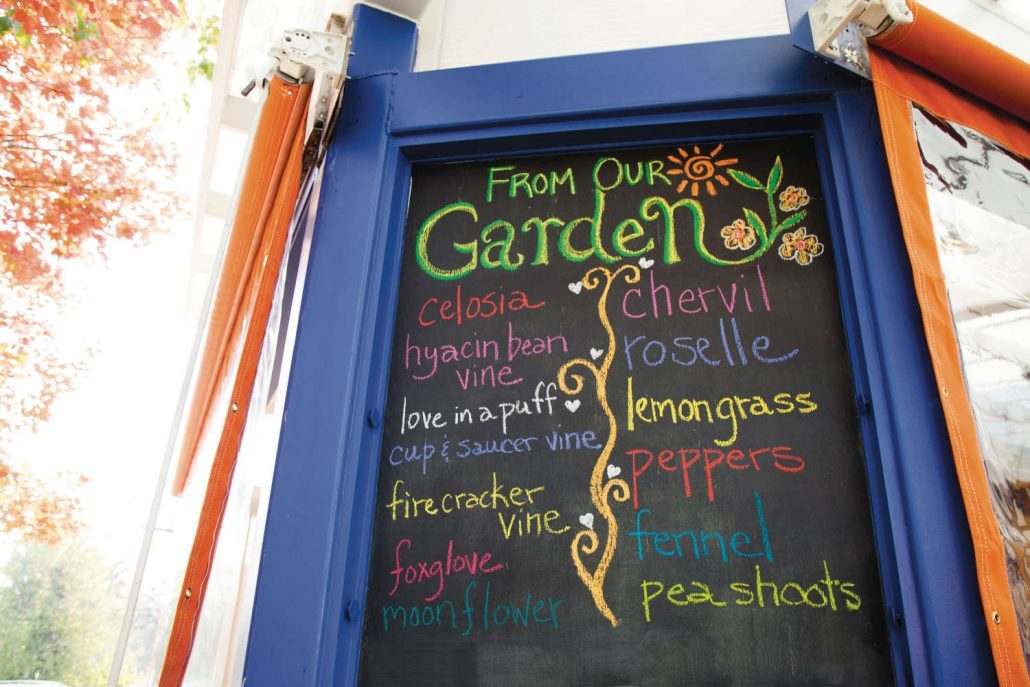 'Farm-to-table is an act of love'
April Moon Harper, co-owner of Sunny Point Café
While the menu changes with the seasons at Sunny Point Café, the line stretching out the door doesn't. Warm or cold, rain or shine, customers queue up every morning for the hearty breakfasts that April Moon Harper and her mother and co-owner, Belinda Raab, have been offering since 2003. Visitors to the West Asheville restaurant, which also serves comfort food at lunch and dinner, can spend their wait in the Sunny Point garden. It supplies some of the produce they'll see later on their plates and embodies the restaurant's commitment to local sourcing.
"The garden is a way to educate customers," says Harper. "A lot of people just don't know where their food comes from. When they see greens growing in our garden, though, and then they see them on our menu, they make the connection." The small plot can't provide enough carrots to meet the brunch crowd's demand for organic carrot hotcakes, but Garden Manager Melissa Metz does harvest smaller crops throughout the year that make a big impact on the menu, like the lemongrass that's infused into syrup for cocktails.
Harper says that it isn't always easy to fill out the winter menu with local ingredients. Jams and jellies from Imladris Farm keep the taste of Appalachian fruit on the table year-round, and Harper can buy Snow Creek sausage, made in South Carolina, in every season. Come fall, dishes like the "daily scramble" begin to highlight black-eyed peas and collard greens instead of tomatoes and zucchini, and the dinnertime pasta special may feature pesto made with kale instead of basil.
Like Stehling, Harper faces the challenge of balancing her commitment to regional ingredients with her commitment to affordable prices, but she says that even big suppliers, like Sysco, have recognized the demand for organic and local, and they've become partners with restaurants like hers in keeping costs down. Customers can be partners in the farm-to-table effort too.
"For a restaurant, it's a huge ideological and financial commitment," Harper says. "It's great if customers can be flexible and understand that it's driven by a passion for food. It's really an act of love."
Sunny Point Café: sunnypointcafe.com; 828-252-0055; 626 Haywood Road, Asheville. Entrees $9–$19.
C.A. Carlson will be roasting, braising, and simmering through the winter in Asheville, where she works as a writer and editor.
Save
Save
Save
Save
Save
Save
Save
Save
Save
Save
Save
John Fleer, chef and owner of Rhubarb and The Rhu.

John Stehling, chef and co-owner of Early Girl Eatery and King Daddy's Chicken & Waffle.

Sunny Point Cafe owners April Moon Harper and Belinda Raab.