UNDOING MODERNITY
Popular permaculture school Wild Abundance, led by Natalie Bogwalker, shares skills to help folks live more in tune with nature.
WRITTEN BY BROOK BOLEN | PHOTOS BY NATE BURROWS
***
Edible Asheville: You've been operating Wild Abundance since 2009 and you describe your goal as working to " inspire social change toward a more earth-centric way of living." What initially got you interested in the field of skill-building and earth-based living?
Natalie Bogwalker: Yes, we work to inspire people to live closer to the earth and have more connections in their lives through the human and nonhuman world. We do that in different ways. A lot of it is empowerment, whether that's learning that in the early spring you can eat beech leaves and they're really delicious or whether that means learning to build a shelf for yourself for your house. It's very wide-ranging.
We also have this online gardening school, and through it almost 1,000 people have learned to grow their own food. From what we've found, it's the most exhaustive online gardening class that exists in the world. The subject matter of the classes at Wild Abundance have been determined by what we feel are the most important skills for connection: a con- nection to the natural world, a connection with each other and a connection with a handmade life.
I grew up in rural Washington State. I've been in Asheville now for a little over 20 years. I live now in Barnardsville, and it's a very similar situation to how I grew up. We were about 25 miles from Portland, which has a similar vibe to Asheville.
My favorite thing when I was growing up was making trails and going exploring and gardening. It all just lit me up, and I was really into it from a very, very young age. My mom was really into plants and native flowers, and she also had a side interest in edible wild things. She turned me on to that when I was young. I remember her feeding me things that you couldn't find in a store, like daylily flowers. I also have memories of picking blackberries with my dad, and wild huckleberries, and we'd make pies with them. My parents were very supportive of my connection with the natural world, especially through food.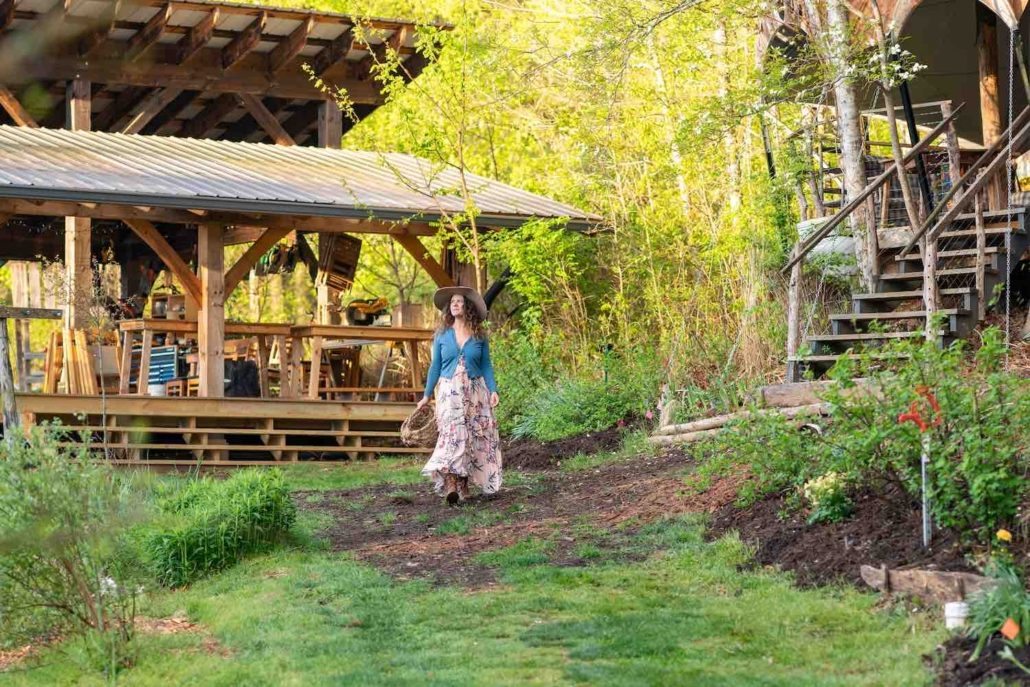 EA: One of your most popular classes, Wildcrafting and Medicine Making, teaches folks to learn to identify and wildcraft plants, as well as confidently cook wild foods. Can you pick a few of these and tell us a bit more about them?
Chickweed is a very common herb, and it's a weed that grows in the garden and all over the place. It loves cool weather, but not necessarily cold weather, so it's very present in the early spring, fall and into the winter until we have hard freezes. Its nutritional profile is off the charts. It's probably the most nutritious plant in your garden, and it's a weed. I have an amazing recipe for chickweed salad in Mother Earth News. You can use it to make delicious salad, and if you do, it's important to cut the stems into short pieces so you're not just chew- ing a lot. That's the thing about wild foods in general: It's important to remember to prepare them correctly. They're really delicious when you prepare them correctly—and if you don't, they're not going to taste incredible. Chickweed pesto is also really fabulous. Those are my two favorite ways to use chickweed. And with the pesto, you can have the incredible nutrition and the delightful spring fresh flavor of chickweed throughout the year.
Juneberries are one of my favorite berries, and probably my favorite thing to make with them is juneberry pies. They have an almondy flavor that's really lovely. I also like to make parfaits with them with yogurt and nuts. It's really delicious. Juneberries are native and are planted a lot in urban areas, too, and they seem to do really well. You can see them all over West Asheville. They are one of the first flowering trees to come out in the springtime, which is really lovely.
Another one is sochan. It's really great. It's also known as green-headed coneflower. It's native and all over in the woods, and it's usually small, subdued plants. But if you bring it into your garden, the flower spikes can grow up to be six feet tall. They're used as an ornamental, and they're also edible. They're best cooked, and there's a long history of the Cherokee using sochan. The green is used a lot. It's cooked, it's not a raw green. It's super good and super nutritious.
EA: During the pandemic, many of the class offerings of Wild Abundance shifted to an online format. What flexibility has this given you—and are you finding you can reach a wider audience?
Before the pandemic, we had an online hide-tanning class but it just wasn't that popular. Then the pandemic happened, and we wondered: What are we going to do? So then we did the A-Z Online Gardening School. Then we realized: We have outdoor classrooms. We can keep doing classes. So we did classes outdoors and wore masks and everyone felt safe, and it was awesome. We only canceled one class.
Our Online Gardening School was a gargantuan feat. People were really concerned about food security and calling us with lots of questions. We really created it as a service because there were so many people really getting into gardening at that time. We had all this content. And in the midst of COVID, folks were really into online classes. Our online Tiny House class has a lot of lectures. So we decided in 2020 to take all the lectures and put them online, so that folks could focus on the things that are best done in person when they're on campus. 
Since the pandemic, our focus has shifted back more to in-person classes. We've purchased some property for a new campus and we're going to be moving most of our classes to that new space.
Hybrid classes like the Tiny House are really functional, and it's really opened us up to a wider audience. There are a lot of people who can't afford to travel here. About a third of our audience is from the Southeast, and the rest of our audience is from all over the country and international. A lot of them can't afford to come here or take the time off. Whatever it be, the online classes have really opened things up, even for the local folks.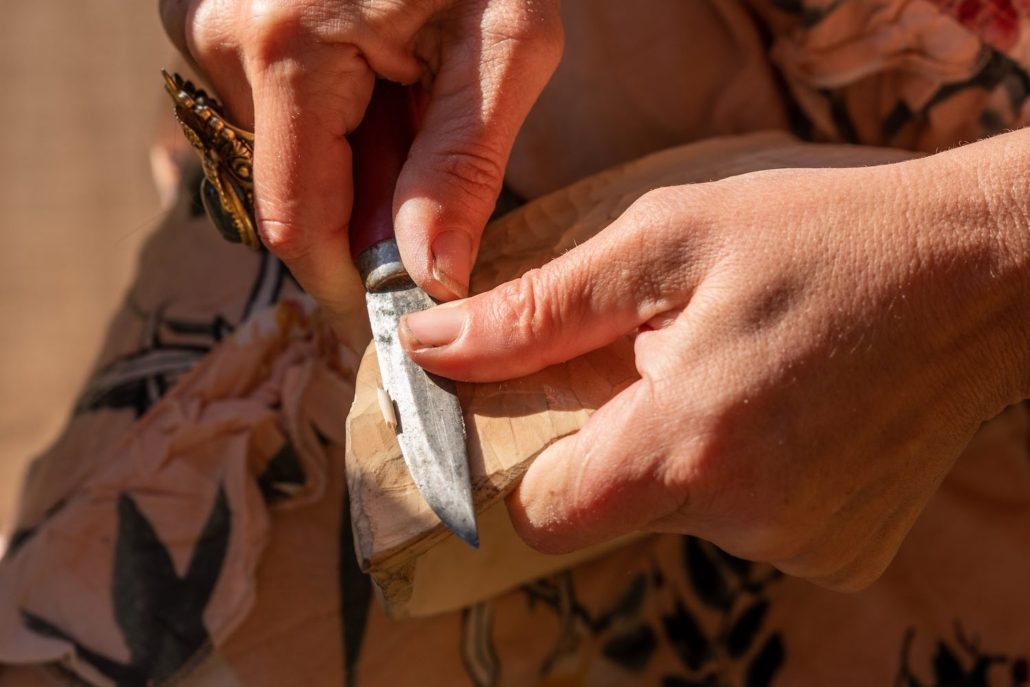 EA: What is the future of homesteading and permaculture? Are there new discoveries to be made? And if so, in what areas and who is doing that work? 
Permaculture is the idea of looking to nature as an example for designing our lives, and that is not a new concept. That's something indigenous people have been doing for thousands and thousands of years. It's interesting to talk about new technologies and permaculture and homesteading, because I think a lot of it is undoing modernity and ways we think now. Looking to the past to cultures that have had truly sustainable, regenerative experiences with land and figuring out how to take pieces of that and weave them into our lives and systems—and with great respect and not just appropriation. 
Rather than speeding up and looking to new technologies, it's about slowing down and looking at our connection to the more-than-human world. How can we create systems that are going to sustain us and sustain the rest of the living world into the future? That's a really big question right now. Homesteading is totally all-encompassing. If you're doing it, there are always constant improvements on the horizon. We need to look at interdependence, rather than independence, to create communities. I'm all about taking homesteading and permaculture and, instead of being 100% purist, turning it around to "How can we make this abundant and pleasurable?" 
EA: Sometimes, people believe that living off the land or living more in tune with nature is mutually exclusive with modernity. Is that necessarily the case? Do people have to choose between modern mainstream life and living a more earth-centered life, or can these two ways of being coexist with each other? 
They can totally coexist. My mentor, Frank Cook, used to say "Eat something wild every day." Eat some nettles. Pick up a piece of chickweed. A dandelion leaf. Just infuse a little bit of it in your life, whether it be the wild or gardening. Be realistic. Don't overwhelm yourself. That could mean growing a little garden bed in your suburban backyard. We have a lot of helpful classes, like our top 10 veggies. It could mean going on a monthly or weekly trip to the woods with your kids and identifying and eating plants that are clearly edible. Or taking a carpentry class to learn to provide for yourself. 
Our culture is so mechanized and specialized, we don't grow up knowing how to meet some very basic needs anymore. I think the more we can break that down into DIY culture and into earth-connection culture, the better. Taking baby steps is really the way to make it work. 

***
Born and bred in WNC, Brook Bolen is a writer, editor, home cook and ravenous eater. Her work has appeared in Salon, VICE, WNC magazine, and more.
Save
Save
Save
Save
Save
Save
Save
Save
Save
Save