GRILLED QUAIL WITH SUMMER BERRY GLAZE 
Recipe and Styling by Terri Terrell and Michele Gentille
Photos by Erin Adams
***
4 quail (fresh local birds are best, but frozen will work too)
2 tablespoons good olive oil
Sea salt and freshly ground pepper to taste
1⁄4 cup Summer Berry Jam (recipe below)
2 tablespoons sherry vinegar
Pat the quail dry with paper towels. Using kitchen twine, tie the legs of the quail together. Place them on a sheet pan and allow them to come to room temperature, 15–20 minutes.
Meanwhile, preheat your grill. Combine the berry jam and sherry vinegar with a whisk in a medium-sized bowl. Set aside.
Once the quail have come to room temperature, rub them all over with olive oil, sea salt and pepper. Grill over high heat for about 3–4 minutes on each side. Remove them from the heat, place in the bowl with the berry glaze and gently turn to coat them.
Place the quail back on the grill and cook for 30 seconds on each side. Remove to a platter, cover and let sit for 5 minutes, then serve.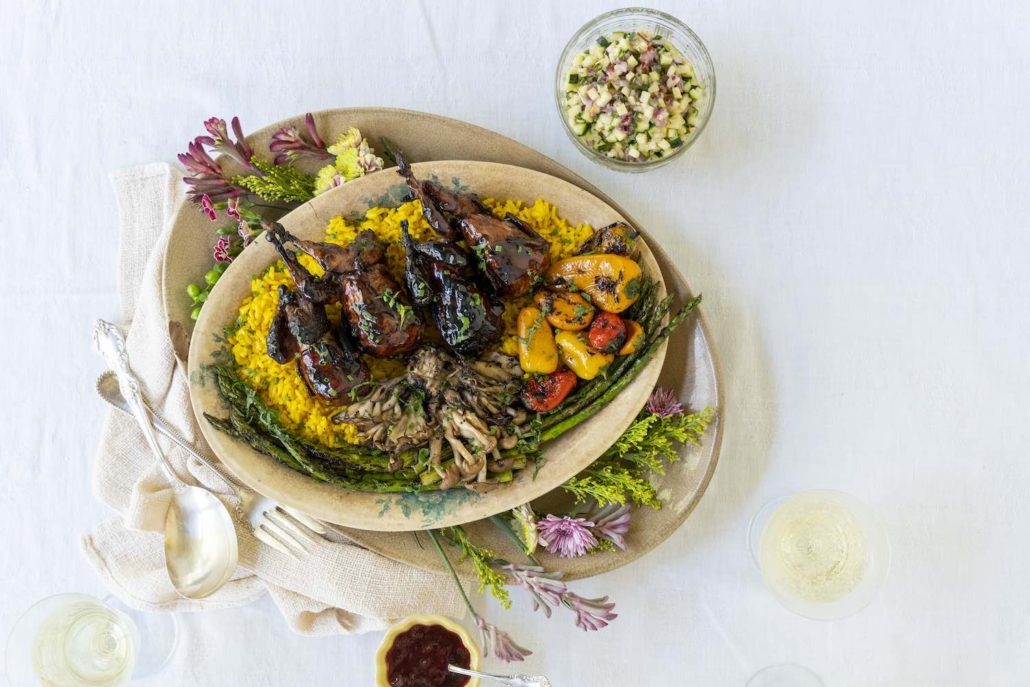 Summer Berry Jam
6 cups seasonal berries (if using strawberries, roughly chop)
2 cups sugar
2 tablespoons fresh lime juice 1 teaspoon lime zest
Add all ingredients to a large sauce pot. Bring to a boil over medium-high heat while gently stirring. Lower the heat and simmer for 20–25 minutes, or until it has thickened. You do not want it runny. Let it cool completely. Store in a covered glass jar in the refrigerator for up to 2 weeks.
Save
Save
Save
Save
Save
Save
Save
Save
Save
Save