TOUCHING SOIL
Asheville's Kate Stamps connects imported wine and local culture
BY MEREDITH LEIGH | PHOTOS BY ERIN ADAMS
When Kate Stamps named her Asheville-based wine import and distribution company Rise Over Run—the mathematical formula used to determine the slope of terrain—she was looking not only at the mountain landscape where she had recently settled after leaving New York City; she also had an eye to the kinds of wine she wanted to share with her new community. 
The humidity of Western North Carolina makes winegrowing a difficult endeavor, but Stamps knew of many places around the world where higher elevations and rugged terrain encourage air flow, unique soil profiles, and nuanced microclimates that result in balanced and approachable-yet-distinctive wines that would pair beautifully with the flavor-forward, earthy food of Appalachia. 
"I wanted to focus on many wines from slope or elevation because [those factors] allow wines to be grown and made in the ways that lend to balance," Stamps says. "I work with producers and touch soil and meet the people in the cultural context of where wines come from, to create an anthology of singular wines."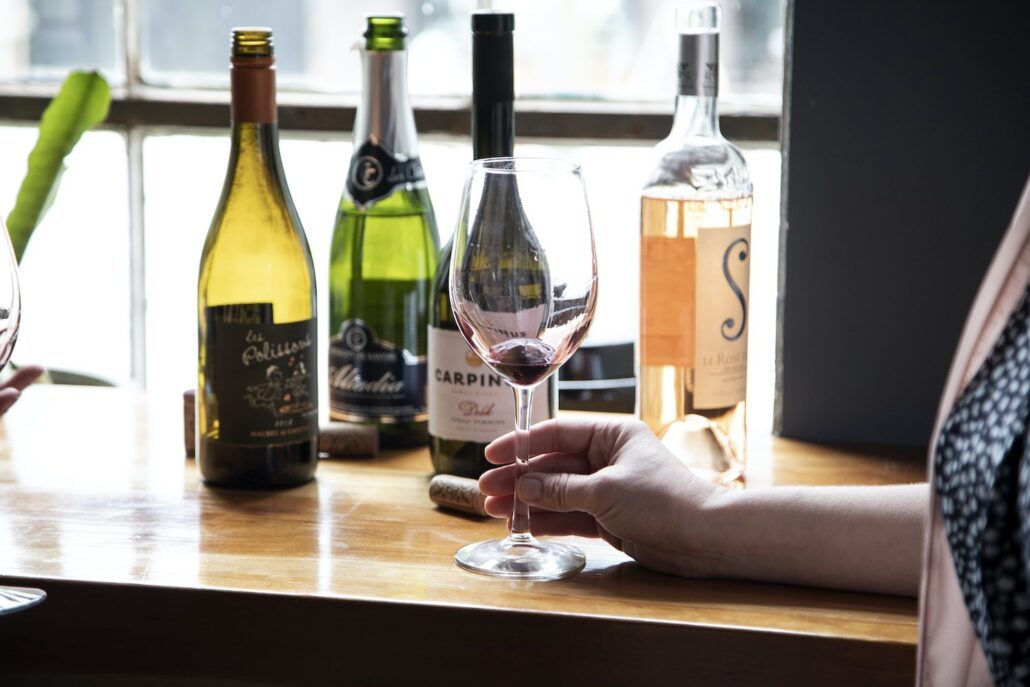 Wines imported by Rise Over Run show up on the menus in many North Carolina restaurants and retail stores throughout Asheville, Charlotte, and Raleigh. They're selected by chefs and wine sellers who share Stamps' commitment to aroma, flavor, and ethical relationships with growers and the environment. Rise Over Run has sustained itself through the COVID-19 pandemic as many in Stamps' client base of retail shops and restaurants that stayed open rallied to offer her wines for takeout and support her continued success. 
Stamps has roots in the South and in science. Originally from Kentucky, she was one credit shy of a degree in chemistry and botany, with plans to enroll in medical school, when she hopped on a plane for an Australian study abroad program focusing on medicinal plants. The university sent her to the wrong station, though, and she ended up in a cottage in the middle of a vineyard. During the week that she waited to transfer, everything changed. Stamps says, "I took one week of winemaking classes, and I didn't want to move. I stayed…for three years!" 
In that time, Stamps completed concurrent degrees in viticulture and winemaking. "It was all an accident, really," she says. "But I remember standing in the vineyard as a storm was rolling in. The vines were whipping around, and I just had this moment of recognition that winemaking was something that tied agriculture with science, art, and creativity. It was perfect." 
After leaving Australia, Stamps spent 12 years in New York City working for wine companies and completing certifications in world wines, with a concentration in tasting and palate-training. When she knew she was ready to start a company, she felt drawn to Asheville. "It was earth-centric with a healthy appreciation for food and beverage." 
Stamps also knew that her ethics were a good fit with those of Asheville's food community. While distributors typically source wines with the aim of creating a competitive sales book, Stamps chooses to work only with import partners who share her social and environmental ethics. An importer herself, she finds many of her wines at the source. "I want to work with people who are very grower-conscious in terms of families, culture, and sustainability," she says. The result is a "book" or selection of wines that reflects Stamp's love of the land and ethic of sustainability.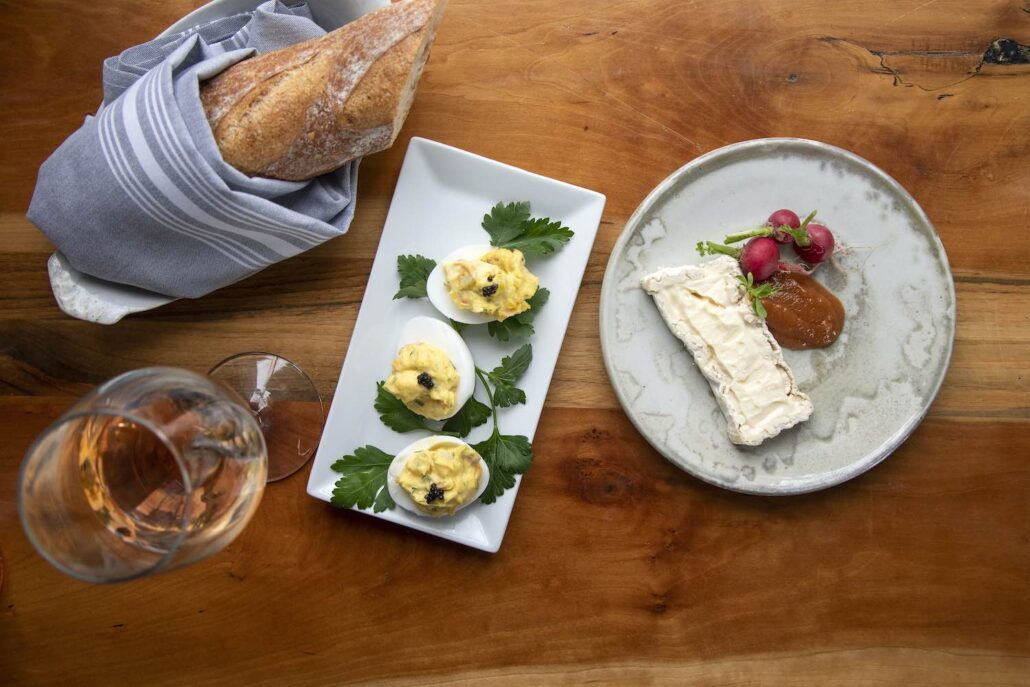 Her book is made up of "relatively small and clean growers," she says. These businesses range between small vineyards that follow organic or biodynamic practices but lack certification, all the way up to mid-size producers who are certified organic. Her focus is on natural wines characterized by minimal interventions in production. "Spontaneous fermentation is really important to me," Stamps says. "That means that the vineyard is healthy enough to have the right yeasts and microflora on the grapes themselves to jumpstart the fermentation on their own." 
Opinions vary within the wine world as to what qualifies as "natural" and what doesn't, but one concern is added sulfites, which are controversial for health reasons. Sulfites occur naturally in grapes, but more are sometimes added to stabilize wine for shipping. The question is around how much is really necessary. 
Stamps' approach has found fans among chefs, restaurateurs, and wine shops in Asheville and Raleigh who share her commitment to natural products. Shannon McGaughey, owner of Vivian in the River Arts District, sources half of her list from Rise Over Run. Vivian closed during the COVID lockdown but has re-opened for takeout, with Rise Over Run wine on the menu. 
"Kate and I hit it off immediately," McGaughey says. "We both love wines from weird regions that give you a crazy adventure in their aroma while being super approachable in their taste. Kate's values are toward sustainability, and her wines pair great with food." Aromatic and balanced, not too big or bold, the wines in Stamps' portfolio are distinctive to their regions. Examples from Vivian's list are Carpinus Furmint, from Hungary, and Blanc et Fils Aprémont Jacquere, from France. 
"I feel that wines that are incredibly high alcohol and have more intervention, such as heavy oak aging, for example, are often less food-friendly," says Stamps. "They are also often more difficult to enjoy alone." Most of the growers she works with are also
focused on creating a more balanced wine for their region. For example, warmer regions of the world typically produce higher alcohol wines, but Stamps leans toward the producer who is trying to create a lighter wine in that region, or a balance to the category.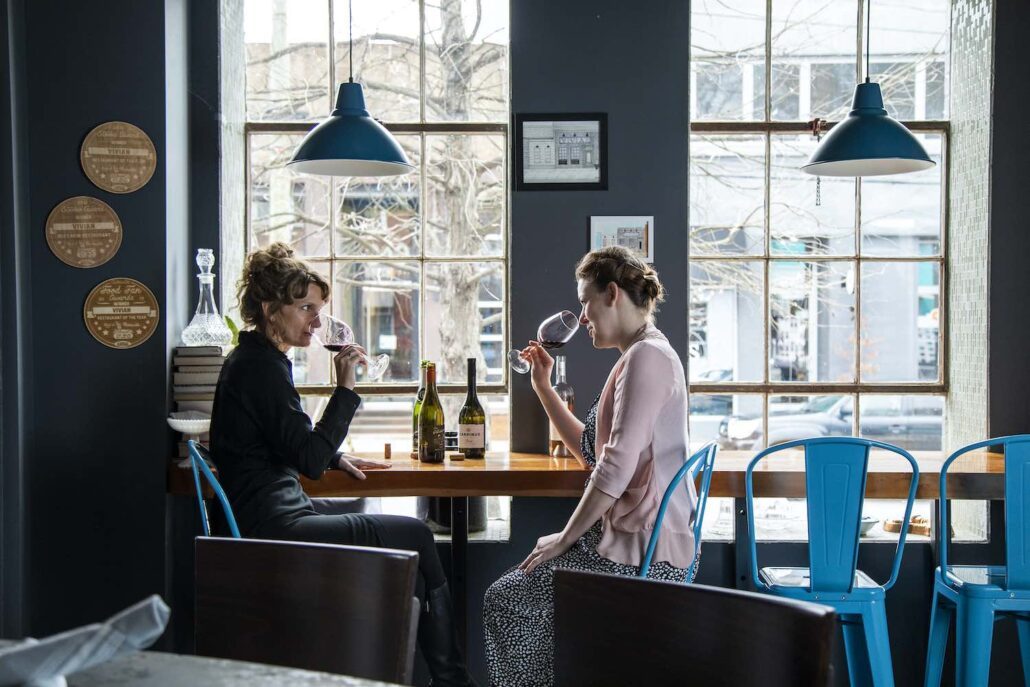 "The whole point is that different places grow different things, expressing a specific regional characteristic. Terroir. It's not pretentious, it's actually the earthiest word," Stamps says. Her position is that if North Carolina is successful in wine production, the terroir it expresses is going to be narrow—but that's not unlike everywhere else. Stamps imports wines that allow Asheville eaters to enjoy the narrow and special terroir of other places to go with the flavors of their own place. 
She believes that her wines also go with Asheville values. "Think about it," she says. "We want to support farmers and justice, be environmental, and eat clean food. I've met the families of the winemakers. I know their kids. When I can tell the people about the winemakers themselves, it carries over to all the things we like about local food. We translate wines into something more than just drinkable." 
McGaughey agrees. She sees the Rise Over Run wines available at Vivian not just as distinctive in flavor and aroma, but also as a journey in trust, relationships, and education. "Kate and I share the same values in a full-circle partnership," McGaughey says. "Kate comes in and trains my people and tells the stories of the farmers and their passions. We teach the same to our guests who share common ground." 
Land, people, and flavor: it's a trifecta of values that makes both Asheville's culinary community and Rise Over Run wine unique. Stamps says, "There's not a single wine in my book that I don't taste, and often, it's at the source. These farmers abroad are doing farming just like we are doing it here, and I bring that story and profile and flavor into Asheville, and it lives." 
Recent social unrest in response to systemic inequity has solidified the interdependence of Stamps' company values. "I'm working on developing an Equity Beverage Coalition that will provide long overdue training and mentorship in the hospitality industry," Stamps says. In May and June, the company donated $10,000 in revenue to social justice organizations locally and abroad, despite the business challenges presented by a global pandemic. "I recognize it may be unusual for a wine company to advocate for industry change, and greater social change, in their mission statement, " Stamps says. "But it really goes hand in hand with our approach to sourcing and selling wine. It's all the same goal." ◊◊ 
Meredith Leigh is the author of The Ethical Meat Handbook: Mindful Meat Eating for the Modern Omnivore, and Pure Charcuterie: The Craft and Poetry of Curing Meats at Home. She travels extensively teaching about farming, cuisine, and food systems. She also writes poetry, essays and other nonfiction about the intersection between land and people, and land and the culinary sphere, with work featured in The James Beard Foundation Blog, Food52, Mother Earth News, and other publications. She lives with her partner and four children in Asheville, North Carolina. 
Save
Save
Save
Save
Save
Save
Save
Save
Save
Save
Kate Stamps of Rise Over Run