MASTERING PLANT-BASED MEALS
A recent FED Talk, co-hosted by Edible Asheville and Rhubarb restaurant, featured advocates of plant-based diets who shared their perspectives
BY C.A. CARLSON | PHOTOS BY ERIN ADAMS
It's testimony to the growing appeal of plant-based eating that a sold-out crowd fought its way through pouring rain earlier this year to learn about the benefits of a dietary approach grounded in fruits, vegetables, and whole grains. Held a few weeks before the COVID-19 pandemic, in Rhubarb's event space off Pack Square, the latest in Edible Asheville's FED Talk series brought together Asheville experts, growers, and makers who believe that moving meat and dairy away from the center of the plate can benefit humans, animals, and the planet we share. 
Cardiologist Dr. Brian Asbill kicked off the conversation with important context about the role of diet in chronic conditions such as heart disease, diabetes, and obesity. His own frustration at the limited effectiveness of medication in treating these conditions, and the success of his patients in improving their health by shifting to plant-based eating, have made him an advocate for initiatives that limit the intake of animal products, like the Complete Health Improvement Program, which Asbill helps to lead in Asheville. 
Patients in the program typically lose about a pound a week and drop their cholesterol and blood sugar levels an average of 20 percent or more, he said. "To do that today with chronic disease management, you're using statins and blood pressure pills and whatever else is out there, and those treatments are increasingly expensive," said Asbill. "It's amazing to me that we could treat patients with one intervention that solved all of these problems at the same time, and it's amazing to our patients as well." 
For more information on the Complete Health Improvement Program, visit chiphealth.com. 
Historically, dairy has been promoted as a path to good health and strong bones, but Dr. Amy Lanou, executive director of the North Carolina Center for Health and Wellness at UNCA, offered evidence that consuming high-calcium foods like milk doesn't lead to lower rates of osteoporosis. According to her analysis, 75 percent of relevant research studies show no benefit to bones from dairy in the diet; in fact, the countries with the highest rates of hip fractures also consume the highest amounts of dietary calcium. 
This "calcium paradox" may be due to the fact that high consumption of dairy often comes with high consumption of meat, which can lead to an acidity that leaches strength from bones. Lanou offered another argument focused on the health of the planet as well as humans: "If you are a person who's concerned about the environment, think about the excretion products from the cows that contribute to global warming. Our reliance on three servings a day of a food that probably is doing many of us more harm than good… causes suffering on this earth that we could avoid." 
For more information, Lanou recommends nutritionfacts.org/ whole-food-plant-based-diet-guide 
Sadrah Schadel, co-founder of Asheville company No Evil Foods, grew up in a vegetarian home, but she understands that for many of us, giving up the meat and dairy we have loved since childhood can be a struggle. "It's our cultural connection to food, like the special birthday meals we had growing up," she said. "When you learn, oh gosh, I shouldn't eat that way anymore, there's a sense of loss that you have to give up these foods. Food is love, and it's how we connect." 
Through No Evil Foods, she and her partner in business and life, Mike Woliansky, are trying to offer alternative proteins that use recognizable ingredients to recreate the taste and texture of beloved favorites. "If you love chicken pot pie, and that's your comfort food, try it with No Evil Foods Comrade Cluck," she said. "One of our first days at the farmer's market, we had a man come up to us with tears in his eyes, saying, 'Oh my god, thank you so much, I never thought I would be able to taste my grandmother's Italian sausage again.'" 
For more information on No Evil Foods, visit noevilfoods.com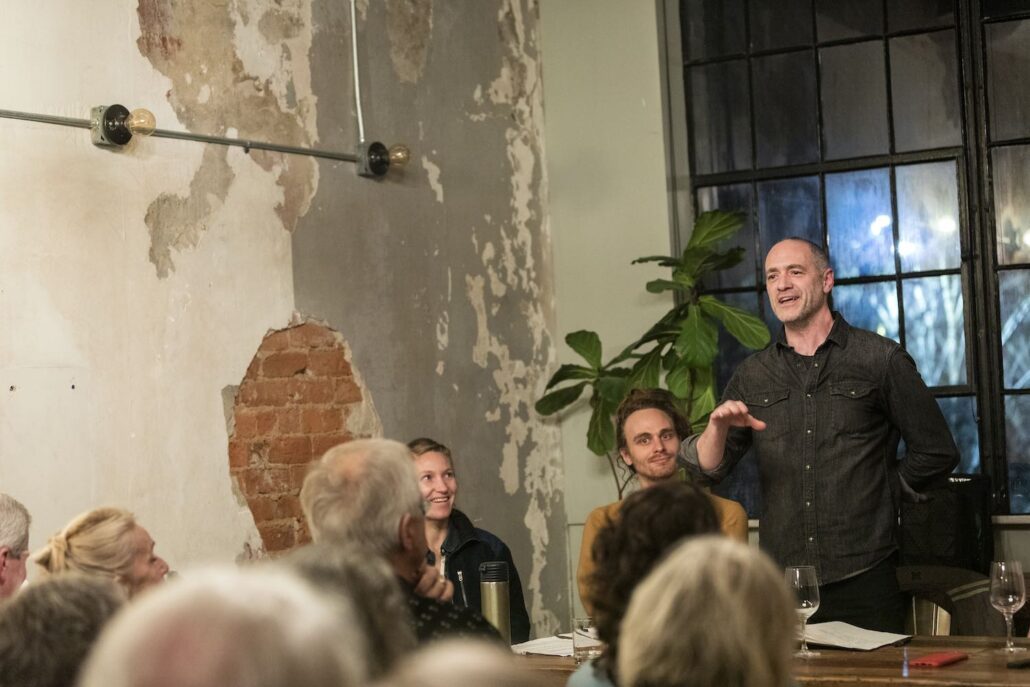 If you'd like to taste plant-based cooking at its most refined, chef Jason Sellers will gladly welcome you at Plant, the Asheville establishment where he offers his international take on vegan cuisine. 
For those who want to try more meatless, dairyless meals at home, he presented the FED Talk crowd with two easy recipes from his repertoire, a cauliflower puree that can take the place of mashed potatoes and a lentil-and-rice batter that can be used to make the Indian crepes known as dosa and uttapam. He encouraged home cooks to experiment: "If you've decided that for a week, you're not going to eat animals, the best way to think about cooking plants that you've never cooked before is to think about them being transformed. An ingredient can be nice raw, like a beautiful head of cauliflower, but it's your job to transform it, and that's what it means to be a cook." 
For more information on Plant, visit plantisfood.com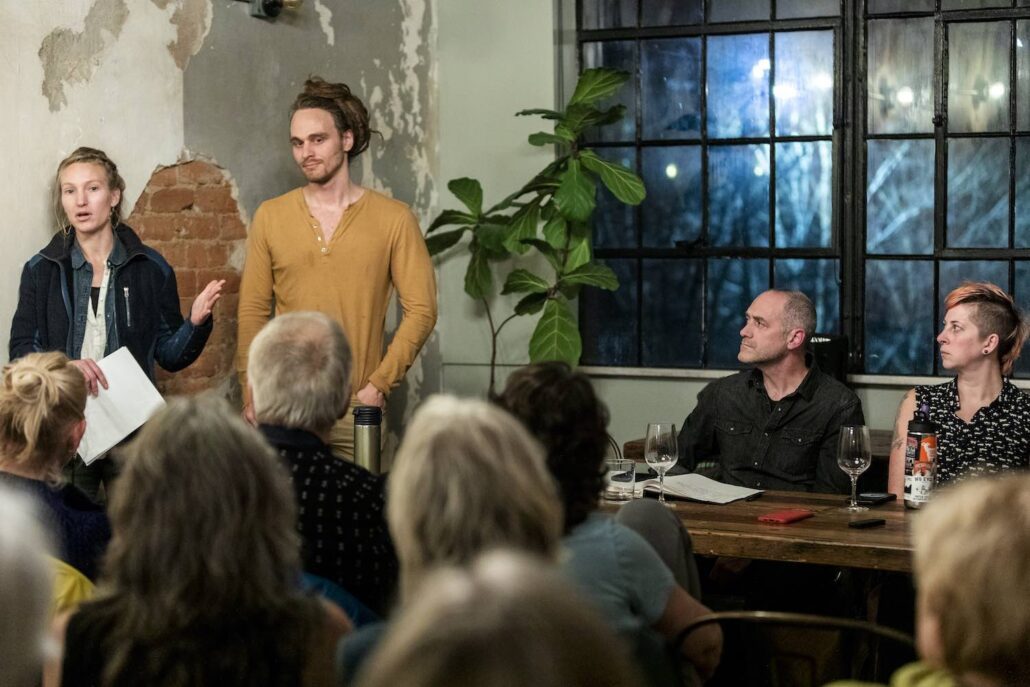 Hannah Jeske and Chris Sharpe, co-owners of Eden Out 
If you'd rather have someone else do the cooking for you as you ease into plant-based eating, Chris Sharpe and Hannah Jeske of Eden-Out are there to help. Their meal delivery service offers ready-made vegan dishes with produce from their own organic farms and others. Recent menu items have included a French "lobster" bisque made with mushrooms and a gratin featuring butternut squash that grows among the fruit trees in Sharpe's orchard. 
Sharpe also forages many ingredients, and they are moving toward veganic farming, which forgoes traditional organic techniques that rely on animal-based products like blood-meal fertilizer. "If you're trying to be a vegan, by the time you've already bought an organic vegetable at the store, you've already made a non-vegan decision," said Sharpe. 
While the USDA veganic farming certification program is currently on hiatus, he remains committed to letting nature, in the form of the wild animals that wander his Weaverville property and fertilize his soil, do most of the farming for him. Sharpe said, "All of these things are growing together, animals and plants." 
For more information on Eden Out, visit eden-out.com 
Save
Save
Save
Save
Save
Save
Save
Save
Save
Save
Dr. Amy Lanou, executive director of the NC Center for Health & Wellness at UNCA
Dr. Brian Asbill, cardiologist at Asheville Cardiology Associates and Mission Health
Sadrah Schadel, co-founder of No Evil Foods