THE TENETS OF TASTING
How to order and taste beer like a taproom pro
WRITTEN BY ANNE FITTEN GLENN
***
Asheville is, rightly so, a magnet for lovers of freshly crafted beer. Close to 40 breweries currently call Asheville home, giving the city one of the highest brewery to population per-capita rates in the country. Another 15 or so make and sling beer from the city's greater metropolitan area, while a couple dozen more grace small towns and communities throughout Western North Carolina.
The sheer diversity of breweries, pubs and watering holes is a large part of what makes Asheville's beer scene unique. From tiny bars with in-house brewing systems to large multinational brewing campuses, Asheville has it all when it comes to the art and craft of brewing. Most tourists will visit one or more breweries while here. If you are one of them, and you want some friendly guidance on how to become a taproom pro, this article is for you.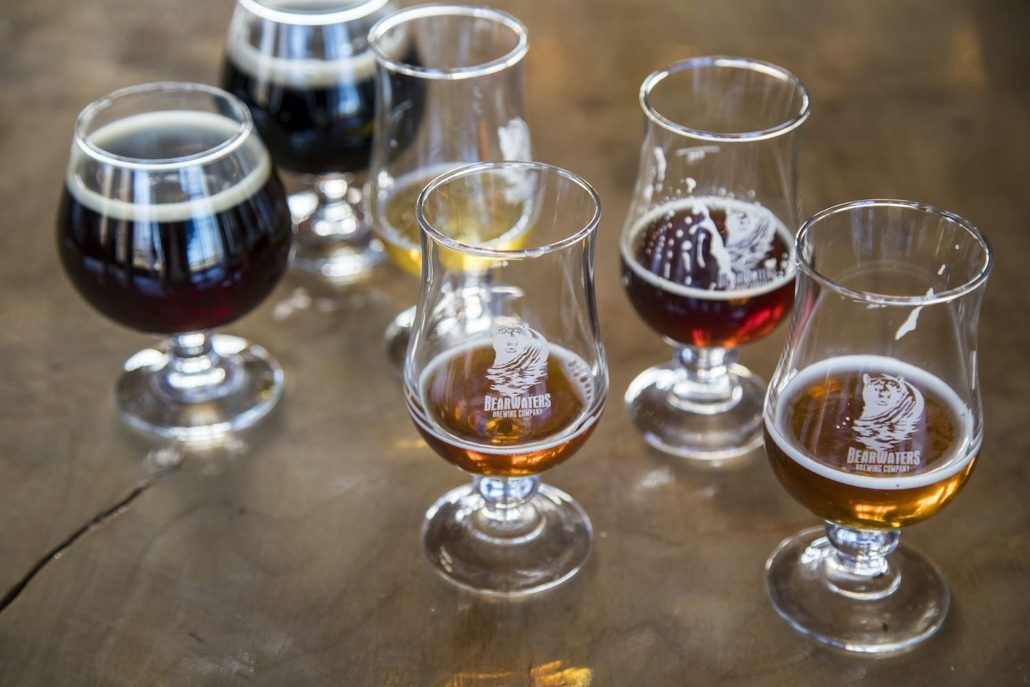 ORDERING BEER
At most breweries, there are four ordering options for beer service: full pours, half pours, tasters and flights. A full pour is served in a 16-ounce glass, while a half pour contains 6 to 8 ounces. A taster is either 2 ounces or a small free taste. A beer flight is a collection of tasting glasses, usually four, often served on a wooden paddle or board. Some of a brewery's products may only be available in cans or bottles for both in-house consumption and carry-out.
Let's break these down a little further.
Full and half pours are straightforward. In North Carolina, any individual of legal age can order two alcoholic beverages at a time, so if you want to taste a couple different beers without waiting, you can walk away with one in each hand. Half pours are a great way to get a feel for three or four of a brewery's different beers while remaining within moderate consumption limits. Note that some breweries always serve their high alcohol by volume (ABV) beers as half pours.
Tasters are a bit more complicated. Some breweries charge for 2-ounce tasters, especially for high ABV beers. Most offer free tastes, especially if a customer is trying to decide what to order. Bartenders typically are happy to offer two or three tastes per customer, especially if new or special release beers are on draft. Taproom regulars understand that it's okay to try a couple of samples, but don't take advantage of freebies. Always follow free tastings by ordering a full or half pint. Respecting the time of bartenders and other customers goes a long way toward a congenial brewery experience.
Flights are both the most popular and most complicated way to order. For a flight, the bartender fills four to eight small taster glasses with 4 to 6 ounces of different brews. Customers love them, especially if visiting a brewery for the first time or brewery hopping. It's fun to try four or more beers without floating away, and flights are great for sharing. Bar- tenders, on the other hand, can have mixed feelings about flights. They're time consuming to organize and pour, and it can be challenging to keep a clean supply of tiny glasses and boards available. So many breweries have pre-set flights, which are ordered in the preferred tasting sequence from left to right. Customers may be asked to order off the flight menu instead of choosing their own line-up, especially if the bar is busy.
TASTING BEER
If you get the opportunity to choose your own flight, beer experts suggest moving from lighter in taste and lower in alcohol to heavier in flavor and higher in ABV. You may have heard that it's best to organize flights according to color, from lighter to darker. However, one of the most per- sistent beer myths is that color corresponds to ABV strength and complexity. It's just not true. A beer's hue mostly derives from the color of the malted grains used to brew it. Thus, there are lagers as dark in color as porters but light in taste and low in alcohol. Meanwhile, there are light- hued IPAs that score high on the bitterness scale. In other words, flights should be drunk, not according to color, but from lighter to heavier, based on flavor and alcohol content. The last beer in a flight often will be an IPA or double IPA, as the bitterness can blow out your taste buds and make the nuances of less hoppy beers impossible to appreciate.
If you're drinking multiple full or half pours, again move from lighter, more delicate styles, such as lagers and pilsners, through medium-bodied styles, such as porters and pales, to heavy on the mouthfeel styles, such as stouts and IPAs. If you're unsure how to organize a flight, ask your bartender.
A BIT MORE ABOUT TAPROOM ETIQUETTE
One of the benefits of having so many breweries operating in a small area, often on the same block or along the same street, is a correspond- ingly high quality of local beer. To survive in a competitive environment where customers have so many choices, Asheville breweries must make consistently tasty beer. It's rare, but it's possible that a batch of beer can taste "off," usually from unclean draft lines or a brewing error. 
The good news is that bad beer usually isn't harmful, thanks to the bacteria-killing properties of ethanol alcohol. However, if a beer tastes or smells off (like buttered popcorn or a Band-Aid), let your bartender know. Most brew- ery staff are trained to taste off flavors and can tell if the beer is supposed to taste that way or if there's a potential problem. I've seen bartenders call a brewer to the bar if they're unsure about a particular beer's taste profile. However, there are beer styles that purposefully have a scent of barnyard or can taste funky or sour.
That said, it isn't good etiquette to return a beer merely because you don't like it. If you're not sure you'll like a certain style, ask for a taste before you order a pint. Also, be aware that a beer's flavors and aromas change with its temperature and as the carbon dioxide bubbles dissolve. Additionally, flavor will develop after several sips as your palate adjusts or can seem to change if you're eating at the same time.
Don't be afraid to ask questions. Take a brewery tour if you want to learn more. If your bartender is busy, you might be lucky enough to find a beer-educated regular in the taproom. Breweries are community gathering spots in Asheville, and while many locals avoid busy weekends in the downtown business district, there are breweries and brewery clusters in many nearby neighborhoods. Drink local when you can. After all, the best beer is the freshest beer.
Anne Fitten Glenn has been writing about Western North Carolina's beer scene for more than 15 years. She penned two history books, Asheville Beer and Western North Carolina Beer. She's also worked in breweries, helped manage a brewery bar, taught Beer 101 to bartenders and served many pints to thirsty beer lovers. 
Save
Save
Save
Save
Save
Save
Save
Save
Save
Save
A flight of beer is an ideal way to sample the various offerings of a local brewery.