The Gospel of Grain
Farmers, millers, and bakers gather strength at Carolina Ground
By Jen Nathan Orris
There was a time when the mill was the center of a community. Farmers brought grains on horse-drawn wagons to be ground by stones into flour and meal. Neighbors caught up on news while they waited, and everyone went home with enough flour for the week.
Though those days have faded away, the value of a community coming together over grain is preserved at Carolina Ground, a milling facility in Asheville. Founder Jennifer Lapidus aims to connect the farmer, miller, and baker by producing freshly ground flour with a traditional cold-stone mill.
Lapidus and her small team process between 1,000 and 2,000 pounds of grain a day. Commercial milling facilities produce more than 100 times that amount, making Carolina Ground a small-scale mill with a mission.
Carolina Ground flour is not an anonymous commodity that sits on grocery store shelves for months. Each bag has a history that begins in the hands of a Southern farmer and ends in a baker's oven.
The idea for Carolina Ground was sparked by crisis. In 2008, the price of wheat climbed to alarming levels. Bakers across the country struggled to bake a loaf of bread at a price consumers would accept. The outlook was also grim for small-batch producers of freshly-milled flour. Most of the bread wheat they used traveled more than 1,000 miles to North Carolina, adding transportation costs to the mounting price of producing flour on a smaller scale.
In 2009, Lapidus received grants from the N.C. Tobacco Trust Fund and Santa Fe Tobacco to create the North Carolina Organic Bread Flour Project, an initiative of the Carolina Farm Stewardship Association. It helped fund a mill dedicated to Southern grains and provided support to farmers as they shifted to organic wheat and rye production. It would take three more years to open Carolina Ground in 2012, due in part to the challenges of growing food-grade wheat in the South.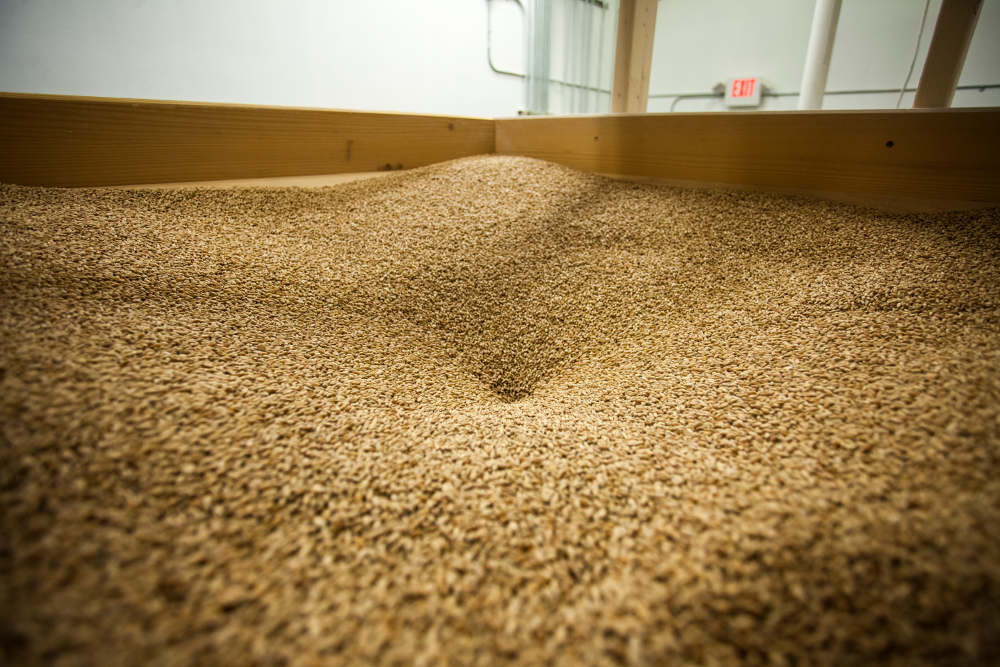 The quality of harvested wheat is determined partly by genetics, but growing conditions play an equally important role. "The farmer can do everything right and then it can rain every day," Lapidus says. "Fifty percent of what's going on is out of your hands."
Although wheat is a reliable crop for North Carolina farmers, most of the grain grown here is used as livestock feed. Lapidus was determined to change this, and she started by building personal relationships.
She began contacting farmers in North Carolina and urging them to grow food-grade wheat under organic conditions. Year by year, farmers became accustomed to the crop, and they appreciated the dependable prices Carolina Ground offered. The mill processes one variety of wheat at a time to highlight each grain's unique flavor. In the commodities market, by contrast, grains are often "blended into obscurity," Lapidus says.
"Bags of flour in the grocery store just look like they were born there," says Tara Jensen, founder of Smoke Signals Bakery in Madison County and an early employee at Carolina Ground. "I prefer to not eat bread or baked goods that taste like cardboard, so a lot of that comes with preserving the integrity of the initial wheat berry through the process of milling."
A large wooden hopper feeds grain into the mill at Carolina Ground. Two stones, four feet in diameter, are positioned horizontally, with one stationary and the other rotating above it. The production room is kept chilly, and there's a reason for that: the mill uses a cold-stone milling technique, ensuring that the temperature of the flour always stays below 100° Fahrenheit, which prevents the flour from scorching and improves quality.
The mill produces flour that is intact, meaning the bran (the hard outer layer) and germ (the oily reproductive part of the seed) are ground together with the endosperm (the starchy material that is the primary component of flour). Some of this flour is diverted to a bolter, which sifts out some of the bran to create flours that are lighter but never white, because flecks of bran remain.
Modern steel roller mills, by contrast, separate out the endosperm from both the bran and the germ, which are considered byproducts. That process lengthens shelf life, but it also strips away nutrients, oils, and flavor.
"The germ is the most dynamically rich part of the wheat berry in terms of nutritional value for our bodies," Jensen says.
Lapidus has found that the Vitamin E in the wheat germ acts as a natural preservative for the flour, although she recommends that bakers use the flour within five months.
Although Carolina Ground flour is more perishable than commercially milled flour, the flavor and nutritional value of cold-stone milled flour is superior, according to Jensen. "Most flour that we have right now is just filler, not food," she says. "It just doesn't have that level of nutrition."
This is one of many lessons Jensen imparts to her students at Smoke Signals Bakery. Aspiring and professional bakers from across the country attend her multiday bread, pizza, and pie work- shops. Students crowd around the brick oven built by the late mason and baker Alan Scott, who is still revered in the wood-fired bread community.
The oven has its own story, which starts with Lapidus. She tended the fire there for 14 years under the name Natural Bridge Bakery, milling flour in-house and baking naturally leavened bread. She passed the oven on to David Bauer, founder of Farm & Sparrow Bakery, who baked there before shifting his operation to Candler. Now Jensen lives in the adjoining house and wakes up in the middle of the night to feed the flames.
Jensen estimates that a third of her students are professional bakers, another third are home bakers, and the rest may have never touched bread before. She says working with whole and alternative grains can be challenging for home bakers who are used to all-purpose flour.
"Everyone has a different hang-up when it comes to baking," Jensen says. "Mostly we're just working through people's fears." Her students often worry about baking a perfect loaf, setting themselves up for failure.
Her own baking practice is influenced by her desire to keep a relaxed attitude, even when the fire is hot and her soul is weary. "What makes a baker exceptional is the ability to recover from mistakes without going off the rails," Jensen says.
Finding beauty in mistakes is also at the heart of Carolina Ground. One day Lapidus was milling rye and didn't realize that the bucket elevator (the mechanism that delivers flour into the sifter or bolter) was open and the nest screens were in the bolter. The result was a very fine rye flour that wasn't appropriate for bread. Jensen took the flour home to find a use for it, and the result was a shortbread pastry with lemon curd and mascarpone cheese. This pastry set the stage for the mill's "wildcard" flours, which highlight oddities of the milling process and encourage home bakers to tinker with unexpected flavors and textures.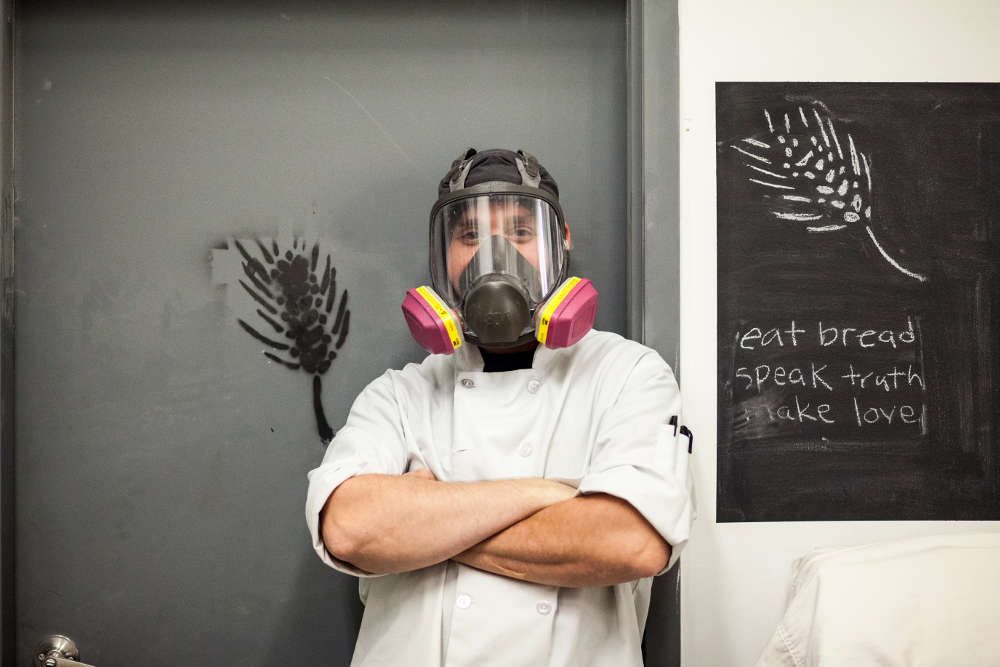 Lapidus wants to identify the characteristics of Southern grains, but she says it may take decades to determine the flavor of wheat grown in this region. The unpredictability of farming brings different flavors to the forefront, and when farmers grow one wheat or rye crop per season it can take years to determine the flavor. Jensen has found that Southern grains have a "mellow flavor" that she describes as "kind of lazy" and "earthy."
"There's a particular loaf I feel comes out of here that doesn't happen in other places because of the way that softer grains in the South are able to thrive," Jensen says.
For Lapidus, the success of Carolina Ground is tied to interdependency and trust, much like the stone mills of the past. When she comes to an agreement with a wheat farmer, she seals the deal not with a contract but with a handshake.
"The relationship is everything," Lapidus says. "The mill exists between the baker and farmer. It will take all of us to make this work."
TIPS FOR HOME BAKERS
Carolina Ground flours can be ordered online directly from the company (carolinaground.com) or found in the bulk bins at the French Broad Food Co-Op and West Village Market in Asheville.
Baking with alternative grains isn't easy, but baker Tara Jensen has some pointers for crafting a great loaf at home:
Pay attention to hydration. You may have to add extra water to whole grains because they are thirstier than commercial flour.
Watch the clock during fermentation. Naturally leavened breads made with freshly milled flour have a tendency to ferment quickly because the enzymatic activity is higher. You may need to shorten fermentation time.
Keep it cool. Air temperature has a big impact on fermentation, so if it's 80° in your house, your dough will respond differently. An ideal temperature is 76°.
Try to have a relaxed attitude about baking. Even mistakes can be delicious!
Save
Save
Save
Save
Carolina Ground founder Jennifer Lapidus. Photos by Erin Adams.