TASTE & TIME
As a neighborhood restaurant changes, the family feeling stays the same
By Beth Lassiter | Photos by Erin Adams
"It takes soul," says local chef Tony Lin, referring to the process of making a broth that is drawing crowds to his new West Asheville restaurant, Itto Ramen Bar & Tapas. It's late afternoon, and though there's a handwritten sign on the door saying that the lunch noodles are gone, many tables are taking their time chatting and slurping the last of their soup as several vats vigorously bubble in the kitchen. General Manager Hannah Sharp brings a small pot of honey ginger tea to the table where Lin is sitting.
For 15 years, this space was an Asheville institution, the Lucky Otter. When that restaurant closed on the last day of 2017, it was the end of an era. The building sat idle for more than a year. As word got out that Lin, the owner of downtown's Hana Sushi, was going to be opening a ramen joint, though, anticipation started to build. Locals swapped updates: The sign was up. The building had been painted. And then, on opening day and almost every day thereafter, Itto has been filled with customers eager to experience how Lin has transformed both the restaurant they remember and the simple ingredients that, with time and patience, become the basis of ramen.
Now in his 30s, Lin says he has always known he was going to open a noodle shop. He remembers telling his father that when he was just a kid. "We ate noodles, every single day," Lin recalls. As a child, Lin emigrated from his home in southern China to the New York City area, where he worked and learned under a Japanese chef. After that, circumstances took him from New York to the Asheville restaurant scene about 15 years ago. He met his wife Nyda, who is from Cambodia, at A-B Tech.
The friendly community is what encouraged them to stay. Lin's excitement mounts as he talks about his love for Asheville. Over the last eight years, he has become known for the inventive Japanese small plates at his downtown restaurant. He says Hana caters to as many tourists as locals, but he enjoys seeing the faces of his "regulars" again and again. This feeling is also what spoke to him about starting his noodle shop here, in the old Lucky Otter.
It's not an overstatement to say that Lin has chosen one of the most beloved spaces in West Asheville. Adored not only for the eclectic, locally sourced menu, but also for a sense of whimsy and community, the Citizen-Times listed the Lucky Otter as one of 2018's most-missed restaurants.
Opened by the late Roland Knoll in 2002, the Lucky Otter years spanned a sea change in West Asheville. The restaurant's emphasis on local food and its wide-ranging, playful menu were perfect for fueling a day on the French Broad, and it had a sensibility that catered to the younger crowd that was moving into the neighborhood. Locals are sure to remember the first time they were handed a PlaySkool toy as a table number.
Though the menu and décor may be different now that Itto Ramen Bar & Tapas has taken over, somehow the vibe is remarkably similar. It's still bright, though the bluebird-hued wall and chalkboard have been replaced by a modern Japanese scene. Local families—with small children—still gather inside and on the patio. Lin says there have only been words of encouragement from his new customers.
General Manager Hannah Sharp says that patrons speak often and fondly of the Lucky Otter. "I've heard everything from couples getting engaged in this building to children taking their first steps. It's an honor to be in a building that holds such wonderful memories for locals."
Slow Broth, Quick Noodles
Each morning, before 6 a.m., Xu gets the pork and chicken broths on the stove, in five large pots. Each pot will yield 40 quarts of broth. That's 200 bowls of ramen for lunch service. By midday, the evening's broth is boiling away. If you sit at the kitchen bar, their bubbling will be the soundtrack to your meal. And if you come in late afternoon, you may be out of luck until the midday batch is ready for dinner service.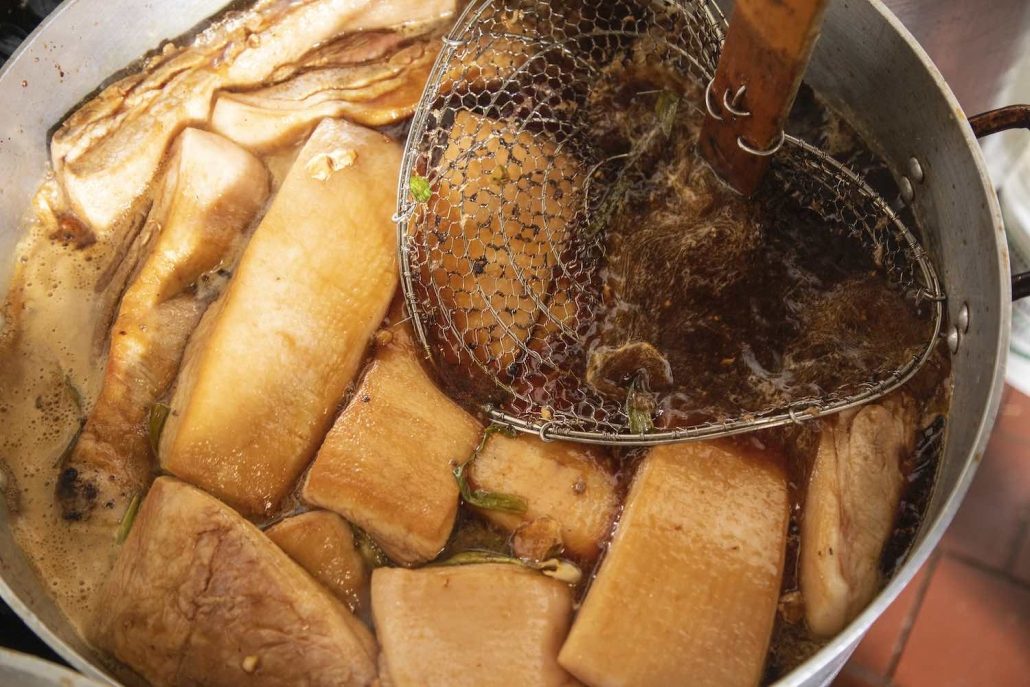 "We want it to be perfect," Lin says. He doesn't want to cook a five-hour broth. Six-to-eight-hour broth is all you will get at Itto. Lin talks about the importance of being attentive to the broth as it cooks throughout the day. "To watch it hourly, again, again, again," he says, clapping his hand against the table for emphasis. "Not everybody can do this job." In fact, Lin says two to three years experience is crucial in a noodle kitchen. Xu brings eight.
Talking to Lin, one feels the enthusiasm a pitmaster has for barbecue. Both take all day. Time and care are ingredients as real as broth or smoke. And, of course, there are fiercely guarded secret ingredients. The recipe, he says, has been passed down through generations of his family. Critical ingredients include, but may not be limited to, green onions, jumbo onions, ginger, and garlic. The finished broth contains what Lin calls "a very valuable richness." After cooking, only Japanese sea salt is added. That, too, is a skill that can only be learned through time and repetition.
All of Itto's noodles—both traditional wheat and kale—are made in-house and cooked for exactly one minute. "It just tastes a little different when you get a fresh noodle," he says. If you over-cook even for 10 seconds, he says, the noodles aren't the same, and they go in the trash.
Delights nestled in the noodles include an array of veggies as well as perfectly cooked and seasoned egg and thickly sliced chashu pork. The last is a fatty and flavorful pork belly seared on the grill before being added to the noodles. The black truffle oil adds a smoky depth to the deluxe ramen.
Tapas and Transformation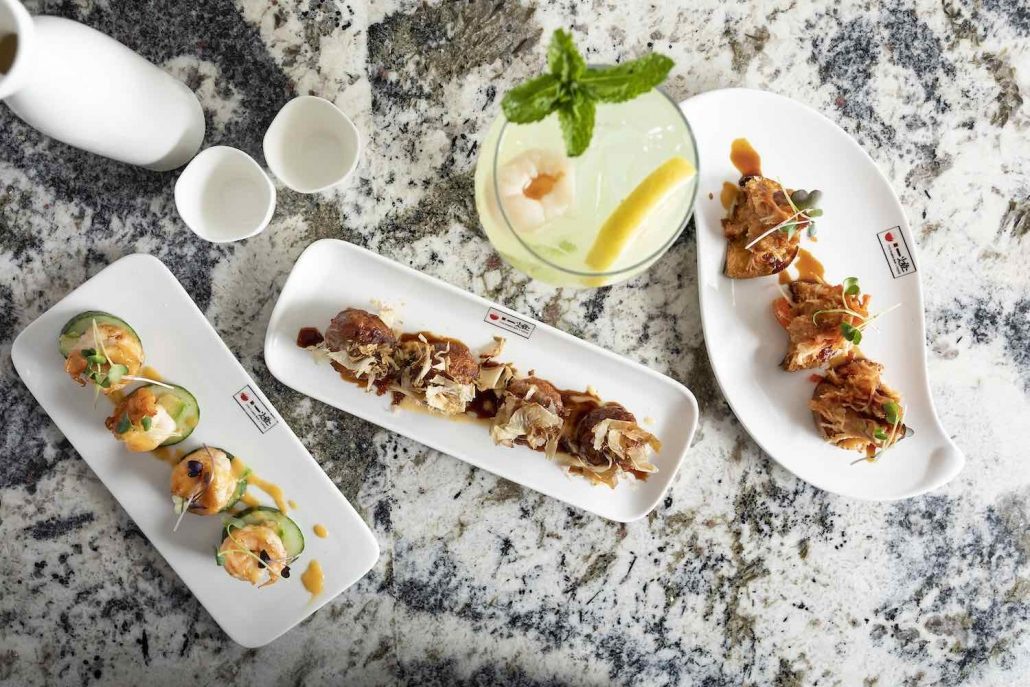 As traditional as the noodles are, the tapas dishes are new, vibrant, and playful. Lin prides himself on grounding his small plates in tradition, then leaping off to create new flavors and textures. The delicate, nearly transparent gyosa comfort with memories of a lifetime of Lin family gatherings, while the "sweet potatoes stuff" is a new and playful dish—a crispy potato topped with avocado lime and sweet miso.
When he borrows ingredients from other cultures, Lin says, he simply lets taste be his guide, whether it's the crispy collards that garnish his dishes or the spicy bite of the jalapeño along with the soft, sweet meat of his signature yellowtail. He takes into account what's in season locally, and it's all made in-house, down to his sweet miso and eel sauces.
Sharp sees Itto as an extension of Lin's open and playful personality, as well as his willingness to improvise. "It's exciting because every time we're successful or figure something out, we're like, 'Oh, yeah, we did it. Okay, next thing!'" she says, "And we'll just tackle thing after thing."
For Lin, there's no reason that the past and the future, family traditions and new tastes, can't coexist happily on his menus. He notes that Asheville has changed greatly in the 15 years he's lived here, but he's still inspired by the friendliness and natural beauty of his chosen home, and he's excited about the community that has formed around his new restaurant. He loves the fact that sometimes the restaurant is full even when the parking lot is half empty, because local residents walk to Itto. "They feel more like family, you know," Lin says. "They're neighbors." ◊◊
Beth Lassiter lives with her family in wild West Asheville, where she is beyond lucky to have a gig that entails eating noodles and gyosa and so many other good things.
Save
Save
Save
Save
Save
Save
Save
Save
Save
Save
Tony Lin of Itto Ramen Bar & Tapas