Presented by A-B Tech Community College
SWEET ON SOUR
JEN CURRIER | AAS: BREWING, DISTILLATION & FERMENATION (2015) 
Words by Brook Bolen | Photos by Nate Burrows
***
Frugality doesn't always wind up being a contributing factor in the story of someone's career. But in the case of Jen Currier—head of Wicked Weed Brewing's mixed culture program, where she oversees the production of sour beer, cider and wine—it helped her craft her own unique career path. 
Prior to moving to Asheville in the summer of 2013, the Roxboro, NC, native was living in Raleigh and pursuing a degree in human biology at NC State University with plans to become a physical therapist. Her friend group at the time really loved craft beer, and Currier became intrigued by the idea of brewing her own. 
"I thought to myself, 'I kind of understand the science behind this,'" Currier remembers. "'I can do it with a lot of the equipment that I have at home. And as a college student, it's definitely gonna save me a couple of dollars.' So instead of buying beer at the store, I figured I can just make it myself at home." 
Admittedly overzealous in the beginning, Currier says she likely wound up pouring more of her brews down the drain than drinking them. It wasn't until she tried the tart cherry-flavored Bell's Cherry Stout that she discovered beer could be "delicious, flavorful and fun to drink," she says. "That beer kicked me face-first down a path of exploring craft beer."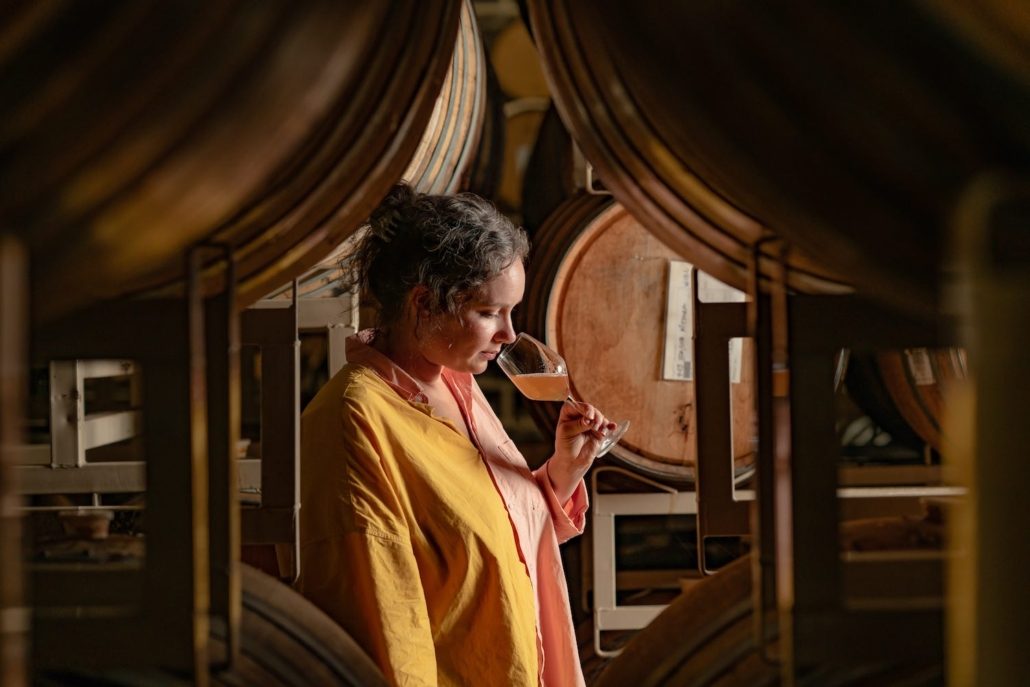 Finding herself making more and more beer in her spare time and captivated by the process—plus excited by the fact that her friends were impressed by the suds she was making—Currier decided to ditch physical therapy and move to Asheville to pursue a career in the craft beer industry. Thankfully, her mother was familiar with A-B Tech's culinary program through her work with the North Carolina Community College System, and she encouraged her daughter to apply. 
What neither of them knew at the time was that A-B Tech was launching its Craft Beverage Institute of the Southeast, prepping students for careers in breweries and distilleries. The Craft Beverage Institute is celebrating its 10-year anniversary this year. 
Currier joined the flagship class in 2013. "There was a whole lot of excitement that first year about that program," Currier says. "It was definitely a really fun and fulfilling time to join it." 
Given her background in science, Currier quickly picked up the fundamentals of brewing and fermentation. And when it came time to look for jobs, she discovered that her degree distinguished her from other applicants. "Being able to introduce yourself as a student in the brewing program at A-B Tech was hugely helpful in terms of credibility when you're knocking on a door or cold calling someone," she says. 
Following an internship at the erstwhile Mystery Brewing Co. in Hillsborough, NC, and after graduating with an associate degree in applied science from A-B Tech in 2015, Currier got a job working as a bartender at Wicked Weed's Funkatorium in downtown Asheville. In the nearly eight years since, she's progressed to wood cellarman (working with the barrel-aging program), lead blender, head of the sour program and winemaker. She was also Wicked Weed's self-described "first lady brewer." 
Reflecting on her work at Wicked Weed, Currier is reminded of the tart cherry beer that launched her love of craft beer. "Years later, I wound up working for Wicked Weed, and one of their flagship sour beers is called Black Angel," she says. "I spend a lot of time these days tasting and making it, and that's kind of a fitting full-circle moment for me."
Save
Save
Save
Save
Save
Save
Save
Save
Save
Save
Jen Currier—head of Wicked Weed Brewing's mixed culture program—oversees the production of sour beer, cider and wine.