Savoring Winter Squash
From candy roaster to kabocha, Asheville chefs are celebrating its versatility
By C.A. Carlson | Photos by Erin Adams
Every kid knows the vegetables of virtue: Brussels sprouts, beets, squash. Their good- for-you reputation has kept generations out of the Clean Plate Club, but in recent years, farm-to-table chefs have been bringing back these winter staples one by one. They value long-storing produce for the same reason our forebears did, as a way of keeping fresh food on the table year-round. Today it's hard to find an upscale menu that doesn't offer fried sprouts or a beet and goat cheese salad, and now winter squash (technically a fruit and not a vegetable) is ready for its rehabilitation. In the hands of three Asheville chefs who share a commitment to local and seasonal cuisine, the members of the Cucurbita family become decadent and delicious cold-weather fare.
Jordan Arace
Chef de Cuisine, Posana Restaurant
When Jordan Arace walked into the Posana kitchen for the first time nearly a decade ago, he jumped right into preparations for a celebration hosted by the restaurant and the Appalachian Sustainable Agriculture Project, featuring produce and proteins from local farms. "That really set the tone for my career here," says Arace, who came to Asheville after stints in New Orleans and Charleston. "I had experienced two really great food cities, but this town's and this restaurant's relationships with farmers are so special."
Arace, who will also soon oversee ventures by Posana owners Martha and Peter Pollay in the new and nearby Hotel Arras, has cultivated those relationships to offer a menu that's constantly changing to reflect what his agricultural partners can provide.
"We call it 'microseasonality,'" Arace says. "In the spring, they might tell us that they'll have fava beans for two weeks, then there will be a break, and the next rows of beans will be ready after that. So we change the menu based on what we've got. If we only have enough to make a nice little fava bean salad with sweet tea vinaigrette, then that's what we do."
And in the winter, what do Western North Carolina farmers have to offer? Squash, and lots of it. He talks with Tim and Margaret Charles at Fork Mountain Farm in Madison County twice a week about what he can expect in his produce delivery. Arace says, "When we get a winter squash from them, they can tell us, 'Hey, this one is going to be starchy,' and they know the sweetness. We can really plan how to use that squash."
The delicate texture of candy roaster is highlighted in a puree that accompanies Posana's pork shoulder, and its sweetness balances the bitterness of local greens that are also served alongside. Acorn squash makes a robust companion to a New York strip steak, and a hash of whatever squash is available—Arace has a special place in his heart for meaty kabocha—is often featured on winter brunch menus.
The wackiest squash that hits the Posana kitchen is the twelve- foot-long Naples (and no, that is not a typo). "We'll split one of those between three restaurants, and we still end up with a section that weighs thirty pounds," says Arace. "Naples squash is ridiculous. The first time I worked with it, I just cut steaks out of it and seared it. Now we put it in our beignets at brunch."
Arace has to resist the temptation to use squash in every dish on the menu, but "I sneak it in there as much as possible," he says. Relying on seasonal and local produce requires creativity, and he finds that the young cooks he mentors embrace that opportunity.
"The restaurant industry is changing, and plenty of people are writing articles about the lack of skilled workers," says Arace. "We find that if we can get someone who is young and passionate in the kitchen, and get them excited about working with new ingredients, learning new techniques, they really blossom."
Asheville diners also understand why squash might show up in the beignets on the brunch menu. "People come in with an open mind," says Arace. "They trust us to use what's best, what's seasonal and local."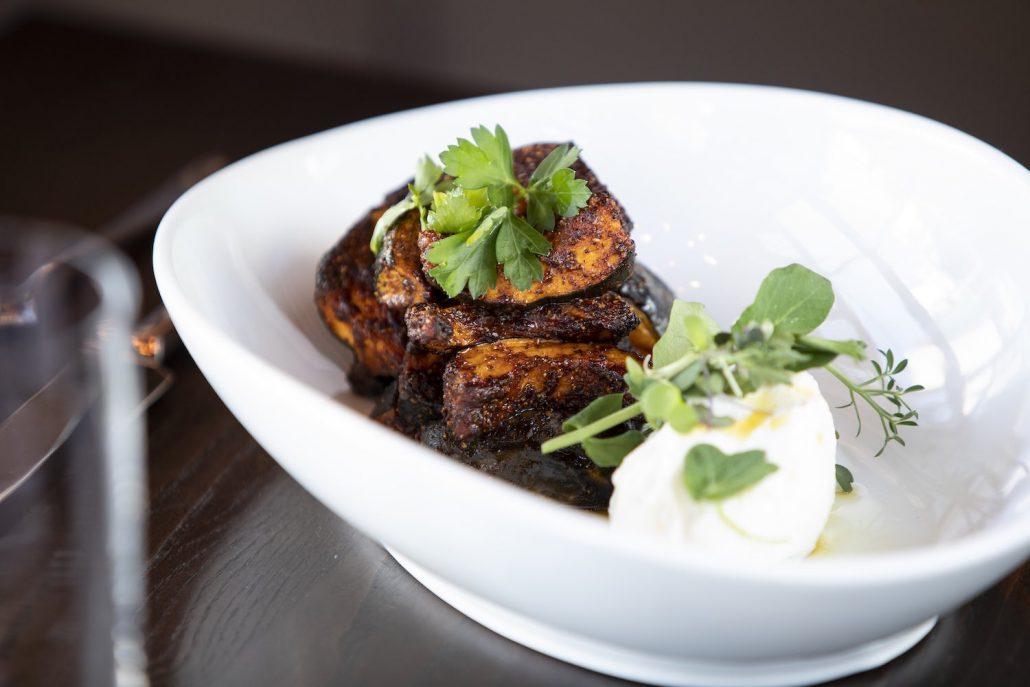 Derek Powell
Executive Restaurant Chef, Cedric's Tavern
Butternut squash and apple soup used to be a regular offering on the menu of Cedric's Tavern, a British-style gastropub on the Biltmore estate, but the creamy bisque became a victim of its own popularity. "We just couldn't keep up with the demand," says Derek Powell, the restaurant's executive chef. "We were going through fifteen or twenty gallons a day. That was one guy's job all day long, making butternut soup. And finding enough squash and apples became an issue, too."
The bisque still shows up as an occasional soup of the day, when Powell can make it with the regional produce he highlights at Cedric's. It's a commitment to seasonality and local sourcing shared by all seven Biltmore restaurants. The estate has been a working farm since it was carved out of the Western North Carolina forest in the late 19th century, and its "field-to-table" program now supplies vegetables, fruit, and meat to kitchens serving the more than one million visitors to Biltmore each year.
Powell also partners with Clem's Organic Gardens, one of the biggest and best- known operations in the region, and other local farmers to secure ingredients not grown on the estate. The offerings at Cedric's change frequently to reflect what's available. "We'll spend two to three weeks developing our seasonal menus, researching what will be prime harvest time for certain items, and we try out different features with our guests," says Powell. "Then we work with the farmers to make sure that we can get a consistent product with the proper freshness and quality."
The hard shell of winter squash helps it to store well and stay reliable through the season, but it's a challenge for even professional chefs to work with (see sidebar for tips on how to handle it safely at home). And while butternut soup is an easy sell, Powell finds that some customers are skeptical about squash in other forms.
"A lot of people see it as the cheap version of a potato," he says. "And maybe they didn't have squash done right growing up. It was just boiled and put on a plate with some salt and pepper if you were lucky, but squash has so much potential and versatility. We find ways to be creative with it and present it in an approachable manner that still brings out the true flavors."
In the winter, Powell serves roasted squash alongside fish, and he pickles thinly shaved ribbons of raw pumpkin to bring both bright and earthy flavors to a salad of estate-raised lettuce. A local farmer provides him with tetsukabuto, a Japanese hybrid that's nutty and mellow, but he's also a fan of familiar squashes like acorn and, of course, butternut. He's not alone: that squash and apple soup recipe is the one most requested by guests, and he is happy to share it with anyone who asks.
"The natural sweetness and earthiness of the squash blends so well with the local apples," says Powell. "And a little cayenne for spice, too. Don't be scared to season squash. It can take it."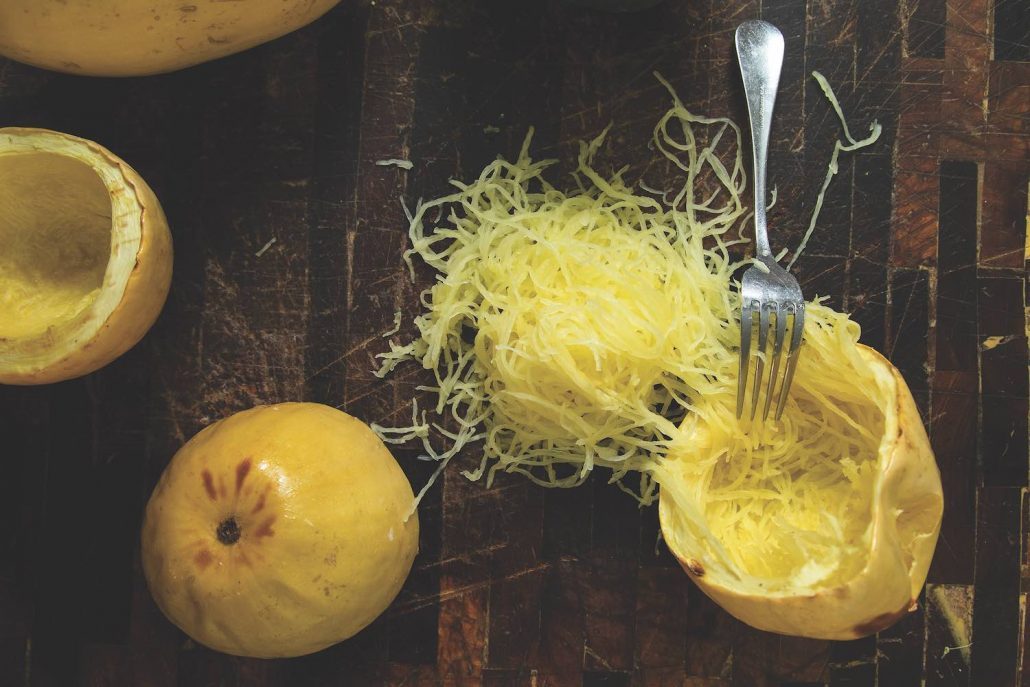 Brian Crow
Executive Chef, Chestnut
Squash's ability to handle a wide range of spices and seasonings makes it a favorite of chef Brian Crow, too. "It's a very versatile ingredient," says Crow, who finds ways to incorporate it across the seasonal menu at Chestnut in downtown Asheville. "Because it's pretty neutral, squash is a good vessel for other flavors, like curry or cinnamon."
Crow also uses techniques and recipes from a wide range of culinary traditions to make the most of squash's versatility. The classic French recipe for ratatouille calls for zucchini, but last winter—the Brevard native's first as executive chef at Chestnut, after a long stint in Colorado—Crow celebrated the hard-shelled squash of Appalachia in a winter version. Spaghetti squash showed up this fall with a vegan bolognese featuring a rainbow of local carrots.
He also treats squash simply, allowing butternut's natural sweetness to shine in a puree served alongside quail. Roasted acorn squash often shows up in salads, and soup is popular with customers at Chestnut, too. "Everyone loves butternut squash soup," says Crow, who sometimes toasts the seeds as a crunchy garnish and a nod to the restaurant's commitment to minimizing waste.
"Sustainability and seasonality are really important to us," says Crow, who started his career as a chef at Chestnut's sister restaurant, Corner Kitchen, in Biltmore Village. Both are owned by Kevin Westmoreland and Joe Scully, who encourage Crow to build relationships with farmers and keep local produce on the menu year-round. He works with Asheville's Sunburst Chef and Farmer and Clem's Organic Gardens to source many of his ingredients. And when there's an abundance, he tries to bank the bounty for winter.
"Asheville has all four seasons, which I love, but there are challenges in winter, with a little less produce available," says Crow. "We really try to get ahead of the game by preserving. We pickle chard stems, mushrooms, Meyer lemons." Those ingredients will appear on plates through the colder months, alongside hearty greens that can take the cold, root vegetables that store well, and, of course, squash.
The spaghetti squash with vegan bolognese and a lentil and squash stew served alongside smoked Sunburst Trout will be available on the Restaurant Week menu that Chestnut is offering from January 21 to 27. In February, there will be a special Valentine's Day menu and a game dinner. But every season comes to an end, and in the spring, as Tennyson (sort of ) said, a young chef 's fancy lightly turns to thoughts of… ramps. "We collaborated with four other restaurants last year for a ramp dinner," says Crow. "We'll be doing it again this spring, and I'm really looking forward to that." ◊◊
C.A. Carlson once used an axe to bust into a butternut squash, but she will now follow the pro tips on the following page in her West Asheville kitchen. She is an editor of this magazine.
Save
Save
Save
Save
Save
Save
Save
Save
Save
Save
Jordan Arace of Posana Restaurant 
Derek Powell of Cedric's Tavern