Saluda
by Edible Asheville
Sitting under the whirling fans of the Purple Onion, the late summer and early fall are just about as pleasant as can be. When served a pint of local brew, along with a simple and well-crafted sandwich, the scene gets even better.
The Purple Onion is set on Main Street in Saluda, a bustling town of shops and eateries that first sprang up around a rail line that now sits abandoned. The restaurant's lunch menu is a solid sampling of sandwiches, salads, starters, and pizzas, with many ingredients boasting a North Carolina origin.
The Reuben and BLT feature bread from Saluda's own Wildflour Bakery, while the kale and beet salad includes chunks of creamy goat cheese from Holly Grove Farms in Mount Olive. An appetizer of smoked trout from Waynesville-based Sunburst Trout Farms is presented on a wooden serving board alongside capers and pickled onions.
Chartered in 1881, Saluda has several buildings listed on the National Register of Historic Places. For railroad buffs, the town is known as the crest of the Saluda Grade, the steepest standard-gauge mainline railway grade in the U.S. The line plunges more than 600 feet in less than three miles between Saluda and Monroe, creating the conditions for runaway trains, claiming many lives, and testing even the most experienced train operators.
Located 35 miles south of Asheville, the town is named for the Saluda Mountains, which have the Saluda River at their feet. According to historians, the river itself was named after a Native American chief whose name meant "Corn River" in Cherokee, which sounded to Europeans like "Saluda."
A lazy walk stretches the belly after a good meal and Saluda's shops and art galleries are a nice destination. The Heartwood Gallery features serving bowls and cutting boards by Saluda's own Mark Gardner, as well as pottery by Chapel Hill-based Ronan Peterson.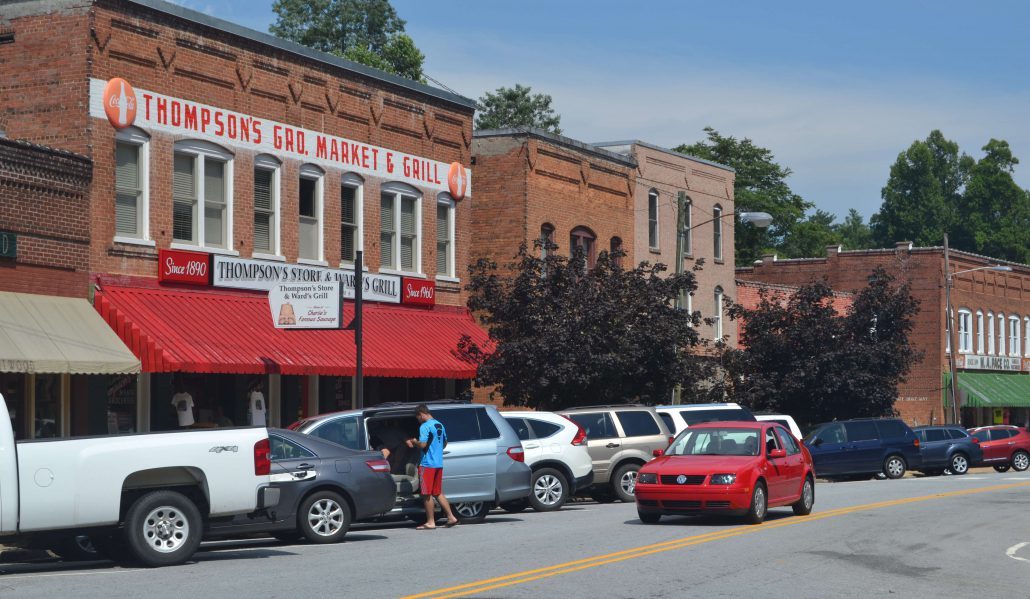 Thompson's Store, established in 1890, does business alongside Ward's Grill and says it's the oldest grocery store in North Carolina. It offers rows of jars filled with dilly beans, corn relish, peach salsa, and sweet potato butter. Just down the street, the M.A. Pace Store, a general store founded in 1899, features soda in glass bottles and a selection of sauces and dressings.
Although the railroad no longer hosts daily trains, Saluda remains a draw for locals and visitors and alike. With a homespun charm, it seems locked in time. The aptly named "Somewhere in Time" store sells ice cream in bowls and cones. If you get swept away by the slower pace of life, it can melt before you eat it all.
Save
Save
Save