Taste of Home
Esther Francis Joseph reconnects with her past by sharing Saint Lucian flavors
By Sarah Hart
Green figs and salt fish—flaked salt cod sautéed with boiled unripe bananas, tomatoes, and peppers—is the national dish of Saint Lucia, one of the far eastern islands of the Caribbean, known best as a tourist destination. For Esther Francis Joseph, the dish was perhaps her mother's most redeeming gift.
For much of her life, Joseph sought to escape her memories of growing up on Saint Lucia. She describes her father as an alcoholic, her mother as a religious zealot; she says both were abusive. She remembers living in poverty with seven sisters and brothers, sleeping on a flour sack piled with old clothes and rags.
But now, after a roundabout journey, she's reclaiming those memories, spinning them into the rich dishes at Calypso, the restaurant she opened in downtown Asheville in December. She's even named the signature dish Salt Fish Suzanna, in honor of her mother, who, she admits, prepared it best.
"I was always remembering the horrible things," says Joseph, who at 51 offers her life story with openness and humor. "We hold onto that. It's the way our mind protects us and lets us move on."
An adulthood reunion with her mother—now suffering from dementia and unable to recognize her daughter—unleashed a volley of suppressed emotion. "I began to remember the holidays, the foods that my mother cooked and that I loved," Joseph says. "In the memories of food, I could go back to what I had set aside."
The foods of Saint Lucia differ from what Americans may envision as Caribbean, thanks to the island's melting-pot history. Spices like cinnamon, nutmeg, cocoa, cloves, and allspice are a legacy of British colonizers, as is macaroni pie, though it's often spiked with pepper sauce (Calypso's is pleasantly piquant) East Indian indentured servants brought their flavors to the island during the 19th century.
This migration is reflected at Calypso in dishes such as roti, flatbreads wrapped around curried chickpeas, meat, and vegetables (Calypso offers five versions, including goat). Other street foods include bakes and accras, fried sweet dough and salt fish fritters. West African–derived stews such as callaloo utilize Saint Lucia's local greens and starchy root vegetables.
Joseph harbors mixed feelings about some of these traditional foodstuffs—particularly dasheen, a subsistence food of her youth. In Saint Lucia, this root (in the taro family) is always served boiled, often with yams and cassava, in a staple dish known as "ground provisions."
Joseph knew she couldn't open a self-respecting Saint Lucian restaurant without dasheen, but couldn't overcome her hatred for it. Her chef de cuisine, SeanTomas Shaw, found a solution: serve it as a puree. That night, Joseph reports, she dreamed of her grandmother chasing her with a wooden spoon, appalled that she would so flagrantly break with tradition. Calypso's Jamaican-born cook Nigel Lawrence also registered shock at seeing dasheen so prepared.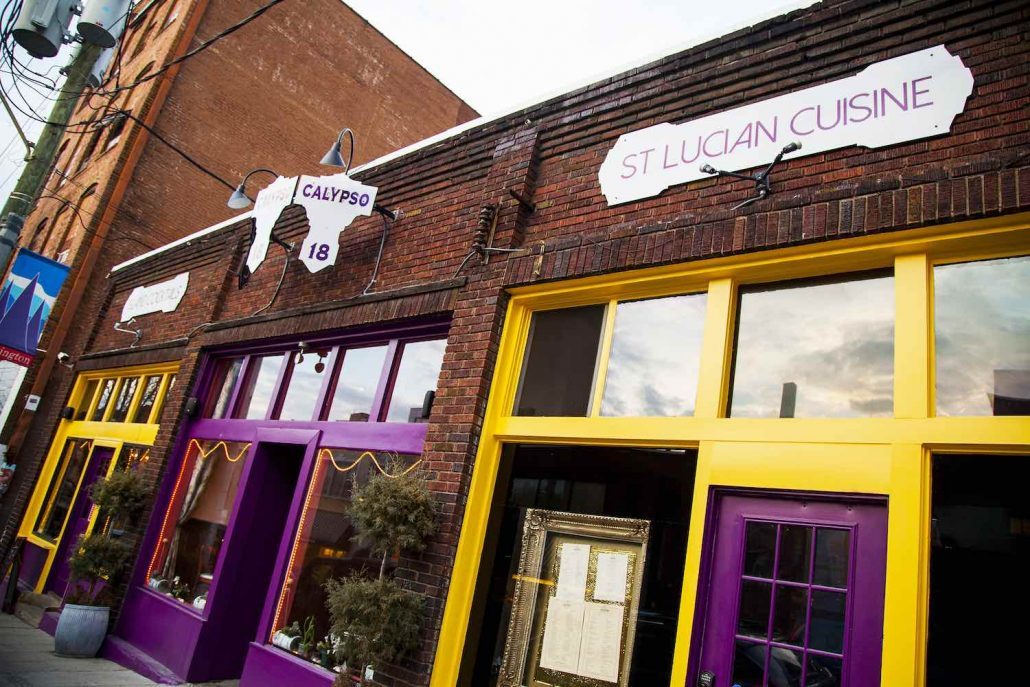 Most of Calypso's dishes trigger a happier emotional response from Joseph. She and Chef Shaw (who worked with Emeril Lagasse on several restaurant openings) developed an exacting process to test recipes through countless iterations until Joseph deemed them authentic. "I would know when we got it right because it would remind me of something I had forgotten," Joseph says. "Sometimes I would cry. So much of that had been lost for me."
Joseph walks a fine line between guarding Calypso's Saint Lucian bona fides—sourcing many of her ingredients in Atlanta, which has a large Caribbean community—and taking advantage of Western North Carolina's bounty. Greens in the callaloo are local and seasonal; meats come from Hickory Nut Gap Farm and shine in nontraditional dishes like the Teres Major, which is seasoned with "Saint Lucian spices."
Joseph aims for the lighter side of soul food, balancing the fried and starchy components of the menu with salads. Calypso's bar highlights classic Saint Lucian cocktails, all prepared with housemade sodas and syrups.
It's a fulfillment of Joseph's childhood dream to have her own restaurant. She studied hospitality management at Monroe College Saint Lucia before moving to the United States in 1984 when she was 19 years old. She earned a certificate in restaurant management from the New York Food and Hotel Management School, but a summer project designing rooftop gardens blossomed into an all-consuming career, a sidetrack that lasted for the next three decades.
"I was not healthy," says Joseph. "I was stressed, tired, I wanted out." She traveled, trying to connect with ancient cultures in Greece, Egypt, India, and Peru, and earned a BA in International Affairs from New York University. She wrote three books, beginning with a childhood memoir, Memories of Hell, Visions of Heaven, that allowed her to purge some of her darker history.
She compiled a list of places she might live beyond New York City, and in 2011 she visited Asheville. "A month before I came, I had never heard of Asheville," she admits. "But when I got here, I just knew." Like so many who have been lured to the mountains, Joseph found healing in her new home, and, eventually, the opportunity to return to her original path.
"More and more, I craved comforting food," recalls Joseph. "Asheville has everything, but it didn't have Saint Lucian food."
She toyed with the idea of opening a restaurant, but didn't want to force it. "At this point in my life, I don't break down doors. I walk through them." After the moonshine bar Lex 18 closed in late October, a meeting between Joseph and its owner led to the lightning-fast opening of Calypso in the same space less than eight weeks later.
While the past months have been exhausting, Joseph couldn't be happier about where she's ended up. "A path is a path is a path. You can divert, get sidetracked, but you can get back," she says. "I have come back to who I am." ◊◊
Calypso is open for lunch, dinner, and cocktails.
18 North Lexington Avenue, Asheville
calypsoasheville.com; (828) 575-9494
Sarah Hart's career path has swayed between writing and cooking professionally. She is currently Edible Asheville's contributing editor, a freelance writer, and catering coordinator at GO Kitchen Ready.
Save
Save
Save
Save
Save
Save
Save
Save
Save
Save
Esther Francis Joseph reclaims memories of her childhood in Saint Lucia to create dishes at Calypso. Photo by Erin Adams.
Joseph aims for the lighter side of soul food, balancing the fried and starchy components of the menu with salads. Photo by Erin Adams.